Iran launches war games after US aircraft carrier enters Gulf, as tensions continue to rise
Revolutionary Guards fire rockets near US warship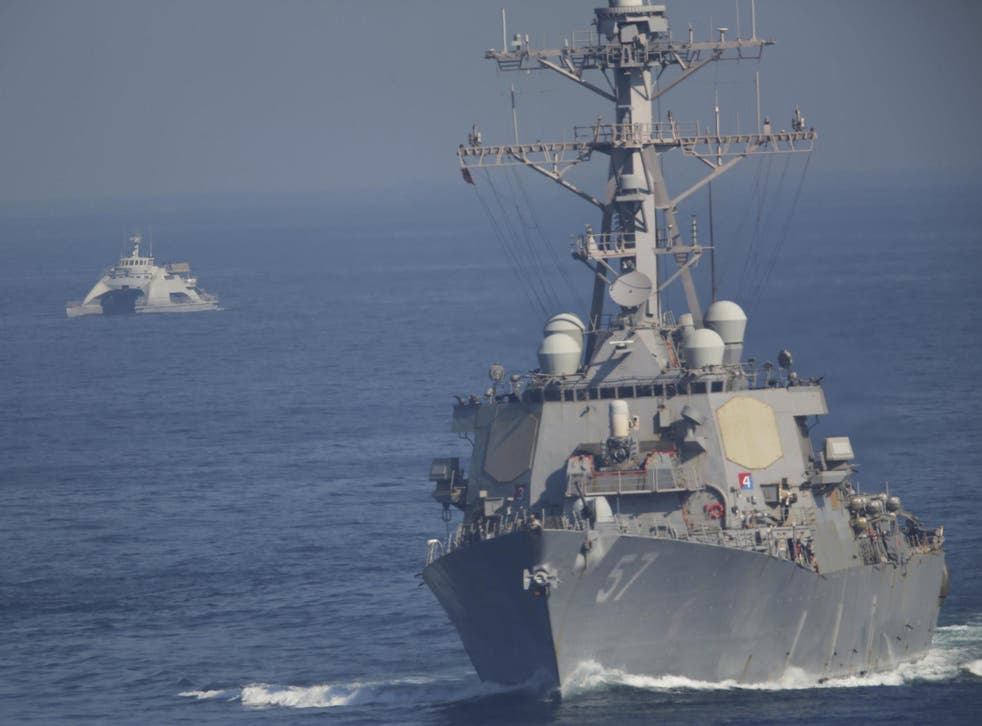 Iran launched war games across the Gulf on Saturday morning, after a US aircraft carrier entered the strategic waterway.
The country's state news channel broadcast images of the military exercises, which involved its elite Revolutionary Guards landing on the Iranian Gulf island of Qeshm.
Other branches of Iran's military also took part in the simulation, in which naval vessels, helicopters, drones and rocket launchers were used.
John C Stennis, the US warship, entered the Gulf on Friday. It was shadowed by Revolutionary Guard speedboats.
The Guards fired rockets but a US navy spokeswoman said that they were pointed away from the carrier.
World news in pictures

Show all 50
Witnesses also saw a drone flying nearby.
"We believe it was part of their naval exercise," said Lieutenant Chloe Morgan, a spokesperson for the US Fifth Fleet.
Iran's military leaders touted the exercises as a show of strength against the US.
"Hopefully, with these exercises, our enemies will realise more than ever how devastating our response would be to any move by them," said Mohammad Ali Jafari, chief of the Revolutionary Guards, according to Iran's state news agency.
"They've come, pretending to ensure the Persian Gulf states' security," he added.
"But it is Iran which has to provide security for the Strait of Hormuz, the Persian Gulf and our friends and brotherly countries on its southern coast."
Support free-thinking journalism and attend Independent events
"We certainly strive to support our Gulf allies and let them know that we are going to continue to be committed to this area and to (ensure) equal access to international waters," said Randy Peck, commander of the John C Stennis.
The war games come amid rising tension between Washington and Tehran over reimposed US sanctions.
In May, Donald Trump withdrew the US from its international nuclear agreement with Iran. The move was welcomed by Saudi Arabia, Iran's regional rival.
Washington may also press ahead with halting Iran's oil exports, as part of the US sanctions.
But officials in Tehran have hinted that Iran will disrupt other countries' shipments through the Gulf if exports are affected.
The island of Qeshm is located near the Strait of Hormuz, through which a third of the world's seaborne oil passes.
Additional reporting by agencies
Join our new commenting forum
Join thought-provoking conversations, follow other Independent readers and see their replies