Trump's new sanctions threaten to plunge Iran into further economic trouble
Fresh US restrictions on Iran's oil sales abroad go into effect 5 November, and Iranians are worried about what comes next: 'Sanctions have crippled the lives of the Iranian people'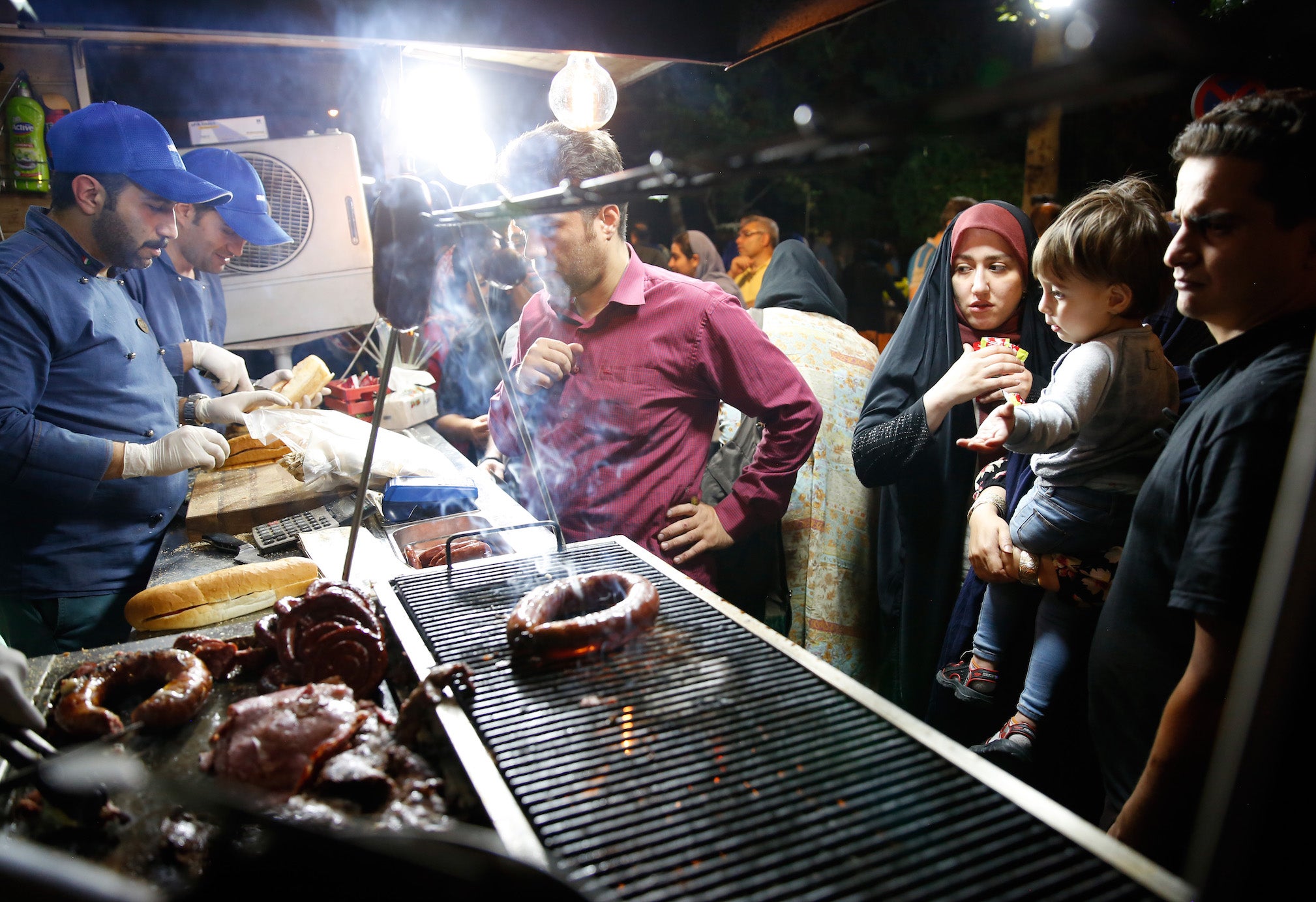 Suhail has a degree in accounting. But to eke out a living, the 27-year-old Iranian drives a motorcycle as a courier through Tehran. Sometimes he picks up a passenger to make ends meet for himself, his wife, their three year old and four month old.
Iran's currency has lost more than two thirds of its value this year, sending prices skyrocketing. For Suhail, that means the price of a kilogram of chicken has increased five fold. Clothes, shoes, yoghurt, milk and rice have doubled or tripled in price. Only bread and cooking oil are under price controls. Still, he was hanging on, until the big blow came: his landlord wanted to double his rent. Suhail argued with the owner, who explained he was also under tremendous financial pressure.
"Everyone has their own problems," Suhail tells The Independent. "For now, we are eating into our savings."
Iranians barely hanging on are bracing for new US sanctions on Monday, which could further hurt the country's economy – and the ability of ordinary people to survive.
The UK, European Union, and much of the rest of the world strongly oppose the US sanctions. They hope to uphold the landmark 2015 nuclear deal in which Tehran curbed its atomic technology programme in exchange for sanctions relief and some measure of normalised relations with the West.
On Friday, Bloomberg reported that eight countries will be allowed to continue buying Iranian oil as long as they show signs they are trimming imports.
The US has excluded food and other humanitarian goods from the sanctions. "Existing exceptions, authorisations, and licensing policies for humanitarian-related transactions and safety of flight will remain in effect," US secretary of state Mike Pompeo said last month.
But by barring banks doing business with Iran from operating in the US or even using dollars, the restrictions effectively severely limit imports of food and medicine.
"Humanitarian goods are not sanctioned," Gerard Araud, French ambassador to Washington, said at a forum last month. "But the fact is that the banks are so terrified by the sanctions that they don't want to do anything with Iran."
Fitch, the financial ratings service, predicted that Iran's economy would grow only 1.8 per cent this year and contract 4.3 per cent next year.
It said last month: "Our core view is for the re-imposition of US nuclear-related sanctions to cause a sharp slowdown in the Iranian economy in 2018 and trigger a recession in 2019, as exports and investment inflows reduce, and rising inflation and high unemployment weigh on consumption."
The new sanctions, which severely restrict the sale of Iranian oil, will only add to longstanding economic problems. Iran suffers deep corruption and incompetence thanks to the overseers of its economy.
"Corruption is a problem from the end to end of the country," says Mahdi Khalili, an Iranian reformist politician.
But decades of US sanctions on Iran by previous administrations have already badly damaged the country's economy. This has possibly empowered the hardline institutions that control the levers of illicit trade at the expense of the middle class engaged in legitimate professions.
Rasoul, a 56-year-old rug vendor and repairer, drives a taxi for a living, unable to find work in his field. He previously worked in Germany for six years, importing rugs, until sanctions imposed by the administration of Barack Obama and the United Nations destroyed the market.
"After the sanctions started on Iran, our business did not operate any more," he says. "It was not possible for my boss to export carpets from Iran to Europe and the US."
He returned home and now struggles through by "begging and borrowing" from friends and family. "I cannot even buy Iranian rice any more," he says. "Many of my co-workers cannot buy meat, and most of them replaced [meat] with soy."
The economic hardships have sparked protests over the last year, including a week-long wave of nationwide demonstrations in late December. More public outpourings of discontent over unpaid wages, rising prices, and corruption unfolded during the summer. Those have quieted down over the last two months, but an enormous well of anger at the Iranian government and the Trump administration bubbles beneath the surface.
Nina Rastegar, a 30-year-old artist in the northern city of Rasht, one of the hotspots of protests, said the economic troubles had damaged every aspect of life. Not only is food more expensive, but imports too. She says she had a hard time affording paints, brushes, and canvases, some of which are imported.
"The sales of artistic goods are way down," she says, adding that Iran's once pulsating arts scene is nearing collapse. "People are fixating on their own survival."
The Trump administration, like that of Obama and others since the 1979 revolution, has imposed sanctions on Iran with the aim of restricting its missile programme, nuclear ambitions, and its deployment of militias abroad. But over the last four decades, Iran's nuclear know-how, missile ranges, and influence in the Middle East has continued to expand, while educated middle class Iranians who could bring about change in the country make plans for their children to emigrate to the West.
The latest sanctions will bar dealings with Iran's port operators, shipping sector, and punish any petroleum-related transactions or deals with Iran's banks, as well as any insurance or re-insurance transactions. Iran's oil sales are down to between 1.7 million and 1.9 million barrels per day, 800,000 below the 2018 peak.
US treasury secretary Steve Mnuchin said on Friday that the Belgian-based system SWIFT used by banks to conduct international transactions and send messages could also be sanctioned if it continued dealing with Iran.
Some Iranians inside the country support the Trump administration's efforts. But others see them as failing and turning sympathetic Iranians against Washington.
"Sanctions have crippled the lives of the Iranian people," says Ali Dehghan, a 20-year-old law student in the city of Yazd. "The elite and their families continue to live their lives. Sanctions do not affect their lives."
Mr Dehghan, no fan of the Iranian leadership, said he would side with the regime in any conflict with the US. "This is a US-sponsored coup attempt, a war, an embargo," he says. "I can say that Iran's behaviour in the region is bad, and America's behaviour in the world is worse."
Mr Trump has offered to meet Iranian officials and discuss a potential replacement to the nuclear deal signed by Washington, Tehran, and other world powers in 2015 under Obama. Iranian president Hassan Rouhani has refused, citing the untrustworthiness of Washington. European leaders and former US officials have urged Tehran to wait until after the midterm elections, which could cost Trump his party control of congress.
But many Iranians are growing impatient, and want faster relief. A few weeks ago, Suhail, the motorcyclist, visited relatives in the countryside near the Caspian sea, with an eye towards moving his family. He was shocked by what he saw. Prices were the same as in the city, but with fewer job opportunities. "I thought maybe life would be easier out there," he says. "But it was even worse."
Frustrated Iranians such as Suhail wish world leaders would resolve their differences without causing them so much agony. Iran regime supporters, on the eve of the new sanctions, now plan to celebrate the nation's defiance of Washington on the 4 November anniversary of the 1979 seizing of the US embassy in Tehran. It was a breach of international law that ruptured relations between Washington and Tehran for decades.
Support free-thinking journalism and attend Independent events
"Why don't you make a deal with Trump?" Suhail says, addressing Mr Rouhani. "You have to have good relations with other countries to have a good economy, much less a great economy."
Join our commenting forum
Join thought-provoking conversations, follow other Independent readers and see their replies