Ayatollah Ali Khamenei accuses US of creating nuclear weapons 'myth' as military commander says Iran would reject international inspections
Senior Revolutionary Guard general says inspections would be like rolling out 'a red carpet for the enemy'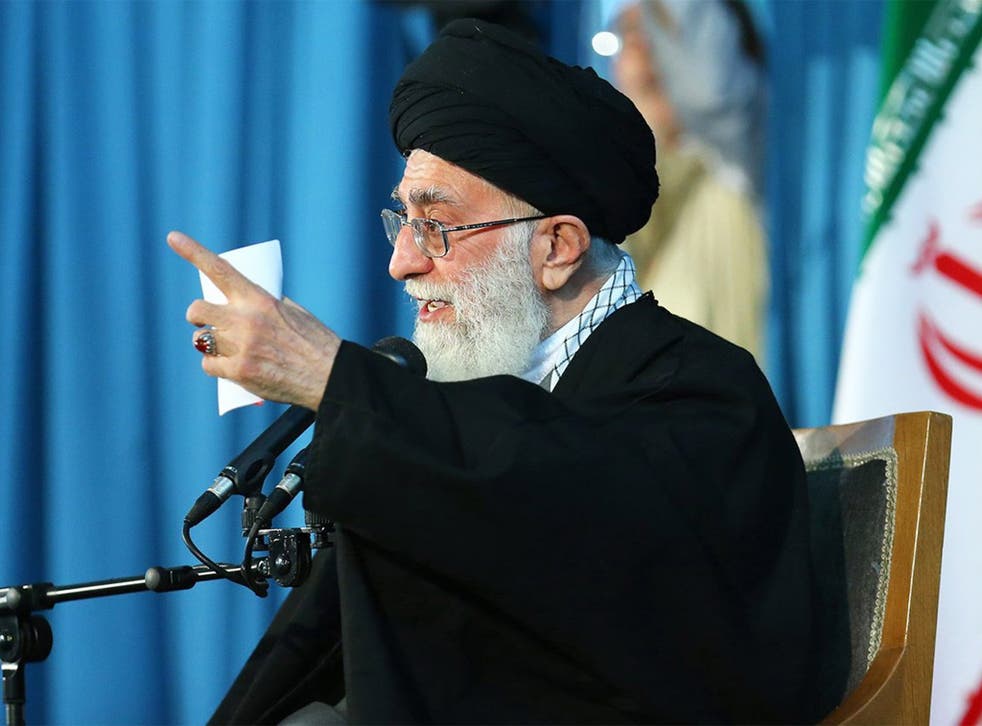 Iran's supreme leader Ayatollah Ali Khamenei has accused the US of creating "myths" about his country's capability for nuclear weapons.
The Ayatollah's statement came as a senior commander in the Revolutionary Guard said international inspectors would be barred from military sites under any nuclear agreement with world powers.
Speaking in an address on state television, General Hossein Salami, deputy leader of the Guard, said his military would respond with "hot lead to those who speak of it" and warned against Iran becoming "a paradise for spies".
He added the country "will not roll out the red carpet for the enemy", believing any inspection would expose "military and defence secrets".
Talks about Iran's nuclear programme, previously supported by Ayatollah Khamenei, are set to resume later this week.
But while the Ayatollah supports the talks, he has maintained a public position of deep mistrust towards the US.
In statements published by the semi-official news agency Fars, he claimed the US was creating the "myth" so "they could say the Islamic Republic is a source of threat".
Which countries have nuclear weapons?

Show all 14
He added: "The source of threat is America itself."
In a televised address to a group of military commanders, he denounced the US as "the other side", saying they were "methodically and shamelessly threatening" Iran militarily.
He said: "Even if they did not make these overt threats, we would have to be prepared."
Iran and six world powers had previously reached a partial accord on the disputed nuclear programme, and it was hoped negotiations in Vienna would reach a final conclusion by June.
The settlement is intended to produce two results: the allaying of Western fears that Iran could build an atomic bomb, and the relaxing of economic sanctions on Tehran.
One of the main issues that Iran has had with the deals is how quickly the economic sanctions would be lifted.
Khamenei has asked for all sanctions to be lifted immediately upon a deal being reached, but the US has dismissed this timeframe.
In return, the Islamic Republic leader warned his country that the US had "devilish" intentions, highlighting their support for the Saudi led-offensive against Iran-allied Houthi rebels in Yemen.
Saudi Arabia has been carrying out air strikes on Yemen since March, intending to displace the Houthi rebels who have dissolved the country's parliament. Iran has been suspected by the international community as having armed the rebels, heaping tension on relationships in the Middle East.
Additional reporting by agencies
Join our new commenting forum
Join thought-provoking conversations, follow other Independent readers and see their replies