Iranian woman defies restrictive laws by dancing without her hijab on the Tehran subway
Younger citizens are fighting back against the ultra-conservative government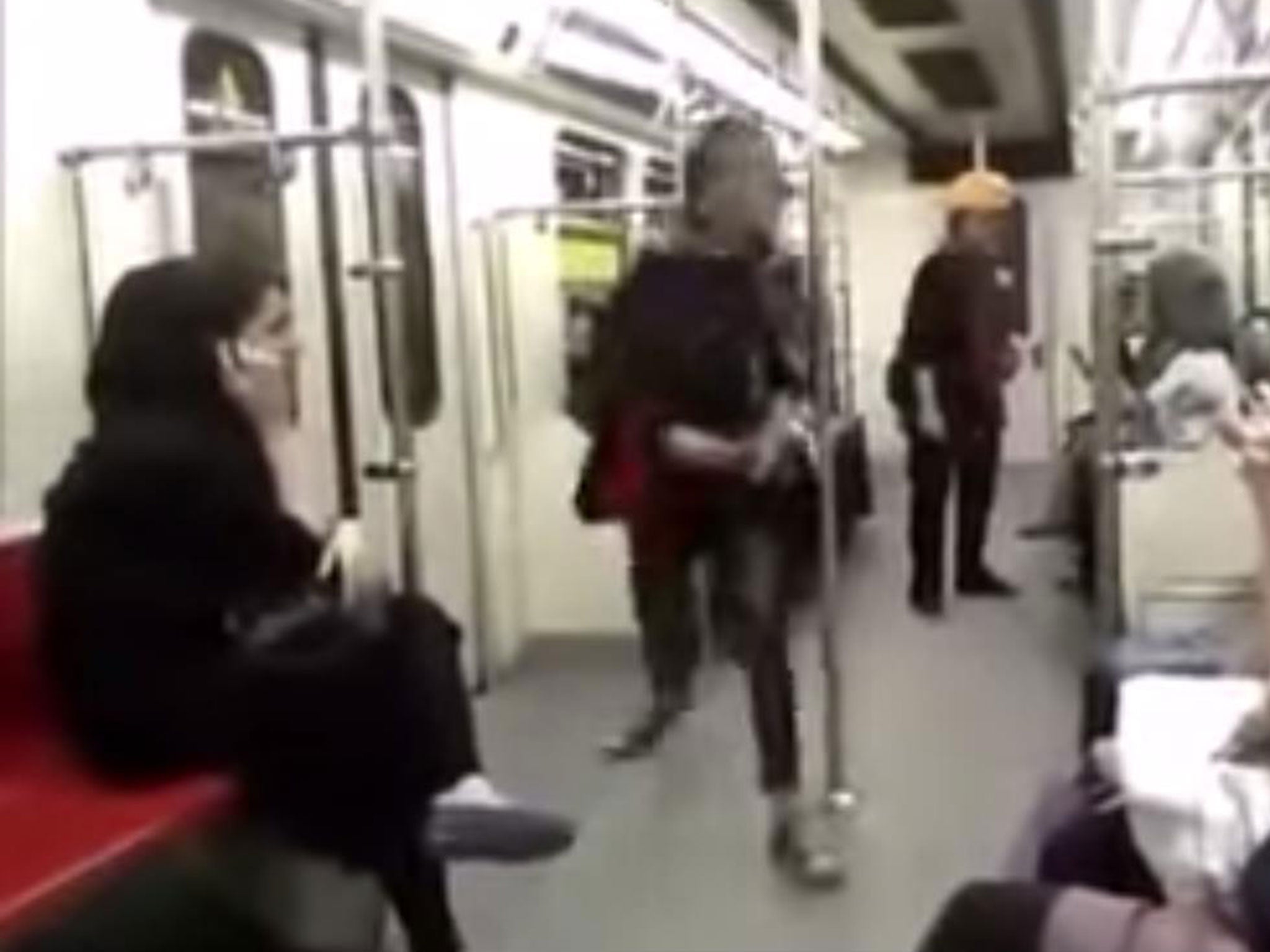 An Iranian woman has filmed herself defying Iran's restrictive laws against women by dancing to a song by British pop group Little Mix with her hijab around her shoulders.
The unidentified young woman can be seen energetically dancing on a train in Tehran while other passengers hold the camera.
Her dancing may seem innocuous enough, but the young woman is actually breaking two laws in the ultra-conservative country, where dancing in public is prohibited.
The woman initially begins with her hijab on her head, but her lively moves cause it to slide off. Other female passengers appear to be trying not to look at her as she moves up and down the carriage, while a couple agree to hold a mobile phone and film her.
The viral video was posted to the Stealthy Freedoms of Iranian Women Facebook page, which has over 700,000 followers.
Her dancing is all the more brave in light of the punishments meted out to a group of young Iranian men and women who were filmed dancing to the song 'Happy'. All seven were given suspended sentences of prison time and 91 lashes after posting their home made 'Happy in Tehran' music video on YouTube.
The Stealthy Freedoms page is run by Iranian journalist Masih Alinejad. Ms Alinejad left Iran to pursue her studies in the UK in 2009 and now lives in the US.
Ms Alinejad told The Independent in May her page began when she posted a photograph of herself driving down a road in the country without her hijab on, prompting hundreds of women across Iran to follow suit by posting their own pictures.
Speaking today, Ms Alinejad said the dancing video is symbolic of a wider cultural movement stirring among young people in Iran who are resisting the Government's laws on clothing and behaviour, in what she described as a "lifestyle war".
She told The Independent that she could not provide any information about the woman featured in the video over fears for her safety.
She said: "I was scared to publish this video at first. I waited for a while and then I saw it online on another personal page and I saw that it was public. Then I published it because the face was not shown and because the girl was trying to keep to keep her scarf on."
In pictures: Iranian women remove their hijabs
Show all 10
Ms Alinejad said young Iranian men and women are fighting back against controlling measures enforced by the Iranian government through mediums such as dance and song.
"Every day in Iran there is a cultural war between the Iranian government and young people," she explained. "There are two different lifestyles – one for those who want to just dance, who want to listen to music, who want to watch volleyball, and those who want to control this society and its happy people.
"Facebook and social media is showing a hidden face of Iran that is never seen in the media. It allows Iranian people who have never had a voice or a chance to speak to form their own media.
"On Iranian TV it's all women in black, but on social media, its women without head scarves and wearing colourful clothing, dancing and singing. The Iranian Government wants to showcase an image of an Islamic republic country – they don't want to show people coming to the streets and singing."
Iran's president Hassan Rouhani has expressed more progressive views than his predecessors since his election. On the subject of the strict Islamic dress code that includes the hijab, he once he was against a crackdown on women wearing looser clothing in the sweltering summers, and even suggested they could still be "virtuous" without them.
But Ms Alinejad said the lifestyle of many young citizens are still so rigorously controlled that those engaging in "taboo" behaviour are essentially considered criminals.
"In Iran, being in a relationship with a girl is a crime, drinking is a crime, dancing and uploading your video is a crime - the whole lifestyle is a crime to the government. Dancing is just one of many crimes.
"Then there is the hijab. We have to cover our hair when we start school at the age of seven, so I believe in our country we also need a hair revoloution.
"This is the cultural war between the Iranian government and young people. That is why they arrested the young British-Iranian woman and then released her. They cannot control people's lifestyle and it is really bad for them to say yeah, we are against those people who just want to dance. It's the same with the 'Happy' dancers – they arrest them, then they let them ago."
She added: "If you live as a free person in Iran you are living as a criminal every day."
Join our commenting forum
Join thought-provoking conversations, follow other Independent readers and see their replies