Iraq building a digital library to stop Isis destroying thousands of years of human learning
Militants from the so-called Islamic State have set out to eradicate Iraq's history and culture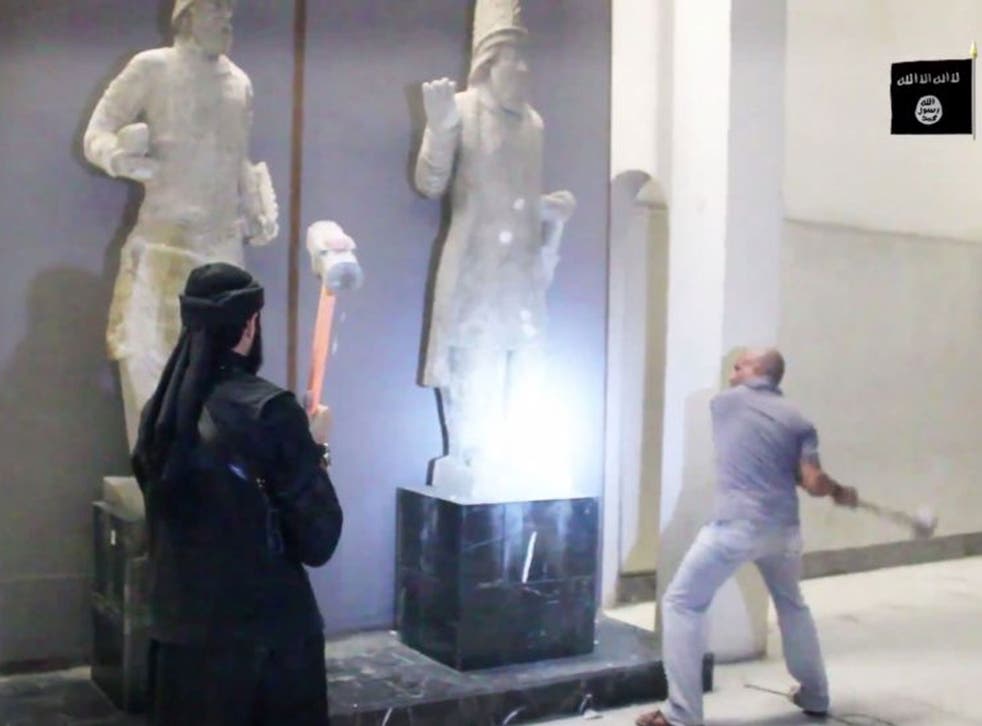 Iraq is working to digitize its national library in order to preserve thousands of years of knowledge from future threats, such as Isis.
Militants from the so-called Islamic State have set out to eradicate Iraq's history and culture – posting numerous videos in recent months showing them destroying priceless artefacts.
Fighters have released footage showing them burning thousands of books and rare manuscripts in Mosul.
In the video, an Isis fighter cites the example of the prophet Muhammad's destruction of idols in Mecca as an example. He also condemns the Assyrians and Akkadians as polytheists, justifying destroying the artefacts and statues.
Last month, jihadis destroyed a 2,000-year-old lion statue outside the Syrian city of Palmyra's museum.
Isis has also been caught selling Syrian artefacts in London in order to raise money to fund their fight.
Artefacts looted by ISIS in Iraq and Syria have also shown up for sale on eBay.
But now Iraq is looking to preserve its heritage for future generations.
Jamal Abdel-Majeed Abdulkareem, acting director of Baghdad libraries and archives, told the AP news agency that the militants "want history to reflect their own views instead of the way it actually happened."
The Baghdad National Library also says sharing Iraqi art and literature is key to combatting terrorism.
"When an area is liberated," Jamal told AP, "we send them books to replenish whatever was stolen or destroyed, but also, so that Iraqis in this area have access to these materials so they can always feel proud of their rich history."
The destruction of Iraq's heritage is not confined to Isis though.
Librarians and academics in Baghdad are working to preserve what's left of the nation's library, after thousands of documents were lost or damaged at the height of the US-led invasion.
The national Library, which was established by the British in 1920, was set on fire by arsonists at the start of the US-led occupation in 2003. According to AP, 25 per cent of its books and around 60 per cent of its archives were destroyed.
Join our new commenting forum
Join thought-provoking conversations, follow other Independent readers and see their replies