Iraq crisis: Mass execution site where Isis massacred at least 160 men identified by satellite images
Human Rights Watch claims to have found evidence of a 'horrible war crime'
Heather Saul
Saturday 28 June 2014 14:01 Comments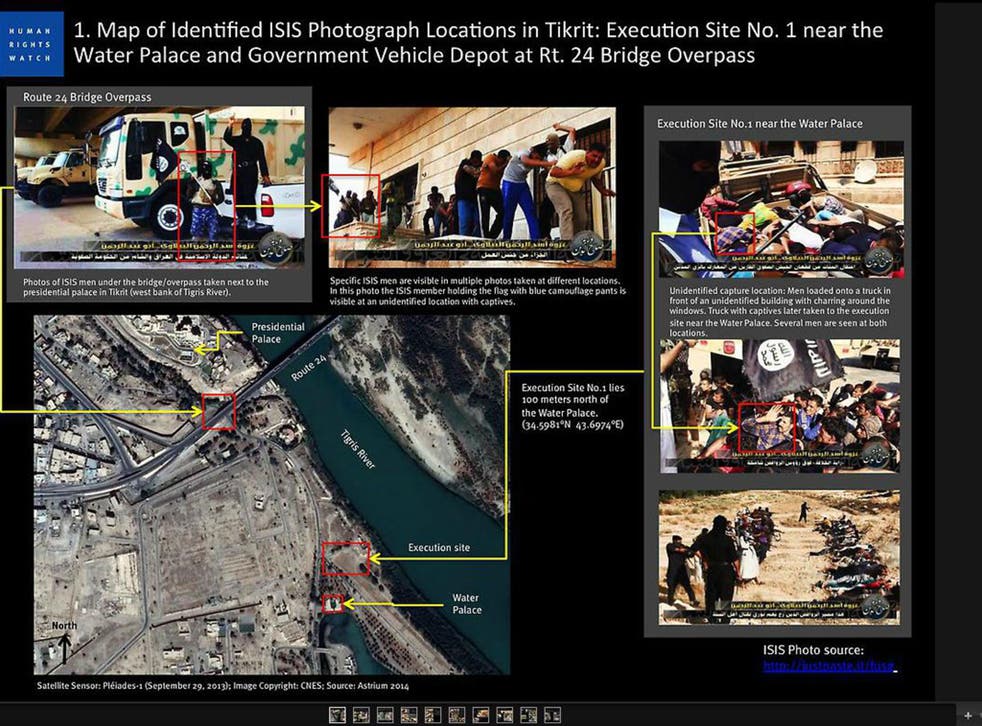 Analysis of photographs and satellite images of mass graves back up claims that militants in Iraq massacred at least 160 captives in the northern city of Tikrit, Human Rights Watch (HRW) has claimed.
HRW said that between 160 and 190 men were killed in at least two locations in and around Tikrit - the hometown of late Iraqi dictator Saddam Hussein - between 11 June and 14 June.
An unverified statement from Islamic State in Iraq and the Levant (Isis) militants on Twitter claimed to have executed 1,700 prisoners, before it posted gruesome pictures of groups of apparently executed men.
HRW said Isis posted about 60 photographs on its Twitter feed on 14 June, showing fighters loading captives in civilian clothes onto trucks and then forcing them to lie in three shallow trenches.
In further graphic photos, gunmen could be seen firing at captives.
Based on a count of the bodies visible in the available photographs, HRW estimated that Isis insurgents killed between 90 and 110 men in the first trench in a field around 100m north of the city's Water Palace at between 1.30pm and 2.30pm.
It said between 35 and 40 men were killed in the second between 2.30pm and 3.30pm. A further photograph shows a large trench with between 35 and 40 prisoners shot but HRW said it had not been able to pinpoint the site.
HRW said that the death toll could be much higher but the difficulty of locating bodies and getting to the area had prevented a full investigation.
"The photos and satellite images from Tikrit provide strong evidence of a horrible war crime that needs further investigation," said Peter Bouckaert, HRW emergencies director.
"ISIS apparently executed at the very least 160 people in Tikrit."
In pictures: Iraq crisis

Show all 98
Iraq's human rights minister confirmed Isis had executed 175 Iraqi Air Force recruits in Tikrit on 22 June.
Register for free to continue reading
Registration is a free and easy way to support our truly independent journalism
By registering, you will also enjoy limited access to Premium articles, exclusive newsletters, commenting, and virtual events with our leading journalists
Already have an account? sign in
Join our new commenting forum
Join thought-provoking conversations, follow other Independent readers and see their replies