Iraq crisis: Islamic State militants 'kill hundreds' of Yazidi minority as 'women and children buried alive'
America carries out new strikes on Isis targets  near city of Irbil
Cahal Milmo
,
Oliver Wright
Tuesday 12 August 2014 10:19 Comments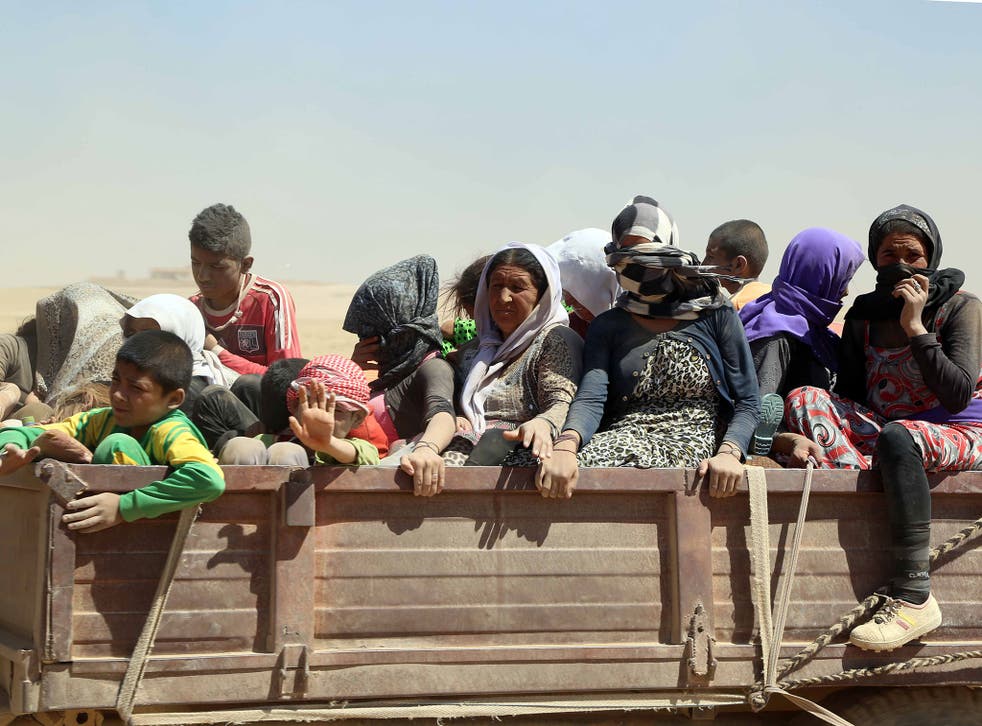 The brutality being meted out on Iraq's Yazidi minority by militants from the Islamic State of Iraq and the Levant (Isis) is said to have included burying women and children alive, as Washington unleashed further air strikes to try to halt the jihadist advance.
A government minister in Baghdad said "striking evidence" had been obtained that at least 500 Yazidis were murdered in recent days and hundreds of women enslaved. Iraqi Kurdish leaders struggling to repel forces from Isis, who now call themselves the Islamic State, have appealed for direct military aid.
Downing Street said it was stepping up aid drops after the first successful delivery by the RAF over Mount Sinjar, where up to 150,000 Yazidis are thought to have fled, as well as increasing the number of British humanitarian advisers in Irbil, the Kurdish capital.
In pictures: The rise of Isis

Show all 74
The Pentagon announced it had conducted a fourth round of attacks in support of Kurdish Peshmerga forces who have been battling to contain Isis forces. The militants had pushed to within just 30 minutes' drive south of Irbil.
Kurdish fighters last night claimed to have retaken a number of towns previously held by the extremist militants as a result of the American intervention. The strikes, conducted by US fighter jets and drones on four armed trucks and a mortar position, came as the Kurdish President, Masoud Barzani, asked the international community to provide his forces with weapons to counter the Isis forces. "We are not asking our friends to send their sons to fight on our behalf," he said, saying they sought support and "heavy weapons" to counter Isis fighters who have captured equipment abandoned by the US-trained Iraqi army.
The United States also said on Sunday night that it had moved some staff from its consulate in Irbil due to the security situation.
US President Barack Obama warned this weekend there was no quick fix to the problems posed by Isis, whose dramatic surge across a swathe of Iraq since declaring an Islamic caliphate in June has forced Washington's first military intervention in the country for three years.
Better organised and more hardline than al-Qa'ida, the militants have swept into new areas in the past week, reportedly beheading and crucifying captives including Yazidis and Christians if they refuse to convert to their brand of Islam. The Iraqi Human Rights Minister Mohammed Shia al-Sudani said the Isis attacks had reached new levels of depravity as they continue to pursue the Yazidis, who they regard as "devil worshippers".
Mr Sudani told Reuters news agency that accounts had emerged of the Isis assault on the town of Sinjar, the ancient home of the Yazidis, including testimony of how militants celebrated a massacre of hundreds of civilians with cheers and waving weapons in the air. None of the claims could be independently verified.
"We have striking evidence obtained from Yazidis fleeing Sinjar and some who escaped death, and also crime-scene images that show indisputably that the gangs of the Islamic State have executed at least 500 Yazidis after seizing Sinjar," he said. "Some of the victims, including women and children, were buried alive in scattered mass graves."
Mr Sudani added that up to 300 Yazidi women had been abducted, giving rise to fears they could be taken outside Iraq. In the meantime, the fate of hundreds of families from the minority threatened with execution unless they convert to Islam remained unknown after a deadline passed yesterday afternoon. In remarks likely to put pressure on Washington to step up its policy of limited air strikes on Isis targets, Mr Sudani said: "In some of the images we have obtained there are lines of dead Yazidis who have been shot in the head while the Islamic State fighters cheer and wave their weapons over the corpses. This is a vicious atrocity."
Yesterday Pope Francis said during his weekly address that the attacks on religious minorities in Iraq left him in "dismay and disbelief" and that the reported violence "offends humanity".
Downing Street said it expected to increase aid deliveries to the thousands trapped without shelter on Mount Sinjar in the coming days.
After a meeting of Whitehall officials yesterday, Downing Street said the humanitarian situation remained "deeply worrying" and it was also increasing the number of UK advisers in Irbil.
There were reports that as many as 20,000 Yazidis had managed to secure a safe passage off Mount Sinjar through a Kurdish-controlled part of Syria and then into the Iraqi Kurdish autonomous zone.
Laurent Fabius, the French Foreign Minister, also pledged further aid during a visit to Iraq yesterday as London, Paris and Washington continued to voice irritation at the failure of Iraq's Shia Prime Minister Nouri al-Maliki to step aside to form a more inclusive government.
Register for free to continue reading
Registration is a free and easy way to support our truly independent journalism
By registering, you will also enjoy limited access to Premium articles, exclusive newsletters, commenting, and virtual events with our leading journalists
Already have an account? sign in
Join our new commenting forum
Join thought-provoking conversations, follow other Independent readers and see their replies