Iraq crisis: The footage that shows Isis militants taunting and killing Shia soldiers
UN says reported mass executions 'almost certainly' amount to war crimes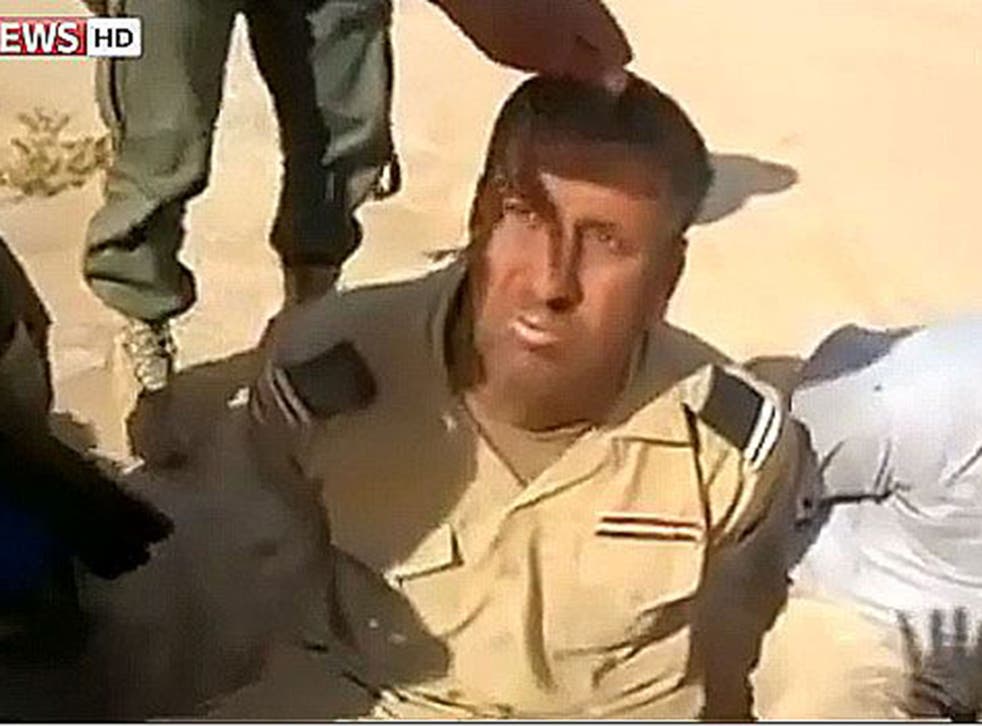 Footage of captured Iraqi soldiers being taunted and killed by militants from the Islamic State of Iraq and the Levant (Isis) has been placed on the internet.
The video shows five unarmed soldiers, their hands tied behind their backs, sitting on the ground as they are berated by one of their captors. They all appear terrified and one has a bloodied face.
When asked where the government forces are, one soldier replies they have left.
The extremist, carrying an assault rifle, shows the camera the badges on the uniforms of his prisoners. He then grabs them one after the other by the hair and makes them repeat the Isis slogan 'Baqiya', which is thought to mean "(Isis) will remain in existence" or "Islamic state will stay".
Warning: This video contains footage some viewers may find distressing
One of the men, a corporal, appears to be more reluctant than the others to repeat the slogan, and has to be ordered several times to say the word before he obeys.
Off camera, the corporal's tormentor forces him to lie on the ground and shoots him.
The video then shows the militant gloating over what he has done, and holding the dead man's identity card up to the camera.
He asks a captured soldier sitting beside the dead body: "This dog I killed, where is he from?"
Told that the man he killed was a Shia from Sinjar, in northern Iraq, he says: "He is a Shia, praise to Allah, the lord of the universe!
"Praise to Allah, whether he is a believer or not, I killed him. I killed a Shia! I killed a Shia!"
In pictures: Iraq crisis

Show all 98
Responding to the video, and others which appear to show Isis militants killing unarmed prisoners, Navi Pillay, the UN High Commissioner for Human Rights said: "It appears hundreds of non-combatant men were summarily executed over the past five days, including surrendered or captured soldiers, military conscripts, police and others associated with the government.
"This apparently systematic series of cold-blooded executions, almost certainly amounts to war crimes."
Register for free to continue reading
Registration is a free and easy way to support our truly independent journalism
By registering, you will also enjoy limited access to Premium articles, exclusive newsletters, commenting, and virtual events with our leading journalists
Already have an account? sign in
Register for free to continue reading
Registration is a free and easy way to support our truly independent journalism
By registering, you will also enjoy limited access to Premium articles, exclusive newsletters, commenting, and virtual events with our leading journalists
Already have an account? sign in
Join our new commenting forum
Join thought-provoking conversations, follow other Independent readers and see their replies