Iraq crisis: The Yazidi - a persecuted people driven to the edge
They have been forced to seek sanctuary from Isis among the Kurds, but their lives are still in danger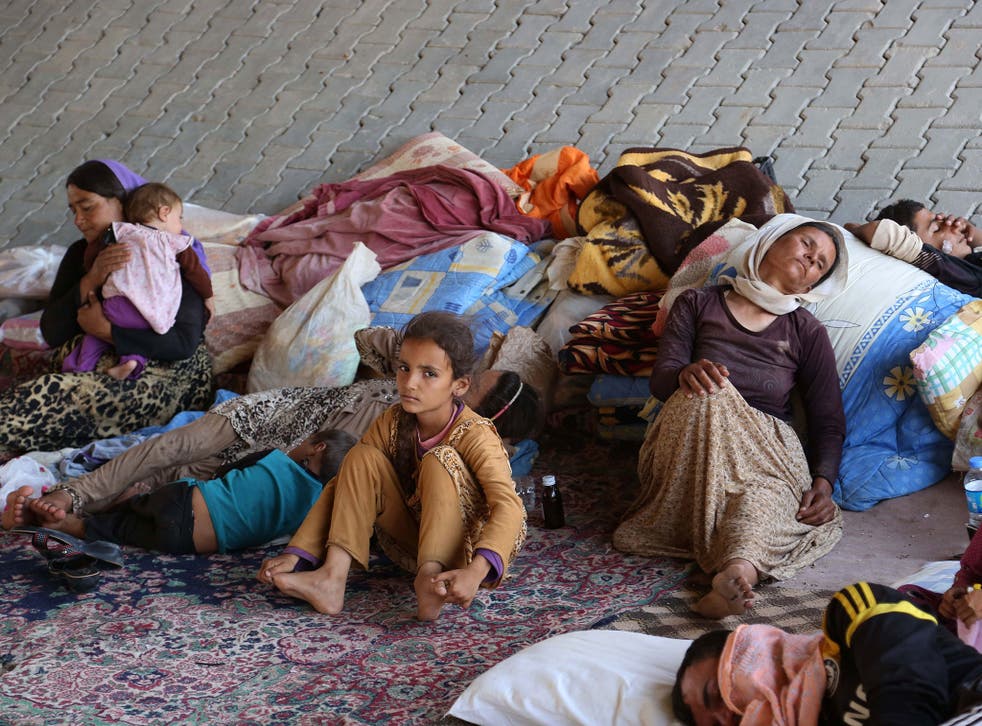 Normally, in August Kurdistan's Yazidis gather at the holy shrine of Lalish, in northern Iraq, to celebrate the feast of Sheikh Adi, a saint whose tomb is housed in the temple.
Families from around the region, sometimes even from abroad, descend on the village for a few days and set up camp on the many paved terraces built into the surrounding hillside. As well as participating in religious ceremonies, it is an opportunity to come together as a community.
The Yazidi have been flocking to the temple again this year but not to celebrate. They are desperately seeking sanctuary from Islamic State militants (who earlier called themselves Isis), who have killed or kidnapped an estimated 15,000 members of their small community since 2 August.
Most of the people sheltering at Lalish are from Sinjar, west of Mosul. An ethnically mixed district, it has been the site of some of the militants' worst atrocities to date.
Khider Elias, 40, is from Siba Sheikh Khdr. He and his family have set themselves up under a large tree in one of the temple's main courtyards. A few blankets tied to the branches serve as make-do walls and offer a modicum of privacy from the other families now living at Lalish. A suit jacket and trousers are neatly hung on the tree trunk to keep them clean.
The residents of Siba Sheikh Khdr had been warned that militants were near by and, around 3am on the morning of 3 August, a small, armed band was waiting for them on the edge of the village. "Before we could see them," Elias says, "they started shooting out the street lights, so we knew they were coming."
The villagers engaged in a gunfight with the militants until 7am the next morning, but had to flee when they ran out of ammunition. Elias managed to hide as the Isis fighters came into the town.
"They raised their flag and were shouting 'Allahu al-Akhbar'. There were five or six families left in the village and I saw the Isis just shoot and kill three men. One of my friends was taken but I don't know what happened to him," says Elias.
Together with thousands of other survivors from the village, he walked the nine miles to the Sinjar mountains and spent five days and nights there, without food. "We had to walk three hours to get water, but it was dangerous because the militants were near the water and would shoot at us," Elias says.
Iraq crisis: Yazidi nightmare on Mount Sinjar

Show all 15
Forty members of their group died, mostly babies and the elderly. Elias says they soon gave up digging individual graves and, instead, on the last day, dug a mass grave for all the bodies. They were eventually rescued by PKK (Kurdistan Workers' Party) guerrillas and spent two days walking to Syria before returning to Kurdistan and the sanctuary of Lalish.
But even in Lalish, people are still scared. On 17 August, one of the refugees living there went up the mountain and shot himself. As the sound of the gunfire echoed across the small valley, people panicked and in two hours 680 families fled, thinking they were under attack by Isis. Since then, only 450 families have returned.
Nestled in the hills a few miles outside the northern Iraqi town of Shekhan in Nineveh province, Lalish is the Yazidi's most revered site and home to the religion's royal family. Although there is a central underground temple, the entire village is considered sacred and people pray at small shrines scattered around the complex of yellow stone courtyards and huge, leafy trees. As a mark of respect, visitors leave their shoes at the entrance to the temple and spend the duration of their visit barefoot, picking their way gingerly over stones and puddles.
Followers of a pre-Islamic, pre-Christian religion with similarities to Zoroastrianism, the Yazidi consider themselves the first true natives of Kurdistan, says Mamou Othman, director of the European Studies Centre at the University of Duhok and a prominent member of the Yazidi community.
"Nobody is connected to the country like the Yazidi; all our rituals are here, our main shrine is here. That's why the Yazidi believes he is part of this soil, this earth."
But many Muslims see the Yazidi as devil-worshippers. Another name for the Yazidi's holiest angel, Melek Taus, is Shaytan – the same name the Koran gives to Satan. Starting from the first wave of Muslim conquerors more than 1,000 years ago, this misconception has led to hundreds of thousands of Yazidi being killed or forced to convert to Islam. In recent years, thousands more have emigrated to Europe to avoid the discrimination they face at home.
"There have been 73 Yazidi genocides in the past 800 or 1,000 years," says Luqman Suleiman, a schoolteacher from Shekhan who works as a volunteer guide at Lalish. "The Yazidi aren't a threat to anyone; they just won't change their religion. If it weren't for the persecution, the Yazidi would be six million people now, not 600,000 people."
And for many of Kurdistan's Yazidi, this recent attack by the Islamic State is the breaking point.
"The Yazidi people want to leave Iraq – to [go] anywhere, to Germany, the Netherlands, America – they just want to get out. There's no safety here; they've seen too much and they don't want to go through it again," says Hamat Khalaf. Originally from Sinjar, he moved to Germany 15 years ago but came back last week to help his family who were forced to flee their home.
As well as the horrors the Yazidi were subjected to at the hands of the Islamic militants, many Sinjar residents say that their Muslim neighbours turned on them and that Kurdish government forces abandoned them.
Amer Rasul, 21, was in Tel Banat, about 10 miles from Sinjar, when Isis entered the village. Still withdrawn and shell-shocked from the eight days he spent in the Sinjar mountains without food or water, he says the Sunni Arabs living in nearby villages collaborated with the militants. "They were always nice to us but, when Isis came, they were walking with them and brought them to our village. In just one day, they turn around and say you all have to be Muslim. No, we're not safe."
Perhaps more shocking for Sinjar's Yazidi was that the Kurdish Peshmerga forces appear to have failed to protect them.
"People don't trust the Peshmerga any more; never again, never again. People from the town called them to say the militants were coming and they said they were on their way but they never came," Rasul says. "They abandoned us and let Isis enter the city and kill us; they left the women and children to be abducted. How can we trust them?"
Some members of the community are arguing that the only option now is for the Kurdistan Regional Government to set up Yazidi militia who would be responsible for protecting their areas, along the lines of the Sunni Awakening forces supported by the US government in 2005.
"We want to defend ourselves. We don't trust any Muslims now; we only trust ourselves," says Hamat Khalaf. "I can fight – I spent three years in Saddam's army."
With the threat of a new exodus from Iraq, Yazidi religious and community leaders are desperately trying to reassure their congregation and persuade them to stay in Kurdistan. But they agree that this cannot happen without better protection.
Baba Chawish is a Yazidi monk and second-in-command to the religious leader, Baba Sheikh. Tall and distinguished, wearing traditional long white robes and a turban, he's standing at the entrance to the temple, waiting to greet a representative of Germany's Yazidi diaspora who has promised to help provide humanitarian assistance for the 2,500 refugees living in the temple.
"If there's no security, how can we tell them to stay? If there's no security, I'll be the first to leave," he says. "But Kurdistan is our home: our temple is here, our life is here; this is where the Yazidi were first created. When the Yazidi leave their homes, it's bad for them and bad for our religion. Our religion is not there."
Register for free to continue reading
Registration is a free and easy way to support our truly independent journalism
By registering, you will also enjoy limited access to Premium articles, exclusive newsletters, commenting, and virtual events with our leading journalists
Already have an account? sign in
Register for free to continue reading
Registration is a free and easy way to support our truly independent journalism
By registering, you will also enjoy limited access to Premium articles, exclusive newsletters, commenting, and virtual events with our leading journalists
Already have an account? sign in
Join our new commenting forum
Join thought-provoking conversations, follow other Independent readers and see their replies