Supporter Programme
Breaking Baghdad: How Iraq's crystal meth epidemic is ravaging the nation
In a country where young people who have grown up in conflict face mass unemployment and no support, drugs gangs have swept into the vacuum. From the capital to the southern city of Basra, Bel Trew finds increasing numbers of addicts – and a system that's struggling to cope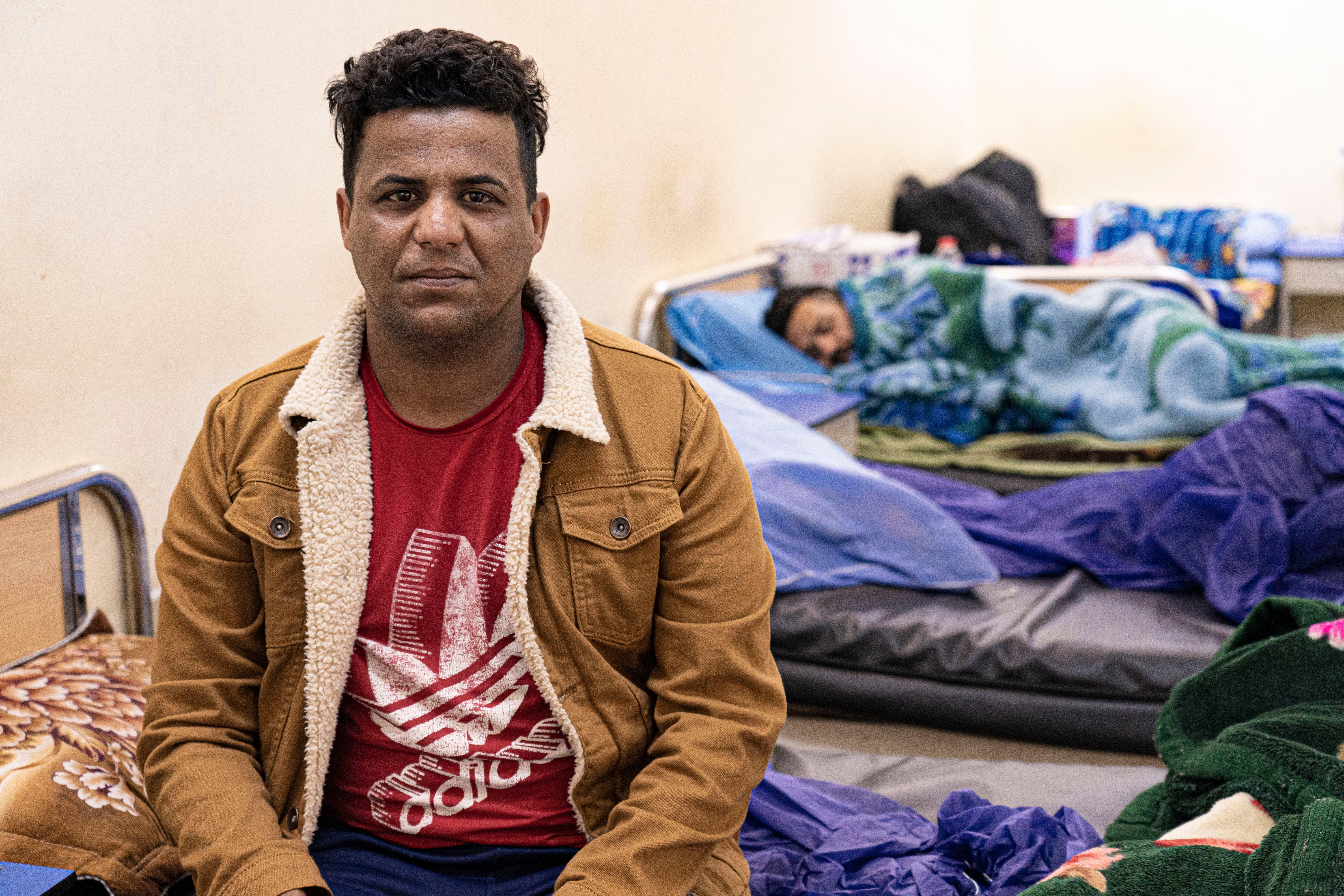 It wasn't until Ali tried to sell the cooking gas canister he had stolen from his parents' stove that he realised it was drugs that were consuming him – not the other way around. The 27-year-old Iraqi had already sold his mobile phone, chairs, bed, even the very mattress he slept on to buy just a few more grams of crystal meth.
The last item left was this battered canister, but even that wouldn't fetch enough to cover the cost of a fix. Feverish and tipping into withdrawal, he was eventually stopped at a checkpoint in a rundown Baghdad neighbourhood.
The frail young man with tell-tale pockmarked skin doesn't remember exactly what happened next, beyond going "cold turkey" in prison. "I was in another world, we all were, we wanted to escape our miserable lives," he told The Independent from Al-Qanat police station in eastern Baghdad, where he is serving four months for possession.
His concentration frayed, Ali's eyes looked like wells. "It has massively impacted my community; we have a lot of penniless people and those who have died from it," he said. "But living is hard."
Ali (not his real name) is one of thousands of crystal methamphetamine addicts in Iraq, a country that until comparatively recently had not suffered a nationwide wave of drug addiction, even while opium and heroin drowned countries such as Iran and Afghanistan.
Funded by contributions to our Supporter Programme, The Independent spoke to health practitioners in Iraq now calling the rising tide of crystal meth abuse a hidden epidemic – and warning it has become even more dangerous since the arrival of the coronavirus.
"Meth destroys the body's defence systems, it causes things like losing weight, leaving them vulnerable to all diseases including, of course, Covid-19," said Qassem Warash, a chief nurse at Ibn Rashed hospital, Iraq's main rehabilitation centre, as he did his rounds.
"It makes people stop caring, they will be less likely to practise things like social distancing."
The highly addictive man-made stimulant, which was invented in Japan and used during the Second World War to keep troops awake, ravages the body's immune system and can cause multiple life-threatening side effects including heart and kidney failure, as well as dramatic weight loss.
The added risk of Covid-19 does not deter users. "You don't think about the dangers. I am a labourer. We all started taking it because we have a hard life," Ali said, dreamily.
"It transports you to another, better world. You don't care."
'No way to escape'
An increasing number of Iraqis are turning to crystal meth to escape the difficult reality of soaring unemployment, corruption ravaging the economy and the crumbling infrastructure of a country that has veered from conflict to conflict since the US-led invasion in 2003.
According to a report published by the Atlantic Council in February, about 60 per cent of Iraq's population is under the age of 25, while the unemployment rate for young people in Iraq is estimated to be 36 per cent.
The United Nations Office on Drugs and Crime says that crystal meth has become the main drug of concern in the country, and warned in a February report that, while it was once only smuggled in from nearby Iran, the drug is now being clandestinely manufactured at laboratories inside Iraq.
The main hub remains the southern border governorates such as Basra and Maysan. There, powerful gangs of dealers have long smuggled the substance into the country, said one local in Basra who has knowledge of the industry but declined to be named due to security concerns.
The source said women were often used as drug mules because they were searched less. A stash bought for as little as 5,000 Iraqi dinars (£2.50) a gram can then be sold on for four or five times the original price, giving dealers a tidy profit.
No longer just a transit country for drugs en route to Turkey, Iraq has become a destination in its own right over the past few years as violence and poverty soared.
Basra was an easy first target, not just because of its geographical position. Once known as the "Venice of the East", the southern city has seen unemployment skyrocket over the past few years while basic infrastructure, including access to clean water, is lacking.
"Here in Basra, there are no parks, there are no clubs, we don't even have a cinema. There is literally nowhere for the youth to go and nothing for them to do," the Basra resident said.
"The youth have lived through multiple wars. The addicts I speak to say they have no work, no hobbies, no other way to escape."
Meth addiction has stretched Iraq's already creaking criminal justice system. The counter-narcotics teams at Qanat prison, where Ali is jailed, said it was at full capacity with 217 crystal meth addicts and dealers being held, the inmates lying crammed side by side in cells.
Officers said numbers have surged significantly since 2017 as both the country's economy and the price of crystal meth tanked. "In this directorate, we have registered a 40 per cent increase in addicts since 2017 and a 30 per cent increase in drug dealers," Major Yabar Haidar told The Independent.
"It's because of an increase in the availability of crystal meth that is driving prices down."
He said back in 2017 one gram would cost around $100 but now it is being sold in some areas for as little as 20,000 Iraqi dinars – just £10.
The exact prevalence of the drug is not known because of a lack of data. But Major Haidar said that across the country more than 6,000 people were arrested last year on drugs charges while more than 120kg of crystal meth was confiscated by the authorities.
The official Facebook page of Iraq's General Directorate for Combating Narcotic Drugs regularly posts updates on drug busts and has started a number of awareness campaigns to encourage residents to share any information about dealers and the industry.
Meanwhile, the Iraqi health ministry said that, after alcohol, crystal meth was the most commonly abused drug. The latest data showed 813 addicts recovering in government-run rehabilitation centres, far outstripping any other substance.
'It took my life'
One such patient is Ahmed, 32, an out-of-work labourer, who checked himself into Baghdad's Ibn Rashed hospital after his family had eventually thrown him out of the house.
Ibn Rashed is one of only two government-run psychiatric hospitals that rehabilitate addicts in federal Iraq; it is also the largest. There, 13 beds have been given over to patients like Ahmed who are recovering from substance addiction.
Ahmed said that both men and women use the drug, although fewer women spoke out because of stigma. He said drug dealers were using increasingly creative ways to draw in new clients.
Instead of risking jail by peddling their wares on the street, dealers have started quietly handing out small amounts of crystal meth for free to those living within vulnerable communities. The dealers then wait for their new clients to get hooked, so a new wave of addicts comes begging for more.
"When you get desperate some dealers will tell you to go steal things like motorcycles or whatever, to pay for the drugs," he told The Independent from his hospital bed.
"Users are increasingly becoming low-level dealers to fund their habit and the cycle continues at great cost. I would be married with a family and job if it wasn't for crystal meth – it took my life."
Ahmed sold everything he owned and put every penny of his meagre earnings into his habit, quickly alienating himself from his family and friends who told him he could not return home until he had been cured.
By that point, the young man said, he was suffering terrifying hallucinations and hearing voices. His digestive system had been destroyed and his memory shot.
"I went through at least three days of withdrawal, I was curled up like a 90-year-old man," he said.
Iraq once had the death penalty for users and dealers but passed legislation in 2017 under which judges can order rehabilitation for addicts or sentence them to jail for up to three years.
Ahmed is lucky to be in a rehab centre. In parts of Iraq where there are no facilities available, many drug users are jailed.
Medics at Ibn Rashed said there needed to be more dedicated units and hospitals built across the country because the numbers of addicts were growing and locking them up was not a solution.
"We need thousands of beds across the country which we don't have," Dr Arjan Toqali told The Independent. "Take Kirkuk where I am from, there are just eight beds available across the entire area."
For Ali and Ahmed, the problem is not just a matter of life or death for them but for their entire generation.
"This drug isn't threatening to destroy the youth," said Ahmed as he sat in the Ibn Rashed hospital garden. "Crystal meth has finished us already."
The Independent's Supporter Programme funds special reports from an award-winning newsroom you can trust. Please consider a contribution
Join our commenting forum
Join thought-provoking conversations, follow other Independent readers and see their replies