Thousands of carp die in mysterious circumstances as Iraq's water woes worsen
The country's agriculture ministry has ruled out foul play but many fear soaring pollution is behind the sudden death of tonnes of the freshwater fish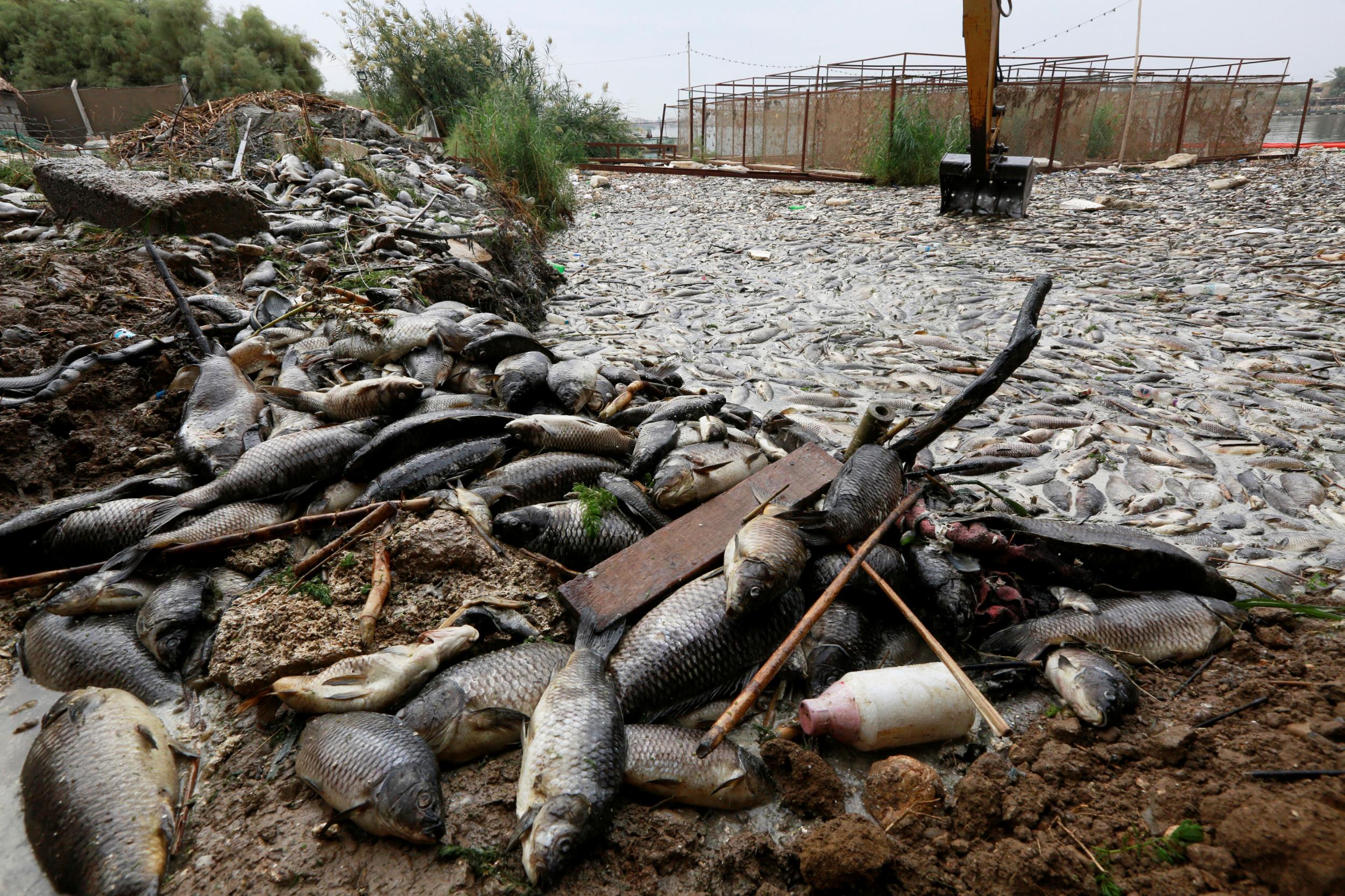 Thousands of tonnes of freshwater carp have suddenly died along Iraq's Euphrates river, sparking fears humans could be poisoned due to the country's soaring pollution levels.
Waves of dead fish had to be scooped up from fish farm cages this month, as farmers struggled to deal with the dramatic loss of earnings.
Agriculture officials are at a loss to explain what caused the sudden killings, but they ruled out deliberate poisoning after rumours swirled of foul play.
The worst-hit fish farms are in Babel province, south of Baghdad, where farmers warned that the deaths would likely see fish prices soar.
"We could not remove them all," Mohammed Ali Hamza al-Jumaili, a fish farm owner in Mussayab, some 70km south of Baghdad, told Reuters. "The effort of a whole year has been wasted in addition to the money we had paid for workers and feed. We have employed more workers to get dead fish out of the cages," he added.
Mr Jumaili warned that the losses could see prices more than double to 10,000 Iraqi dinars ($8.43) per kilo, as excavators were employed to remove large volumes of the dead fish.
"We call on the government to compensate all the fish farmers, whether those who have officially licensed farms or those who do not, to enable them to continue fish production. Our losses were huge, as you can see," he added.
Carp, known locally as masgouf, is the country's national dish and is commonly barbecued outsides across restaurants in Baghdad.
The death of the fish is a dramatic reminder of the water crisis that has gripped the country this year. Iraq is suffering from both a lack of water, due to climate change and upstream dams in Syria, Turkey and Iran, as well as poor water quality due to rampant pollution.
In Basra, some 300 miles southeast of Baghdad, thousands took to the street this summer after nearly 100,000 people were hospitalised due to dirty water. The problems in the south lie in the Shatt-al-Arab waterway, where the Euphrates and Tigris meet, which is polluted by agricultural runoff, industrial complexes and salt intrusion from the Arabian Gulf.
Iraq's agriculture ministry said in a statement on Sunday that illness among the carp further north in the country spread quickly because they were cramped in breeding cases, and that reduced water floor through the Euphrates had contributed to the problem.
The official Al-Sabah newspaper reported on Sunday that tests would be done outside the country to try to find out what killed the fish.
In the fish farms of Saddat al-Hindiyah in Babylon province, about 80km south of Baghdad, farmers speculated that the mass dumping of chemicals into Iraq's river was the cause.
"Some are saying it's because of a sickness, others say it's because of chemicals," ​said farmer Hussein Faraj, frantically scooping dead fish out of his enclosure, fearing they were poisoned.
"We're waiting for a solution from the government or a test of the water – we're scared the water will poison us in the coming days, too."
Join our commenting forum
Join thought-provoking conversations, follow other Independent readers and see their replies