More than 200 mass graves of Isis victims discovered in Iraq, says UN
UN officials say as many as 12,000 bodies could be buried across 202 sites, including thousands of Isis victims dumped in a sinkhole south of Mosul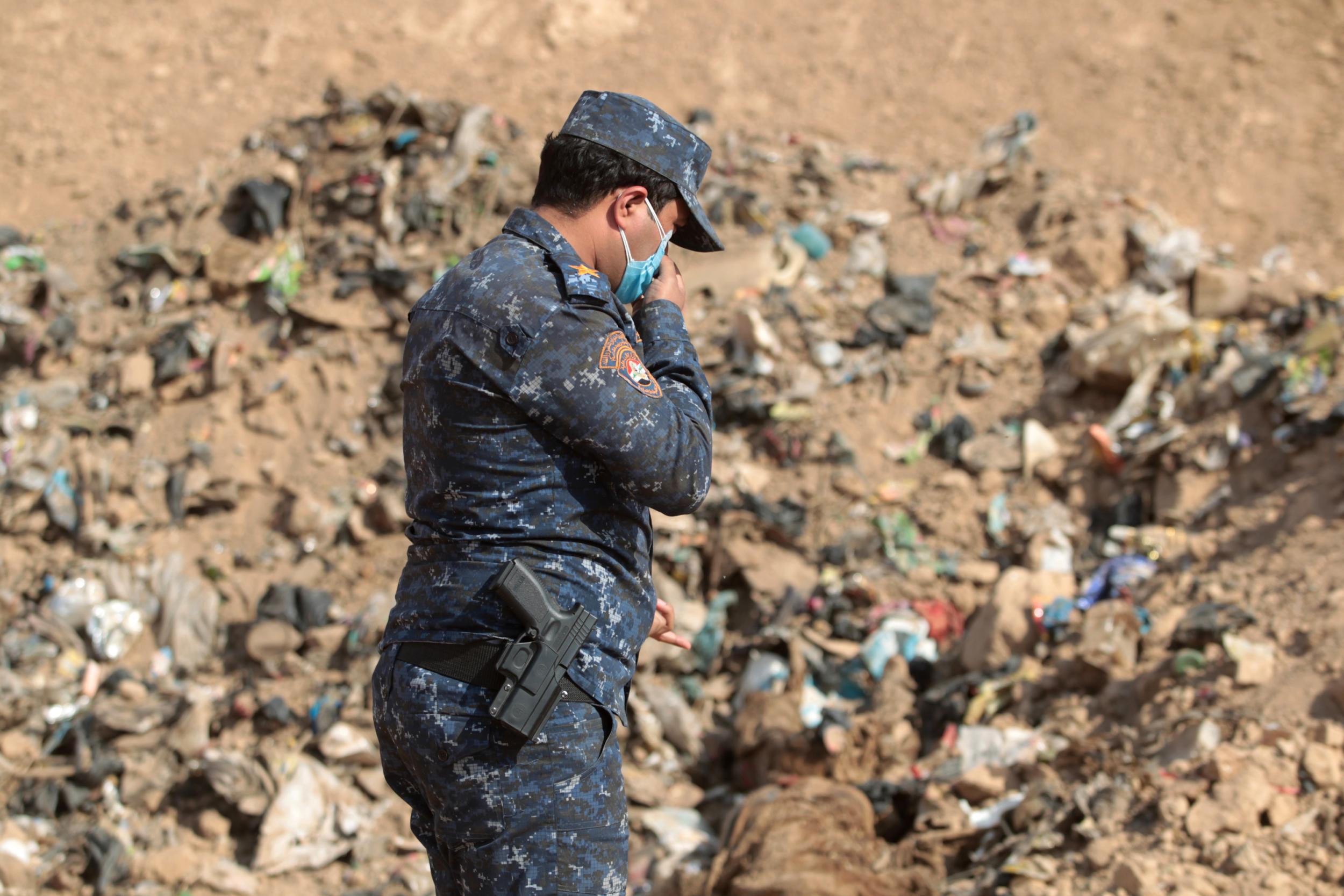 More than 200 mass graves containing thousands of victims of Isis have been unearthed in Iraq, according to the United Nations, which said the discoveries highlight the militants' gruesome and "relentless campaign of terror".
The UN's mission in Iraq said on Tuesday that they have found 202 grave sites containing as many as 12,000 bodies in the northern and western governorates of Nineveh, Kirkuk, Salah al-Din and Anbar. UN officials added that they believed there to be many more as yet unfound gravesites.
The bodies were dumped by the jihadi group during their three-year reign of terror starting in June 2014 and ending in December 2017. Thousands of men, women and children remain unaccounted for.
Officials said while it was not possible to determine an exact total of corpses, the largest gravesite is believed to be Khasfa sinkhole south of Mosul which may contain thousands of corpses. The smallest is in west Mosul, which contains at least eight bodies.
"The mass grave sites documented in our report are a testament to harrowing human loss, profound suffering and shocking cruelty," said Jan Kubis, the UN's representative in Iraq. "Determining the circumstances surrounding the significant loss of life will be an important step in the mourning process for families and their journey to secure their rights to truth and justice," he added.
At the terror group's peak, some 10 million people were believed to be living in the so-called caliphate which stretched from western Syria to just 50km west of Baghdad.
As the militants swept through new territory they killed captured members of security forces en masse and enslaved women from the Yazidi community. Isis also regularly slaughtered anyone who did not conform to their extremist ideology, including ethnic and religious minorities.
In total in Iraq, more than 30,000 civilians are believed to have been killed during the conflict with Isis and more than 55,000 injured. The UN estimates that more than 3,100 Yazidis are still within Isis captivity, including 1452 women and girls.
Several of the graves found in Iraq's Salahuddin province contain the remains of victims of the 2014 Camp Speicher massacre, when the militants killed around 1,700 Iraqi security forces and army cadets.
In some cases, like Khasfa, the militants just dropped their victims or the bodies of their victims into wells or sinkholes instead of digging graves.
The UN urged the Iraqi authorities to excavate, exhume and identify the remains of all the gravesite victims so that they could be returned to the families, leading to "meaningful truth and justice".
So far, the UN said that the Iraqi authorities have succeeded in exhuming the remains of just 1,258 victims from 28 graves.
"Isil's horrific crimes in Iraq have left the headlines but the trauma of the victims' families endures, with thousands of women, men and children still unaccounted for," Michelle Bachelet, UN high commissioner for human rights, said, using an alternate acronym for Isis.
Isis's 'scorched earth' tactics damaged northern Iraq
Show all 6
"These graves contain the remains of those mercilessly killed for not conforming to Isil's twisted ideology and rule … Their families have the right to know what happened to their loved ones. Truth, justice and reparations are critical to ensuring a full reckoning for the atrocities committed by Isil," she added.
UN investigators in August began collecting evidence – on war crimes, crimes against humanity, or genocide – for Iraqi courts to use in trials of accused Isis militants.
Join our commenting forum
Join thought-provoking conversations, follow other Independent readers and see their replies