Muslim businessman buys giant Christmas tree to show solidarity with Baghdad's Christians
Yassir Saad spent $24,000 (£19,000) to help Iraqis 'forget their anguish' during festive season
Lucy Pasha-Robinson
,
Ali Abdul-Hassan
Saturday 17 December 2016 17:22 Comments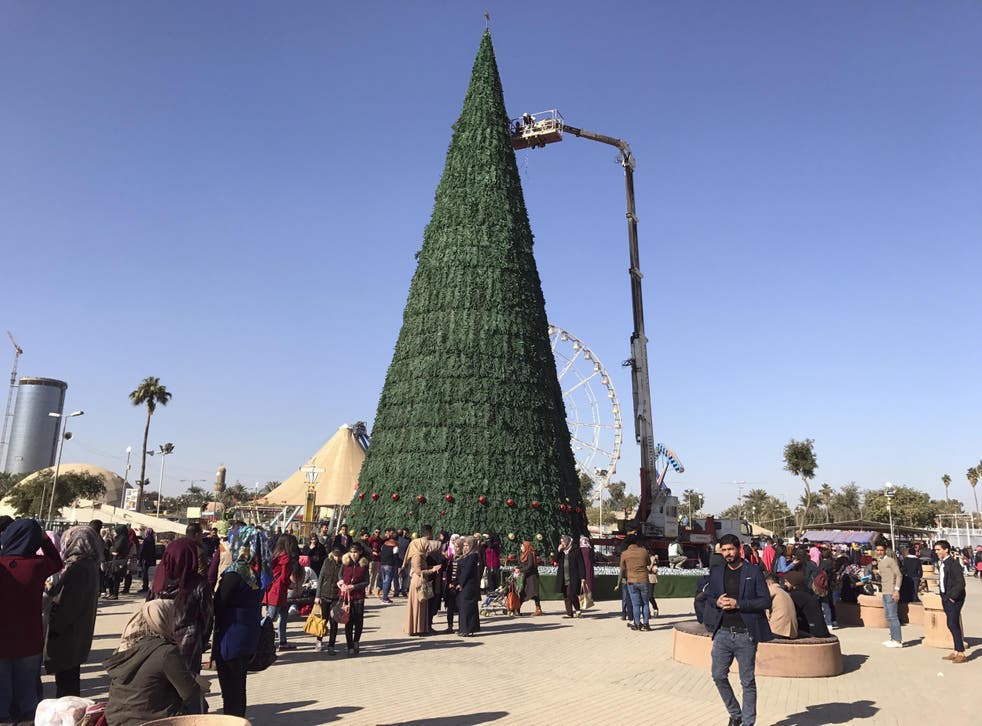 A Muslim businessman has erected an 85-foot Christmas tree in Baghdad in a sign of solidarity with Christians during the festive season.
Yassir Saad spent $24,000 (£19,000) on the artificial tree, which has a diameter of 33ft (10m), to help Iraqis "forget their anguish" over the war against Isis.
Iraqi forces are continuing to battle insurgent Isis fighters in Mosul, the group's last major stronghold in the country.
Saba Ismael, a visitor to the theme park where the tree has been displayed, said it "represents love and peace".
"I wish all Iraqi Christians could return to Iraq and live normal and peaceful lives," she said.
Iraq's Christian community has been persistently persecuted since the US-led invasion of the country in 2003.
In 2014, Isis stormed into northern Iraq, taking control of Mosul, Iraq's second-largest and once most diverse city.
Extremists marked Christian houses with the Arabic equivalent of the letter "N" for the derogatory term Nazarene and issued threatening ultimatums to leave the city or face death or forced conversion to Islam.
An estimated 20 or 30 Christians are thought to remain in the city. Some have been able to return to communities neighbouring Mosul; however, many have found their homes destroyed or ransacked.
Christians are not the only religious group to be persecuted by Isis.
In August 3 2014, extremist fighters attacked the town of Sinjar in northern Iraq as part of their campaign to eradicate the Yazidi people and "purify" the region of non-Islamic influences.
The group continue to suffer abominable human rights abuses, condemned by the United Nations as genocide.
Additional reporting by Associated Press
Register for free to continue reading
Registration is a free and easy way to support our truly independent journalism
By registering, you will also enjoy limited access to Premium articles, exclusive newsletters, commenting, and virtual events with our leading journalists
Already have an account? sign in
Join our new commenting forum
Join thought-provoking conversations, follow other Independent readers and see their replies