Isis, coronavirus and economic collapse: Iraq's new premier takes helm as country battles multiple crises
Mustafa al-Kadhimi, a former journalist with few ties to established political parties, is an unlikely choice to lead the country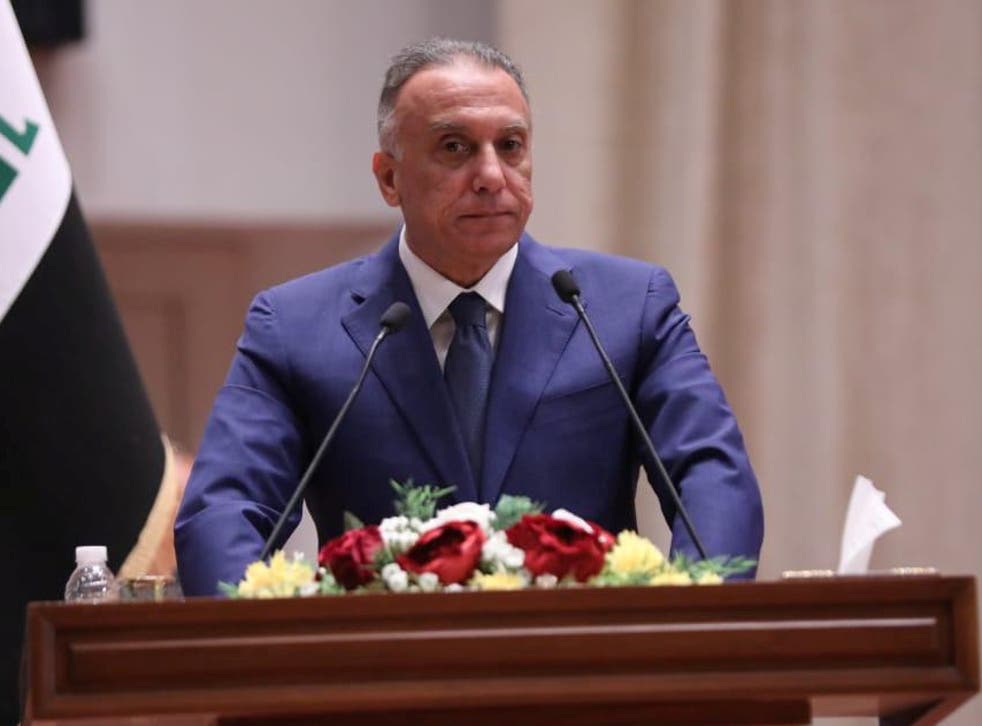 Isis is making a comeback, even as Iran and the United States continue to face off against each other on Iraqi territory. A simmering protest movement demanding radical change has departed from the streets only because the deadly coronavirus pandemic has prompted a lockdown. Record-low oil prices threaten the lifeblood of the economy, potentially making paying public salaries a challenge in the future.
Mustafa al-Kadhimi, a former journalist who served for several years as head of intelligence, has perhaps the toughest job in global politics. He is taking the helm as prime minister of Iraq at a nadir in the country's security and economy. A majority of parliament approved his cabinet late Wednesday night, but refused to give his picks for key positions the green light, leaving him for now without ministers of foreign affairs and oil, as well as trade, agriculture, migration, justice and culture.
Mr Kadhimi, whose premiership ends months of political stalemate and drift, acknowledged the gravity of Iraq's problems in his first remarks after the vote. "This government has come as a response to the social, political and economic crisis our country is facing," he said. "This is a government that will provide a solution, not add to the crises."
With his government in place and his premiership secured, Mr Kadhimi becomes a rare Iraqi prime minister hailing from outside the cloister of Kurdish and Shia Muslim political parties which have dominated politics since the 2003 toppling of Saddam Hussein by US forces.
Inside Syria's cramped and dark prisons for Isis fighters

Show all 20
Mr Kadhimi, who spent his exile years in Iran, the United Kingdom, and Germany, is a politically savvy, multilingual, 52-year-old who has managed to win the grudging trust of the leadership in Tehran as well as the confidence of Washington. "He's got some good experience with the intelligence service and he'll bring that to the table, bringing balance to foreign relations," said Sajad Jiyad, an Iraqi analyst based in Baghdad. "In the current circumstances, he's a good choice."
US secretary of state Mike Pompeo was among Mr Kadhimi's first calls after his government was approved. "They discussed the urgent hard work ahead for the Iraqi government, implementing reforms, addressing Covid-19, and fighting corruption," said a State Department readout of the call.
In an olive branch to the fledgeling leader, the US extended a four-month waiver to allow Iraq to import electricity from Iran despite sanctions in what Washington described as "a display of our desire to help provide the right conditions for success".
Mr Kadhimi appears to have won the acquiescence of the powerful political blocs that dominate parliament and also has a partner in Iraq's president Barham Saleh, an Iraqi Kurd who is reform-minded and has a measure of independence outside of the entrenched political system.
"Mustafa and Barham are very close and see eye to eye," said Renad Mansour, an Iraq specialist at Chatham House. "They have formal institutional roles in the Iraqi state. He's not from the parties. But the bigger question is to what extent he's now accountable to the parties. Having a prime minister who doesn't have a political party is very difficult."
Mr Kadhimi inherits a country with major security worries. Analysts have noted a rising surge of Isis attacks around the country as the group exploits the distraction of officials and the withdrawal of international forces because of coronavirus fears to increase attacks and bolster its positions. On Tuesday, Isis released photos purporting to show an attack on Iraqi armed forces near the Saudi border.
The US and Iran rivalry is increasingly being played out in Iraq, both militarily, with attacks on American bases by Iranian-backed Shia militias, and politically, in strong-arm pressure on Baghdad politicians. "One of his challenges is to make sure Iraq doesn't suffer because of the tensions between those two countries, [he has to show he's not] favouring one over the other," says Jiyad.
But Mr Kadhimi's biggest challenge may be in reviving a moribund economy. With oil prices at record lows, Iraq may soon need to dip into its reserves to pay public salaries, potentially hurting the value of the dinar and spurring inflation.
Tied somewhat to the state of the economy is a protest movement credited with pushing out the government of former prime minister Adel Abdul Mahdi. Mr Kadhimi was originally a darling of the protesters but has since lost favour. After all, he was the head of intelligence when the security forces killed hundreds of protesters last year.
He has promised to prosecute those who killed protesters and to hold early general elections, perhaps within a year, as a peace offering. Mr Mansour said Mr Kadhimi also reached out to several noted scholars with ties to civil society in attempts to woo them into the cabinet, but none made it to any position.
"There's Mustafa, the person who is this individual, who is a liberal and has always sided with the protests and tried to help with civil society," Mr Mansour said. "He's someone of the system and believes in the system. He believes he can change incrementally, slowly within the system. He wants a chance and he thinks he could pursue reform, but he wants to do it by playing the same game."
Join our new commenting forum
Join thought-provoking conversations, follow other Independent readers and see their replies