Iraq protests: Four anti-government activists shot dead despite promise not to use live rounds
Protesters continue to block key southern port amid another internet blackout across country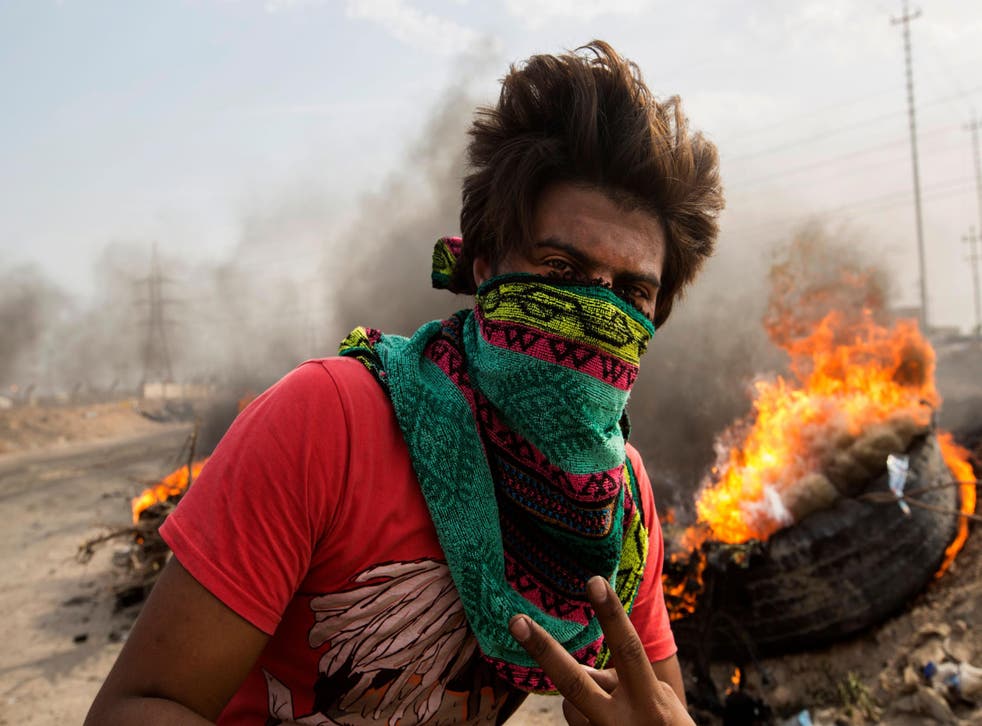 Security forces in Iraq have shot dead at least four anti-government protesters in central Baghdad, a day after the military said officers were ordered not to use live fire.
A further 35 people were also wounded on Baghdad's Shuhada Bridge, according to police and medical sources, as mass demonstrations continued for a 13th day straight with thousands rallying to central areas of the capital.
The demonstrators were killed as they tried to remove barriers blocking a march towards the Green Zone, which houses government offices and foreign embassies, the sources added.
Monitoring group Net Blocks also reported that the internet was shut down once again across most of the country.
Protesters in the troubled capital told The independent they feared the government was deliberately strangling connectivity so that civilians could not communicate what is happening to the outside world.
"Last night a sit-in in [Baghdad's] Bab al-Moathem area was also attacked with live ammunition and several protesters died, even though people were just minding their own business," said one protester, who asked for his identity to be withheld for security reasons.
"The internet is a major problem for everyone. The blackout means people are stranded here with no idea what is going on. People are scared something might happen without warning and the world wouldn't know about it," he added.
Iraq protests: Death toll soars as live rounds and tear gasfire

Show all 17
Another demonstrator in the Shia holy city of Karbala, around 100km (62 miles) south of Baghdad, agreed.
"People are extremely worried about the internet blackout. Many only come out during the day and go home at night fearful about what the secret forces will do," he said.
He added that security forces used live ammunition on protesters overnight after attempting to enter a local building in the city, which has also been rocked by protests.
"Mosques have started giving out food and drinks and even offering medical assistance," he added.
Amid global condemnation of the rising death toll, Iraqi military spokesman Major-General Abdul Karim Khalaf reassured reporters on Wednesday that security forces had been given "clear and strict instructions" not to allow any use of live ammunition against rallies.
He also said that orders had been issued to "immediately" arrest "saboteurs who cut off roads" and refer them to the judiciary.
He claimed Iraq had incurred losses exceeding $6bn (£4.6bn) as a result of the closures and vowed to come down hard on those who disrupted key facilities.
It did little to deter protesters in the south of the country who once again forced the closure of the country's main Umm Qasr port.
The Iraqi government has failed to quell weeks of unrest which has seen tens of thousands of people take to the street against widespread corruption, soaring unemployment and terrible basic salaries.
Many are furious there are few jobs and regular power cuts despite Iraq's vast oil reserves.
Decisions by Iraqi prime minister Adil Abdul-Mahdi to create stipends for the poor, more job opportunities for graduates and pledges to punish a handful of corrupt officials have done little to satisfy protesters.
Many are demanding a complete overhaul of state institutions, the electoral process and system of governance.
The protests have also exposed long-simmering resentment at Iran's influence in the country.
Protesters have repeatedly targeted Shia political parties and militias with close ties to Tehran as well as Iran's consulate in Karbala.
Security forces, meanwhile, have been accused of using excessive force after more than 250 people have been killed since the unrest erupted on 1 October.
The United Nations in their latest report released on Tuesday said that there had been nearly 100 deaths since 25 October alone.
The UN's special representative of the secretary general for Iraq, Jeanine Hennis, added that there needed to be "immediate action" to stop the "vicious circle of violence".
However, she later sparked fury from protesters who accused her of prioritising "oil over blood" when she tweeted of her "grave concern" at the disruption of critical infrastructure such as the oil ports.
Protesters have repeatedly blocked roads and ports to ramp up pressure on the government.
Iranian embassy set on fire during protests in Iraq
On Thursday, authorities unsuccessfully attempted to reopen of the Umm Qasr port, which houses a vital oil terminal and is an entry point for food and basic goods.
By the afternoon, protesters burnt tyres and blocked the road to the port, forcing trucks to come to a standstill.
Ms Hennis had said on Twitter it was the "responsibility of all to protect public facilities" adding that "Threats/closures of roads to oil installations, ports causing billions in losses. [It is] Detrimental to Iraq's economy, undermines fulfilling protesters' legitimate demands."
Shahad Al-Rawi, an Iraqi novelist and supporter of the protests, was among many to reply, writing "blood is more precious than oil and the people of Iraq know their own interests. We don't need your advice!"
Central bank sources, meanwhile, said it was not just the unrest in the streets or ports that was battering the economy.
Speaking to Reuters, one bank official said that the internet outages have caused as much as $40m (£31.2m) of losses per day for the private sector.
The source said the losses by the private banks and mobile phone companies, money transfer services, tourism and airline booking offices had averaged almost $1.5bn (£1.17bn) for Iraq in just over a month.
Join our new commenting forum
Join thought-provoking conversations, follow other Independent readers and see their replies