Iraq protests: Baghdad security forces firing tear gas grenades that shatter skulls, Amnesty warns
Canisters are ten times heavier than standard models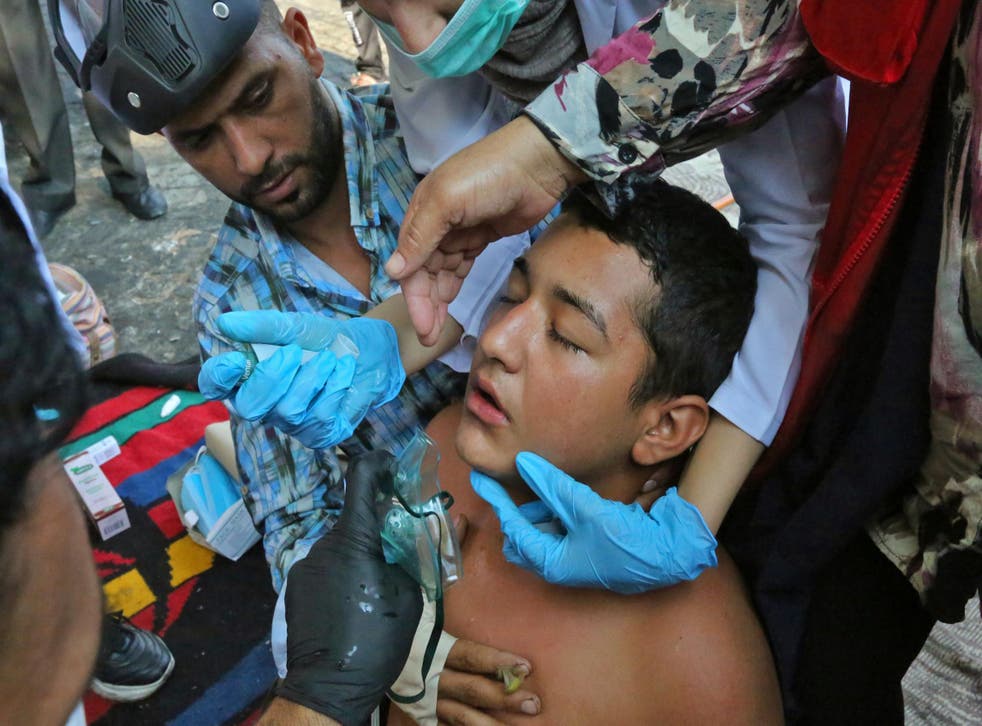 Iraqi security forces are using military-grade tear gas canisters that shatter skulls, a rights group had warned, saying that the grenades have killed at least five protesters in as many days.
In total over 250 people have been killed this month as riot police have opened fire on rallies against government corruption and crumbling infrastructure in the country.
Amnesty International warned on Thursday that police were using two variants of tear gas from Bulgaria and Serbia that are ten times heavier than the standard canisters causing "horrific injuries and death" when directly fired at protesters.
The group verified several gruesome videos of tear gas attacks filmed between 25 and 29 October in Baghdad's Tahrir Square.
In one, taken on Joumhouriya Bridge, a male protester lies unconscious on the floor, with a canister lodged in his skull. Thick smoke and gas billows from the wound.
"All the evidence points to Iraqi security forces deploying these military-grade grenades against protesters in Baghdad, apparently aiming for their heads or bodies at point-blank range," Lynn Maalouf, Middle East Research Director at Amnesty International.
Iraq protests: Death toll soars as live rounds and tear gasfire

Show all 17
"This has had devastating results, in multiple cases piercing the victims' skulls, resulting in gruesome wounds and death after the grenades embed inside their heads."
She added "The authorities must rein in the police, ensure prompt, impartial, effective investigations, and prosecute those responsible."
Facing mounting pressure, on Thursday Iraq's president Barham Salih appeared to capitulate to the protesters' demand saying he would approve early elections, once new voting law is drafted.
But he stopped short of endorsing that Prime Minister Adel Abdul-Mahdi step down, saying he cannot leave office until political factions decide on a replacement.
Abdul Mahdi has promised reforms and a broad reshuffle of his cabinet but has struggled to address protesters' demands including refusing calls for an early election made by his erstwhile main supporter, populist cleric Moqtada al-Sadr.
In a prime-time address, President Salih said: "The prime minister had previously agreed to submit his resignation, if the blocs agree on an acceptable replacement in order to adhere to constitutional and legal frameworks. "
But that will little to assuage rising anger in the country which has been torn apart by the protests that continued on Thursday despite being met with mounting violence.
Demonstrators clashed with security forces on a second bridge leading to Baghdad's heavily fortified Green Zone, with at least one person killed and more than 60 wounded.
Tens of thousands of demonstrators have joined the protests to vent their frustration at the political elite which is regarded as deeply corrupt.
The protests have been concentrated in Shiite-majority areas and directed at the Shiite-dominated government.
Iraq, an OPEC member, suffers from soaring unemployment and poor public services despite holding the world's fourth largest proven oil reserves.
Protesters told Amnesty that they had witnessed several deaths due to the military-grade tear gas canisters being fired directly at protesters.
The rights group said that typical 37mm police-style tear gas grenade weighs between 25 and 50 grams and consists of several smaller canisters that separate and spread out over an area.
In contrast, the Serbian and Bulgarian 40mm military-style grenades used in Baghdad consist of a single heavy slug and |are between five and 10 times heavier, weighing 220 to 250 grams".
"As both the police and military grenades are fired with a similar muzzle velocity, meaning they travel through the air at the same speed, the grenades that weigh 10 times as much deliver 10 times the force when they strike a protester," said Brian Castner, Amnesty International's Senior Crisis Adviser on Arms and Military Operations.
"This is why they have caused such horrific injuries," he added.
Death toll soars in Iraq protests
Protesters told Amnesty that the security forces were not using gas grenades to disperse the crowd but to kill as they were firing directly at people.
A medical volunteer said: "They fire it straight into the crowds. Not in the air. Directly at people. It's savage."
Witnesses also claimed the security forces were firing what they walled "smokers" into the crowds, a different kind of canister emitting a more potent gas that has a different smell.
One female protester told the rights group that when the "smoker" landed near her she could barely breathe.
"It was like my chest was broken. The medical volunteers gave me a ventilator. I think I would have died. I have been exposed to tear gas before and it did not feel this way," she said.
Register for free to continue reading
Registration is a free and easy way to support our truly independent journalism
By registering, you will also enjoy limited access to Premium articles, exclusive newsletters, commenting, and virtual events with our leading journalists
Already have an account? sign in
Join our new commenting forum
Join thought-provoking conversations, follow other Independent readers and see their replies