Iraq protests: police officer killed and dozens injured amid clashes in Baghdad
Demonstrators loyal to influential Iraqi cleric Muqtada al-Sadr protested in Baghdad's downtown Tahrir Square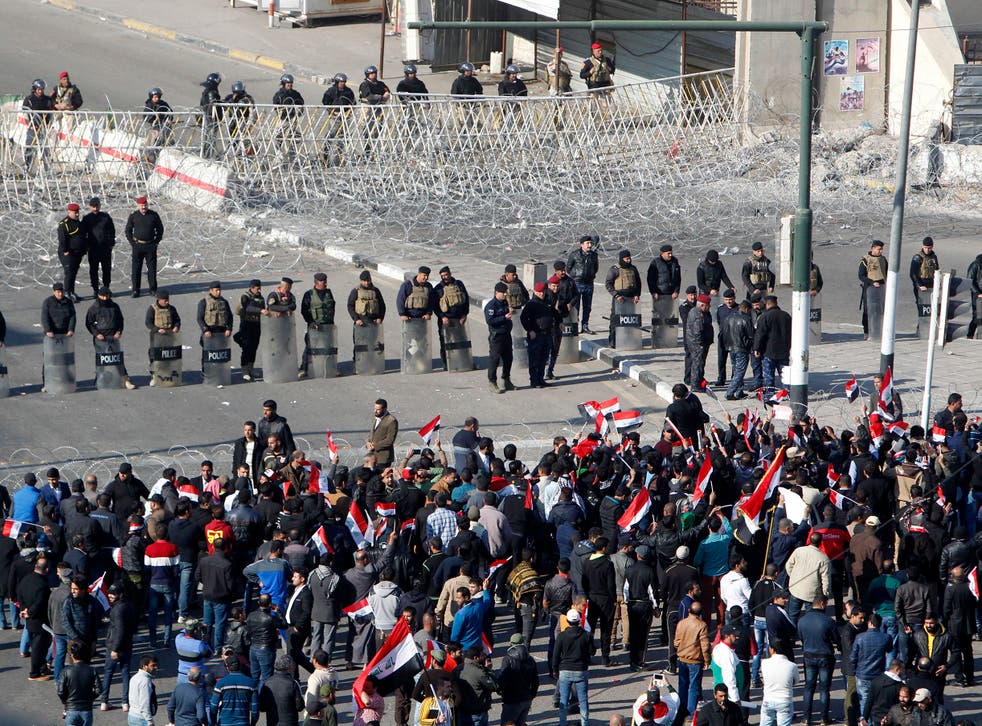 Clashes that erupted during protests in the Iraqi capital have left a policeman dead, according to police and hospital officials who said seven other policemen were injured along with dozens of protesters. The violent outbreak prompted the government to call for a "full investigation".
Demonstrators loyal to influential Iraqi cleric Muqtada al-Sadr protested in Baghdad's downtown Tahrir Square demanding an overhaul of the commission overseeing local elections scheduled this year.
Shots rang out in central Baghdad as security forces used live fire and tear gas to disperse the crowds. An Associated Press team at the scene witnessed ambulances rushing away protesters suffering from breathing difficulties. Hospital officials said the policeman died of a gunshot wound.
While at times the crowds advanced towards Baghdad's highly fortified Green Zone, by afternoon they began to disperse after a statement from Mr Sadr's office called on his followers to refrain from trying to enter the compound.
Mr Sadr accused the elections commission of being corrupt and called for the commission's members to be changed, according to a statement from his office.
"The prime minister ordered a full investigation into the injuries among security forces and protesters during the demonstration today in Tahrir Square," read a statement from Prime Minister Haider al-Abadi's office.
"We will not give in to threats," said the head of the electoral commission, Serbat Mustafa, in an interview with a local Iraqi television channel Saturday afternoon. Mr Mustafa said he would not offer his resignation and accused Mr Sadr of using the commission as a political "scapegoat".
World news in pictures

Show all 50
Mr Sadr has been a vocal critic of Mr Abadi, and last year protests that included many of his followers breached the highly fortified Green Zone twice.
Mr Abadi has said that he respects the rights of all Iraqis to peacefully demonstrate but called on the protesters to obey the law and respect public and private property.
The Green Zone is home to most of Iraq's foreign embassies and the seats of Iraq's government.
AP
Join our new commenting forum
Join thought-provoking conversations, follow other Independent readers and see their replies