Isis seizes Ramadi: Iraq sends reinforcements to city after general warns of 'massacre'
A British Isis fighter called Abu Musa al-Britani blew himself up during battle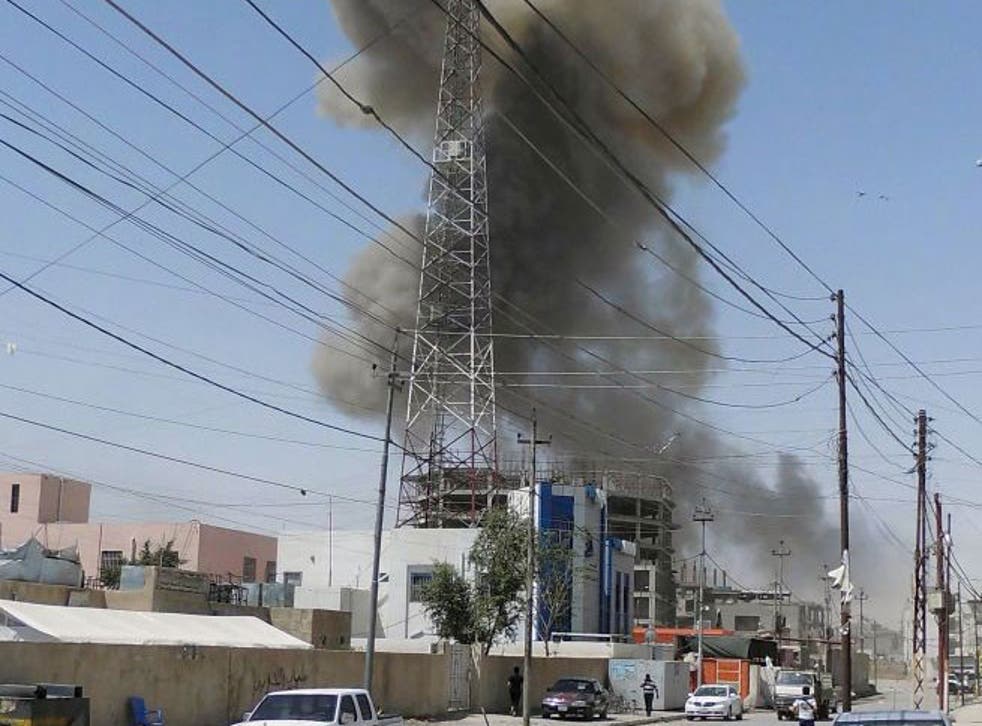 Iraq has sent reinforcements to Ramadi in a last-ditch effort to stop Isis taking complete control of the city.
A white British man was among six suicide car bombers who led the group's renewed assault yesterday after months of battles between extremist militants and security forces.
Isis' official social media accounts released pictures of the man, known by his chosen pseudonym Abu Musa al-Britani, announcing his death and calling him a "martyr".
The group raised its black flag over the local government headquarters on Friday and declared victory using loudspeakers from a mosque.
Although official spokespeople for the Iraqi army claimed the fight continued and Ramadi had not fallen, much of the city is believed to be under Isis control.
Brigadier General Saad Maan Ibrahim, from Iraq's Joint Operations Command, told state television on Saturday morning that the US-led coalition had been supporting troops with "painful" air strikes overnight.
He did not give details on the state of continuing battles but vowed that Isis would be driven from the city "in the coming hours."
An anonymous Iraqi army general yesterday warned of the impending slaughter of his surrounded troops if reinforcements did not reach them.
"A massacre will take place and all of us will be slaughtered," he said.
"We have been defending the city for months and we don't deserve to end like this. It's humiliating."
Ramadi, the capital of Anbar province, is just 60 miles west of Baghdad and would be the first major city seized by Isis insurgents in Iraq since security forces and paramilitary groups began pushing them back last year.
It would be a strategic conquest for the group at a time when opponents hoped US-led air strikes and Kurdish and army operations were slowing its advance across Iraq and Syria.
Ramadi has been the site of vicious battles for month, but the insurgents renewed their offensive there in April, crushing government forces' efforts to retake Iraq's largest province of Anbar and use it as a foothold to move north towards Isis' stronghold of Mosul.
The fighting has caused more than 130,000 people to flee Anbar in the last month, according to the International Organisation for Migration, which warned that countless civilians may now be trapped.
Timeline: The emergence of Isis

Show all 40
A speech issued by the "Islamic State's" self-declared caliph on Thursday urged people to return to their homes in the Sunni heartland.
"For you are our people. We defend you, your honour, and your wealth," Abu Bakr al-Baghdadi said, praising fighters who had "snatched Anbar" from the government.
Additional reporting by AP
Register for free to continue reading
Registration is a free and easy way to support our truly independent journalism
By registering, you will also enjoy limited access to Premium articles, exclusive newsletters, commenting, and virtual events with our leading journalists
Already have an account? sign in
Register for free to continue reading
Registration is a free and easy way to support our truly independent journalism
By registering, you will also enjoy limited access to Premium articles, exclusive newsletters, commenting, and virtual events with our leading journalists
Already have an account? sign in
Join our new commenting forum
Join thought-provoking conversations, follow other Independent readers and see their replies