Iraqi army rushes reinforcements into Ramadi to prevent massive Isis victory
Unless the government can counterattack swiftly and regain control of lost positions, the defeat in Ramadi will be a devastating blow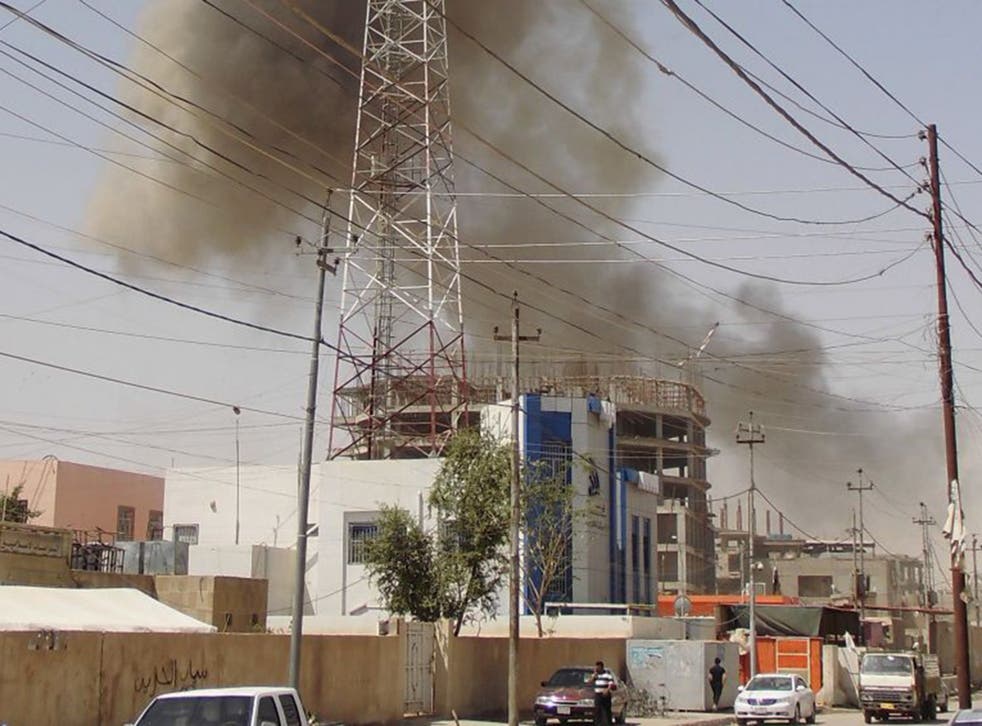 Islamic State (Isis) is proclaiming victory in Ramadi over mosque loudspeakers after a day of heavy fighting as the government rushes reinforcements into the city to prevent its worst defeat this year.
Isis forces stormed the government-held enclave in central Ramadi, the capital of Anbar province, early on 15 May. The government still holds an operations centre on the edge of the city and important bases nearby, but its failure to defend Ramadi is a sign that Isis has become a permanent feature of the political and military landscape of Iraq.
In pictures: Fight for Tikrit

Show all 16
The Isis assault came early on Friday as it used armoured bulldozers to clear away concrete obstructions and then sent at least six suicide bombers driving vehicles packed with explosives to attack the defenders. An army major was reported as saying that Isis had cut the only remaining supply line for troops still in the city, making it difficult to reinforce them. Some 130,000 remaining inhabitants of Ramadi, an overwhelmingly Sunni city, have fled the fighting, though they have previously had difficulty in entering Baghdad where they are suspected of being Isis sympathisers.
Unless the government can counterattack swiftly and regain control of lost positions, the defeat in Ramadi will be a devastating blow to the Baghdad government. It shows that Isis can gain military successes despite its offensive being expected and with defending troops supported by US air strikes. Isis's run of victories last year was broken during the winter by its failure to capture the Syrian Kurdish city of Kobani despite suffering heavy losses. Some military specialists believed that the same thing would happen at Ramadi.
The fall of Ramadi, one of the few remaining government strongholds in Anbar province covering a third of Iraq, shows that hopes of the Iraqi army and Shia militia forces reversing Isis's gains of last year were premature and may never be realised. The biggest success of the government was the recapture of Tikrit, Saddam Hussein's home town, but Isis committed only about 500 fighters to defend the city. It has remained a ghost town ever since, ruled by Shia militias and local police, but with none of its original Sunni inhabitants daring to return.
The government had announced that it was going to follow up success in Tikrit by an offensive in Anbar. This faltered and was interrupted by an Isis counterattack in Ramadi and at Baiji oil refinery, a 36sq km complex, most of which is now held by Isis. A crucial weakness of the government is that it has not been able to rebuild the army since the defeats of last year and has only a limited number of elite troops, numbering at most 15,000 men and maybe as few as 5,000, to meet Isis offensives. These units are moved round like fire brigades to cope with successive military crises but are not strong enough to win decisive victories or to hold positions after the battle is over.
Register for free to continue reading
Registration is a free and easy way to support our truly independent journalism
By registering, you will also enjoy limited access to Premium articles, exclusive newsletters, commenting, and virtual events with our leading journalists
Already have an account? sign in
Register for free to continue reading
Registration is a free and easy way to support our truly independent journalism
By registering, you will also enjoy limited access to Premium articles, exclusive newsletters, commenting, and virtual events with our leading journalists
Already have an account? sign in
Join our new commenting forum
Join thought-provoking conversations, follow other Independent readers and see their replies