Iraqi military 'kills 250 Isis fighters' and re-takes swathes of territory in fierce battle for Anbar
Thousands of police officers who fled capital of Ramadi are now returning home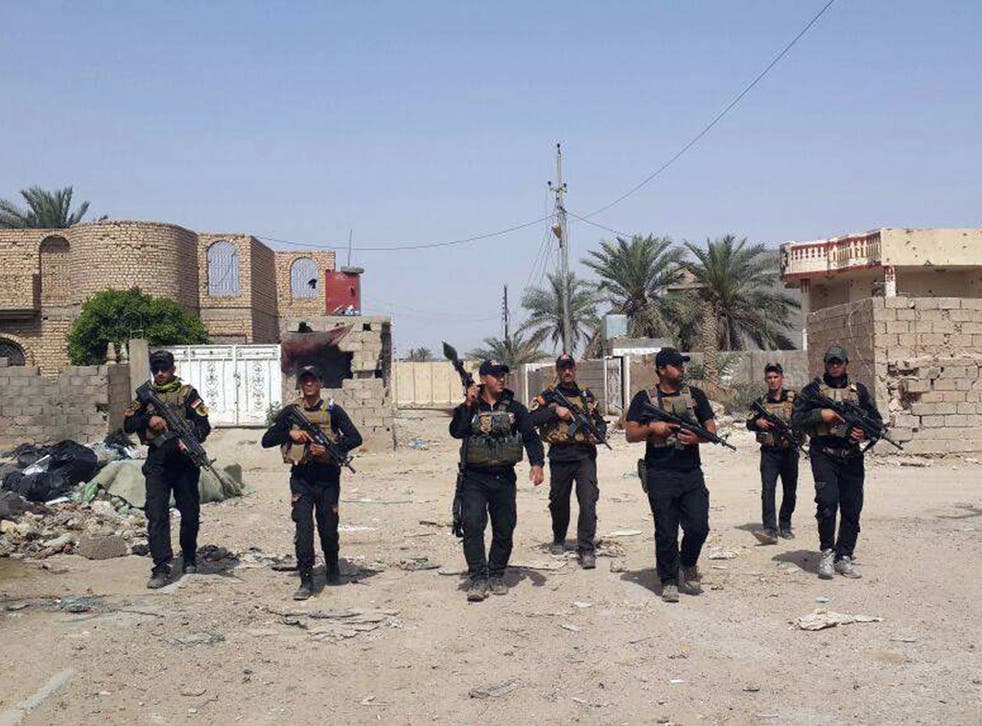 A senior commander in the Iraqi army claims his forces have killed hundreds of Isis militants and re-taken swathes of territory in Anbar province, where the extremist group launched a counter-offensive in recent weeks.
Lieutenant General Abdul Amir al Shammari told Sky News his forces had killed "more than 250 terrorists in the past few days".
He said this had been achieved with assistance from the Iraqi air force, military helicopters and coalition airstrikes. "The coalition strikes provided cover for our troops to push forward."
Isis captured large parts of the capital Ramadi last week and still controls most of the province. Militants have launched suicide attacks targeting government buildings and checkpoints and are responding fiercely to Iraqi attacks with heavy artillery.
A military official said thousands of police officers and residents who fled Ramadi are now returning back to their homes as more reinforcements arrive, according to the Washington Post.
Staff Maj. Gen. Mohammed Khalaf Saeed, acting head of Anbar Operations Command, said 5,000 local police officers – almost the entire force – panicked at news of Isis' approach and deserted their posts, leaving just 1,000 security forces to protect the city.
In pictures: Fight for Tikrit

Show all 16
Mr Saeed said about 2,500 police officers had now returned to Ramadi as the fear engulfing the area subsided.
Over 100,000 displaced citizens fled Isis' advance to try and find safety within the last 10 days. Many have been forced to cross back into Anbar after being turned away from Baghdad for not having a sponsor in the city.
Thousands remain trapped in camps inside Anbar province as the fighting continues, where only one hospital is still under Government control and stretched to breaking point.
The US-led coalition has conducted 16 air strikes against Isis in Iraq and five in Syria since Wednesday. The Combined Joint Task Force told Reuters the strikes in Iraq targeted Isis tactical units, buildings, sniper positions and vehicles around seven cities including Falluja, Mosul, Ramadi and Sinjar.
Join our new commenting forum
Join thought-provoking conversations, follow other Independent readers and see their replies