Iraq's state TV says the country's prime minister has arrived in Mosul to declare victory over Isis
Victory reported after eight-month battle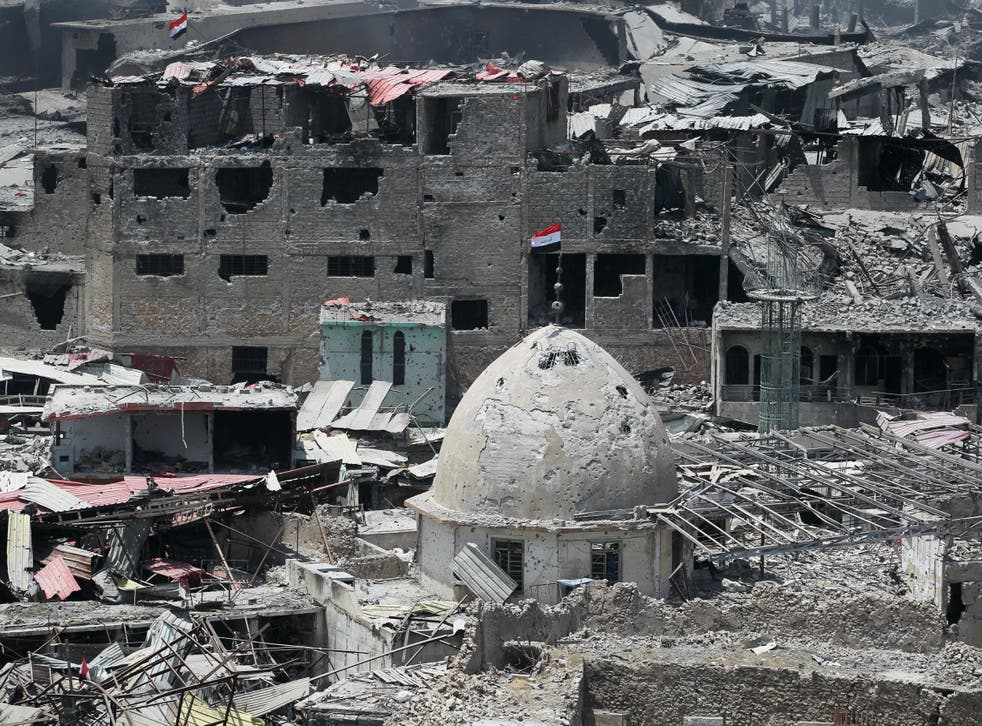 Iraq's state television has said the country's prime minister has arrived in Mosul to declare victory over Isis there after an eight-month battle to drive Isis fighters from the city.
Haider al-Abadi, dressed in a military uniform, said he "congratulates the fighters and the people on the big victory" in Mosul.
Militants were still being "chased" in some areas of the city, however, according to Iraqi TV.
The leader was seen disembarking from a military plane and met by senior security forces commanders.
Iraq began a fight last October to take Mosul back, and was supported by a US-led coalition.
Militants captured the city within days in the summer of 2014, and in 2017 it was one of their last strongholds as the group controlled less than one square kilometer in Mosul's old city.
The battle has left much of the second largest city in Iraq in ruins. It has killed thousands of people, including Iraqi security forces and civilians, and nearly a million are displaced. At least seven journalists were also killed.
As Iraqi troops approached the city, Isis militants packed the Grand al-Nuri Mosque with explosives, bringing it down and preventing troops from the symbolic act of hanging a flag of victory on the mosque's minaret. It was the same mosque where Abu Bakr al-Baghdadi anounced the Isis calliphate between Iraq and Syria three years ago. Isis is close to losing its "capital" of Raqqa in Syria as Arab and Kurdish fighters, backed by the US, advance.
But it still controls several towns in northern Iraq and there are fears the group may increase attacks in urban areas like Baghdad.
In pictures: Mosul offensive

Show all 40
American officials described the fight in Mosul, which was hoped to conclude before former President Barack Obama left office, as the most intense and brutal since World War II.
Isis has used woman and children as human shields, detonating suicide bombs and firing snipers to keep its grip on the city.
An Iraqi TV station captured the moment that a woman, holding the trigger to a bomb in her right hand and carrying a child, walked past Iraqi troops in Mosul.
The explosives vest under her hijab did not detonate until she had walked past.
More than 20 women suicide bombers have hidden themselves among civilians and detonated explosives over the last two weeks, a sign of militants' desperation.
In Pictures: The crisis unfolding in Syria

Show all 30
As fighting is still reportedly underway, Iraqi troops and civilians still face risks of suicide bombers and guerrilla attacks as they clear houses rigged with bombs so civilians can return home.
Even as bombs may fall silent, the humanitarian crisis is expected to continue, as Iraqi authorities will work to restore electricity and rebuild bombed schools, hospitals and homes. The United Nations estimates the cost of near-term repairs will be around $700 million.
Agencies contributed to this report.
Join our new commenting forum
Join thought-provoking conversations, follow other Independent readers and see their replies