Iraqis battle al-Qa'ida militant uprising in Ramadi and Fallujah
Qassim Abdul-Zahra
,
Sinan Salaheddin
Thursday 02 January 2014 23:22 Comments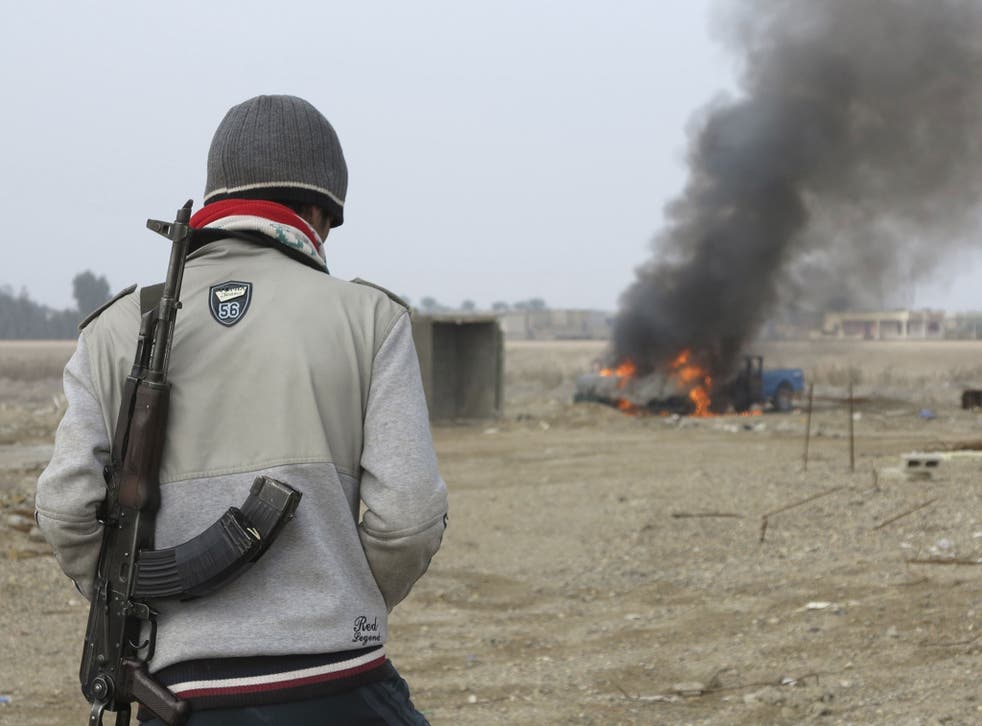 Iraqi security forces and allied tribesmen battled on Thursday to put down al-Qa'ida-linked gunmen who, in a coordinated surge, ran rampant in two of the country's main Sunni cities, overrunning police stations and sweeping through the streets, emboldened by mounting sectarian tensions between minority Sunnis and the Shiite-led government.
Troops hammered the militants with Hellfire rockets recently sent by the United States to help the government's fight against al-Qa'ida's Iraq branch, which also operates with increasing strength in Syria's civil war across the border. The militants' swift uprising a day earlier overwhelmed police forces in Ramadi and Fallujah, two cities in the Sunni heartland of Anbar province that were once strongholds for militants battling US troops.
The al-Qa'ida branch, known as the Islamic State in Iraq and the Levant, appeared to be trying to exploit Sunni anger after authorities over the past week arrested a senior Sunni politician accused of terrorism and dismantled a months-old sit-in in Ramadi by Sunnis protesting discrimination the government. Those moves added new fuel to sectarian violence that has escalated since the American withdrawal.
In new violence outside Anbar, a pickup truck laden with explosives blew up on a busy commercial street Thursday evening in the city of Balad Ruz, 45 miles northeast of Baghdad, destroying several shops. At least 19 people were killed and 37 were wounded, according to the security officials and health officials, who spoke on condition of anonymity because they were not authorized to talk to the press.
Al-Qa'ida militants have been presenting themselves as the Sunnis' champions against the government. Still, major Sunni tribes in Anbar and elsewhere oppose al-Qa'ida and are fighting against it.
The heaviest fighting on Thursday came in Fallujah, 40 miles west of Baghdad, where two security officials said their forces were meeting particularly heavy resistance from al-Qa'ida fighters. In the provincial capital of Ramadi, security forces took back several police stations, the officials said. There was no immediate word on casualties. Footage released by the military showed forces firing Hellfire missiles at militant positions.
In another apparent move to maintain Sunni support, security forces arrested a controversial Shi'ite cleric who leads an Iranian-backed militia. Sunnis have long accused the government of targeting only Sunni militant groups while blessing Shiite ones.
AP
Register for free to continue reading
Registration is a free and easy way to support our truly independent journalism
By registering, you will also enjoy limited access to Premium articles, exclusive newsletters, commenting, and virtual events with our leading journalists
Already have an account? sign in
Join our new commenting forum
Join thought-provoking conversations, follow other Independent readers and see their replies