Isis launches assault on third archaeological site in three days in a bid to destroy centuries of human knowledge
Government Minister criticised US-led coalition for not doing enough to protect world heritage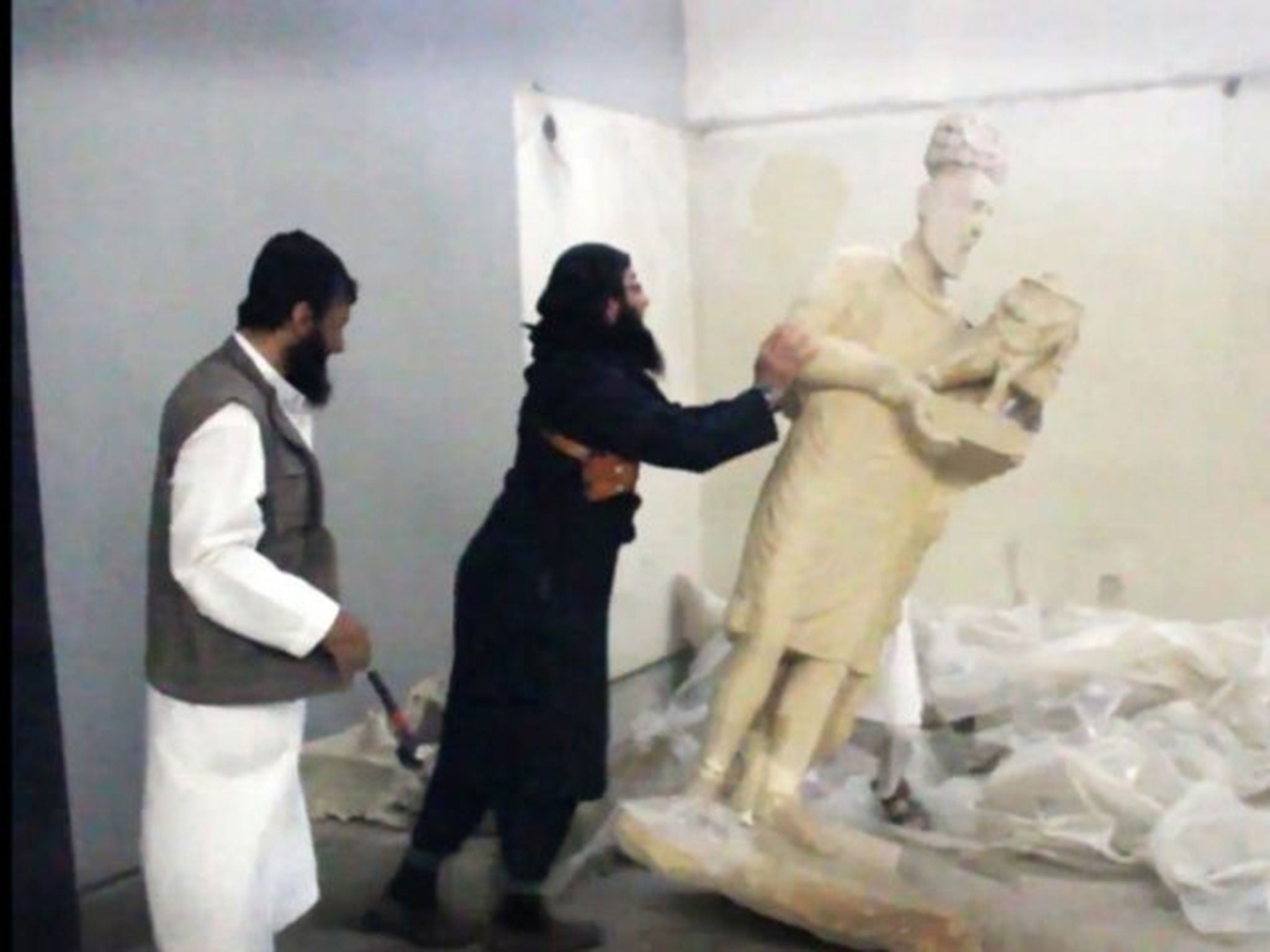 Isis militants are believed to be attacking a third ancient archaeological site in Iraq after razing Nimrud and Hatra – both thousands of years old – to the ground in days.
The Iraqi Government has received reports that militants are looting and damaging Khorsabad – nine miles from Mosul – as they continue to attack its cultural heritage, Associated Press reports.
It has led the Government to criticise the US-led coalition forces, which have carried out 2,800 air strikes against Islamic State in Iraq and Syria since August but aren't doing enough to protect its cultural heritage.
Iraqi Tourism and Antiquities Minister Adel Shirshab said: "Our airspace is not in our hands. It's in their hands," Reuters reports.
"I am calling on the international community and coalition to activate its air strikes and target terrorism wherever it exists," he added.
At a press conference earlier Sunday, Shirshab said they have called for an extraordinary session of the U.N. Security Council to address the crisis in Iraq.
He said: "The world should bear the responsibility and put an end to the atrocities of the militants, otherwise I think the terrorist groups will continue with their violent acts," Associated Press reports.
Both Shirshab and Qais Rasheed, head of the antiquities board, said coalition aircraft could have monitored preparations for the attacks and prevented them, especially at Hatra, a remote desert site about 110 km (70 miles) south of Mosul.
Rasheed told Reuters: "It was possible to carry out surveillance. Why didn't this happen?"
On Friday, the militants razed 3,000-year old Nimrud and on Saturday, they bulldozed 2,000-year old Hatra - a UNESCO world heritage site. Video footage has shown them ransacking a Mosul museum, toppling and smashing statues and sculptures with sledgehammers. The attack was described by UN Secretary General Ban Ki Moon as a "war crime".
Mamuzini, a Kurdish official from Mosul, told Associated Press that the militants had already begun demolishing the Khorsabad site on Sunday, citing multiple witnesses.
In pictures: The rise of Isis
Show all 74
Isis, which rules a self-declared caliphate in parts of Iraq and Syria, promotes a fiercely purist interpretation of Sunni Islam which draws its inspiration from early Islamic history. It rejects religious shrines of any sort and condemns Iraq's majority Shi'ite Muslims as heretics.
"Their battle is a battle for identity, to empty the region, primarily Iraq, of its human inheritance," Shirshab told a conference to mark plans for the city of Babylon to be listed as a world heritage site.
Khorsabad was constructed as a new capital of Assyria by King Sargon II shortly after he came to power in 721 B.C. and abandoned after his death in 705 B.C. It features a 24-meter thick wall with a stone foundation and seven gates. Since it was a single-era capital, few objects linked to Sargon II himself were found. However, the site is renowned for shedding light on Assyrian art and architecture.
Archaeologists have compared the assault on Iraq's cultural history to the Taliban's destruction of the Bamyan Buddhas in 2001, Reuters reports. But the damage wreaked by Isis in Iraq, where agriculture and writing were pioneered by ancient Mesopotamian civilisations, may have been more devastating.
Isis currently controls about a third of Iraq and Syria which has made it difficult for authorities to assess the full extent of the damage.
Shirshab said: "We have confirmation that they bulldozed sites at Nimrud and Hatra. What we don't have is information about the size of the area which has been razed," said Qais Rasheed, head of the antiquities board.
The Sunni extremist group has been campaigning to purge ancient relics they say promote idolatry that violates their fundamentalist interpretation of Islamic law. In January, the group burned hundreds of books from the Mosul library and Mosul University, including many rare manuscripts.
Join our commenting forum
Join thought-provoking conversations, follow other Independent readers and see their replies