Isis advances on Palmyra: Syria urges international community to save 2,000-year-old Unesco world heritage site from destruction
Officials say Isis 'will destroy everything that exists there'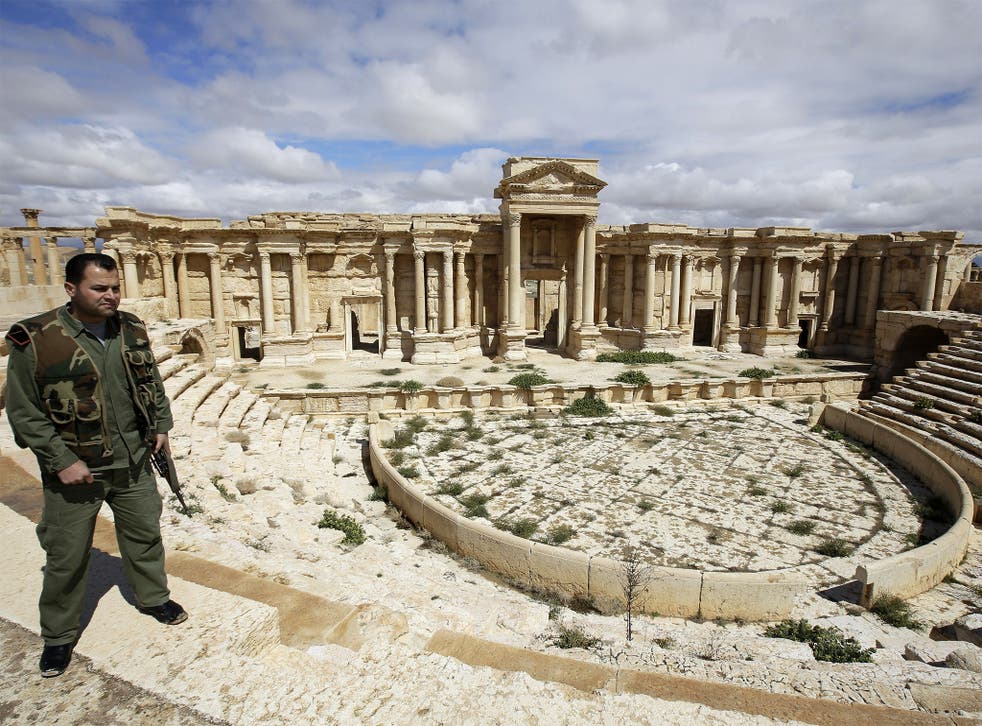 Government troops in Syria are struggling to suppress Isis militants advancing on Palmyra, a Unesco world heritage site containing 2,000 year-old ruins.
Syrian officials are calling on the international community to protect the site from falling into the clutches of fighters, who have already razed ancient sites and ruins in Iraq to the ground.
Palmyra, "an oasis in the Syrian desert", lies north-east of Damascus and is known for its Roman-era architecture, described by Unesco as a marriage of Graeco-Roman techniques with local traditions and Persian influences. It was once a tourist hotspot before civil war broke out in Syria and contains a famous colonnaded main street and the temple of Baal.
The Syrian Observatory for Human Rights said Isis launched attacks on Tadmur, which is close to Palmyra, on Thursday. Maamoun Abdulkarim, Syria's director-general of antiquities and museums, urged the US-led coalition to expand its air strikes to target Isis fighters approaching the gates of Palmyra.
He told Reuters that if the terror group does take the city, "it will be a human catastrophe" and warned: "If Daesh [an Arabic acronym for the group] enters the city it will mean destroying the temples, ruins and tombs."
Isis has launched a determined bid to destroy all aspects of cultural heritage in Iraq and Syria that preceded its self-declared 'caliphate' in recent months.
In March, its media arm released videos of militants bulldozing the 3,000-year old Assyrian archaeological site of Nimrud, in Iraq, an act condemned by Unesco as a war crime. Militants then continued their path of destruction by demolishing ancient ruins in Hatra and looting valuable artefacts, the sale of which provide a major chunk of the group's funding.
Isis has in the past justified the destruction of statues and figures by condemning them as idolatrous.
Timeline: The emergence of Isis

Show all 40
"We hope that the experience that Iraq passed through is not repeated," Mr Abdulkarim said. "We need international solidarity to stop these thoughtless methods of the criminal Islamic State [Isis] group.
"This is not Syrian heritage only. It is international."
The Director-General of Unesco, Irina Bokova, called on all parties to do everything they can to protect Palmyra from being destroyed. "The site has already suffered four years of conflict, it suffered from looting and represents an irreplaceable treasure for the Syrian people and for the world," Ms Bokova said.
Register for free to continue reading
Registration is a free and easy way to support our truly independent journalism
By registering, you will also enjoy limited access to Premium articles, exclusive newsletters, commenting, and virtual events with our leading journalists
Already have an account? sign in
Register for free to continue reading
Registration is a free and easy way to support our truly independent journalism
By registering, you will also enjoy limited access to Premium articles, exclusive newsletters, commenting, and virtual events with our leading journalists
Already have an account? sign in
Join our new commenting forum
Join thought-provoking conversations, follow other Independent readers and see their replies