Isis air strikes: Mosul bank hit as coalition targets militants' finances
Video released by group purports to show the destruction from a strike on their northern Iraqi stronghold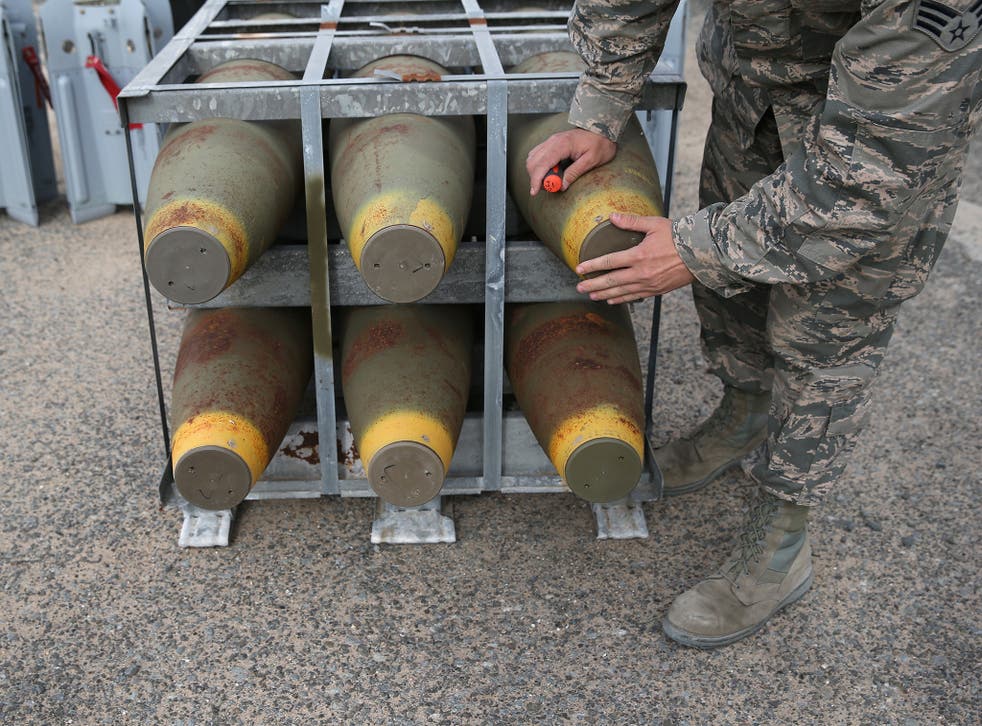 Isis has published a video purporting to show the destruction from an air strike on a bank in Mosul, which the U.S.-led coalition said had been aimed at disrupting the group's financing activities.
Reuters could not verify the authenticity of the footage posted by a news agency that supports the militant group, but two residents of the terror group's northern Iraqi stronghold confirmed the location of al-Zuhour bank in an eastern district of the city.
Targeting Isis's finances is a key part of the coalition's strategy to defeat the group. Iraq's finance minister last year said the militants had looted nearly half a billion dollars from banks in Mosul and the other northern cities of Tikrit and Baiji after its lightning dash across the Syrian border in 2014.
Papers and burnt furniture littered the concrete and steel rubble of several buildings that appeared to have been destroyed by the bombing, the video showed. Debris hung from dust-covered tree limbs, and rescuers pulled an old man's bloodied body from the remains.
Footage from inside a damaged apartment building suggested civilian areas had also been hit.
A military spokesman said earlier on Monday that a U.S. aircraft had bombed an Isis cash distribution site which was distributing money to fund "terrorist" activities.
In pictures: The rise of Isis

Show all 74
CNN, citing unnamed U.S. defence officials, had said the building was destroyed by two 2,000-pound bombs. The officials could not say exactly how much money was there or in what currency, but one described it as "millions," CNN reported.
Isis, which split off from al Qaeda, has also financed its operations through oil smuggling, racketeering, kidnapping and taxing the millions of people living in areas it controls in Syria and Iraq.
Reuters
Register for free to continue reading
Registration is a free and easy way to support our truly independent journalism
By registering, you will also enjoy limited access to Premium articles, exclusive newsletters, commenting, and virtual events with our leading journalists
Already have an account? sign in
Register for free to continue reading
Registration is a free and easy way to support our truly independent journalism
By registering, you will also enjoy limited access to Premium articles, exclusive newsletters, commenting, and virtual events with our leading journalists
Already have an account? sign in
Join our new commenting forum
Join thought-provoking conversations, follow other Independent readers and see their replies