Isis kills 50 soldiers and civilians in central Syria attack, says watchdog
At least 15 civilians die in major Isis offensive targeting villages near highway linking Damascus and Aleppo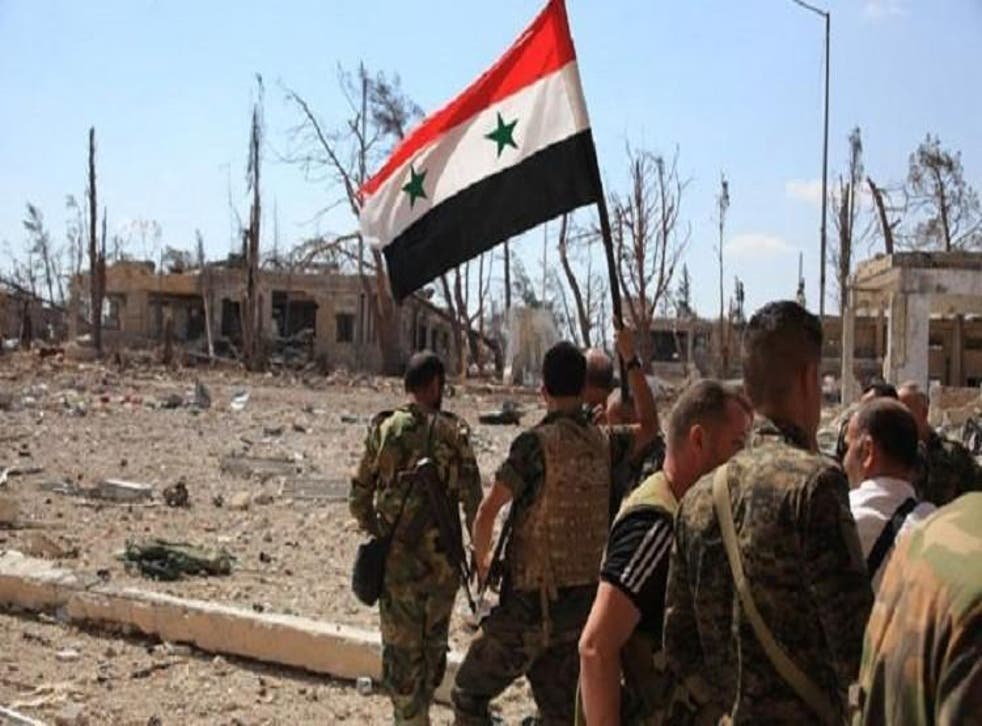 At least 50 people have been killed in an Isis attack on government forces and pro-regime villages in central Syria.
The surprise offensive targeted pro-government troops at positions on the main road linking the capital of Damascus to Aleppo, UK-based war monitor The Syrian Observatory for Human Rights said on Thursday.
Several Shia-majority settlements were also attacked and the village of Aqareb al-Safi captured, raising fears that the Sunni militants may massacre its residents.
The extremists have killed Muslims they regard as heretics after capturing territory on countless occasions across Syria and Iraq.
Fifteen of the dead have so far been identified as non-combatants and 27 as pro-government fighters, the Observatory said. Around 15 Isis fighters were also killed.
While there are reports several government positions were captured and fighting is still ongoing, Syrian state television said that the regime gunmen managed to repel the attack and launched a counteroffensive in the form of air strikes.
"Dozens of people are also missing, but it is not clear if they were kidnapped by Daesh," said the Observatory's chief Rami Abdurrahman, using an Arabic acronym to refer to the group. He said Isis deployed snipers on roofs of some buildings in Aqareb al-Safi.
At least two more civilians were injured in Isis shelling in the nearby town of Salamiyeh.
Five-year-old boy called Messi kidnapped by Isis and forced to change 'infidel' name
Isis, meanwhile, claimed via its news channel Amaq it had killed 100 government troops and captured two villages in Thursday's violence.
The militant organisation now controls just a fraction of the territory it held at the peak of its power in 2015, but it is still capable of inflicting death and destruction around the country.
Government forces are mainly on the offensive against Isis in the country's north. US-backed Kurdish troops are also closing in on the jihadists' de facto capital of Raqqa.
News agencies contributed to this report
Register for free to continue reading
Registration is a free and easy way to support our truly independent journalism
By registering, you will also enjoy limited access to Premium articles, exclusive newsletters, commenting, and virtual events with our leading journalists
Already have an account? sign in
Register for free to continue reading
Registration is a free and easy way to support our truly independent journalism
By registering, you will also enjoy limited access to Premium articles, exclusive newsletters, commenting, and virtual events with our leading journalists
Already have an account? sign in
Join our new commenting forum
Join thought-provoking conversations, follow other Independent readers and see their replies