Isis tries to destroy all traces of Christianity in Mosul by defacing church and replacing crosses with IS flags
Jihadists have targeted key cultural and religious landmarks in recent weeks
Heather Saul
Tuesday 17 March 2015 10:37 Comments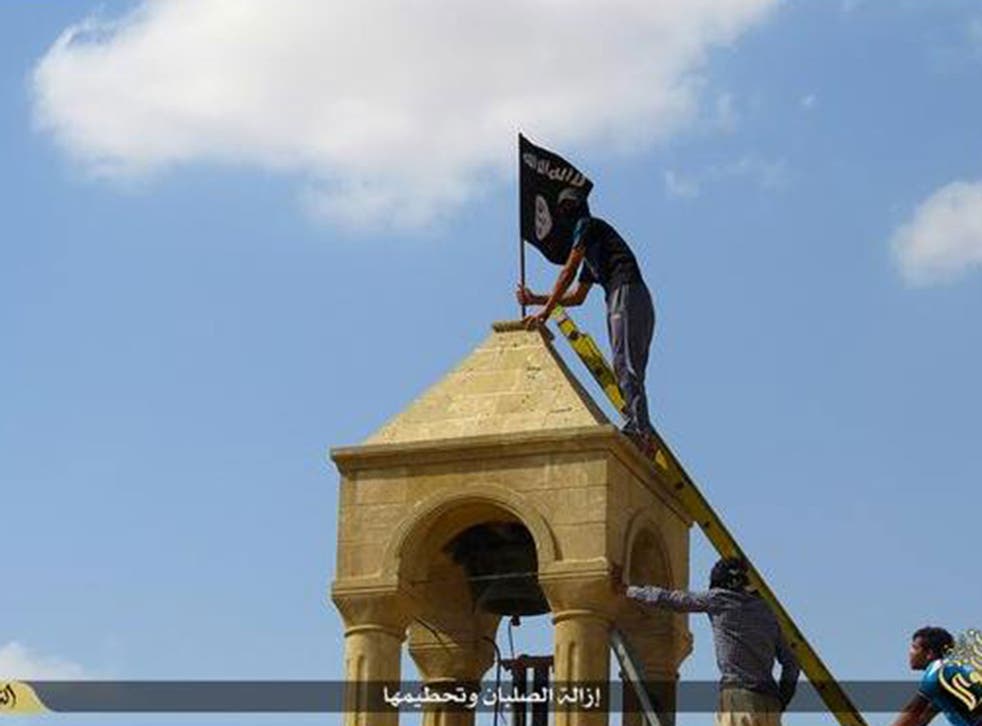 Isis militants have attacked a Christian church and cemetery in Iraq, vandalising crosses and defacing religious artefacts in yet another assault on the country's rich cultural history.
In pictures released by the groups's media arm, fighters are seen removing a cross and destroying a statue of the Virgin Mary at a church in Mosul, in Iraq. Another image shows a fighter erecting a black Isis flag in place of a cross.
Other photographs being circulated on social media show paintings depicting biblical events, such as the Last Supper, piled up on the floor. The extremist group attempts to justify this destruction by condemning the statues and religious symbols as idolatrous and therefore forbidden.
The pictures were published by the Ninawa provincial division of the Islamic State in Iraq, according to the SITE monitoring service.
The attack took place on 7 March but images of the destruction were not published until over a week later on 16 March, Elijah. J. Magnier, Al Rai's chief correspondent, told The Independent.
Militants took away all crosses, damaged statues and icons, removed the bell and any other Christian signs, he said. The church itself appears to still be standing.
Mr Magnier said the images were likely saved to be used as propaganda to distract from continuing losses in areas such as Tikrit, where the group is being targeted by Iraqi and Kurdish forces.
"What Isis is not aware of is the fact that more videos and photos of brutality, killing, beheading, mass execution and destruction of civilisation only creates more hate [towards the group] and more determination to defeat them," he added.
It is not known how old the church and its cemetery is, although Mr Magnier said many sites in that area date back as far as the 9th Century BC.
In pictures: Fight for Tikrit

Show all 16
Isis has upped its devastating path of destruction significantly in recent weeks. Fighters ransacked Mosul Museum and destroyed centuries-old manuscripts and books in its library, bulldozed the ancient Assyrian city of Nimrud and demolished parts of the Unesco World Heritage City of Hatra.
Unesco condemned the destruction of Nimrud, a site founded over 3,300 years ago, as a "war crime". Speaking after Hatra was subsequently targeted, Unesco's Director General Irina Bokova denounced the destruction as "a turning point in the appalling strategy of cultural cleansing underway in Iraq".
Register for free to continue reading
Registration is a free and easy way to support our truly independent journalism
By registering, you will also enjoy limited access to Premium articles, exclusive newsletters, commenting, and virtual events with our leading journalists
Already have an account? sign in
Join our new commenting forum
Join thought-provoking conversations, follow other Independent readers and see their replies