There's no way back for British Isis prisoners languishing in a Syrian jail
At a prison in northern Syria, Richard Hall meets two captured British Isis members who want to come home
Wednesday 18 December 2019 17:22 GMT
Comments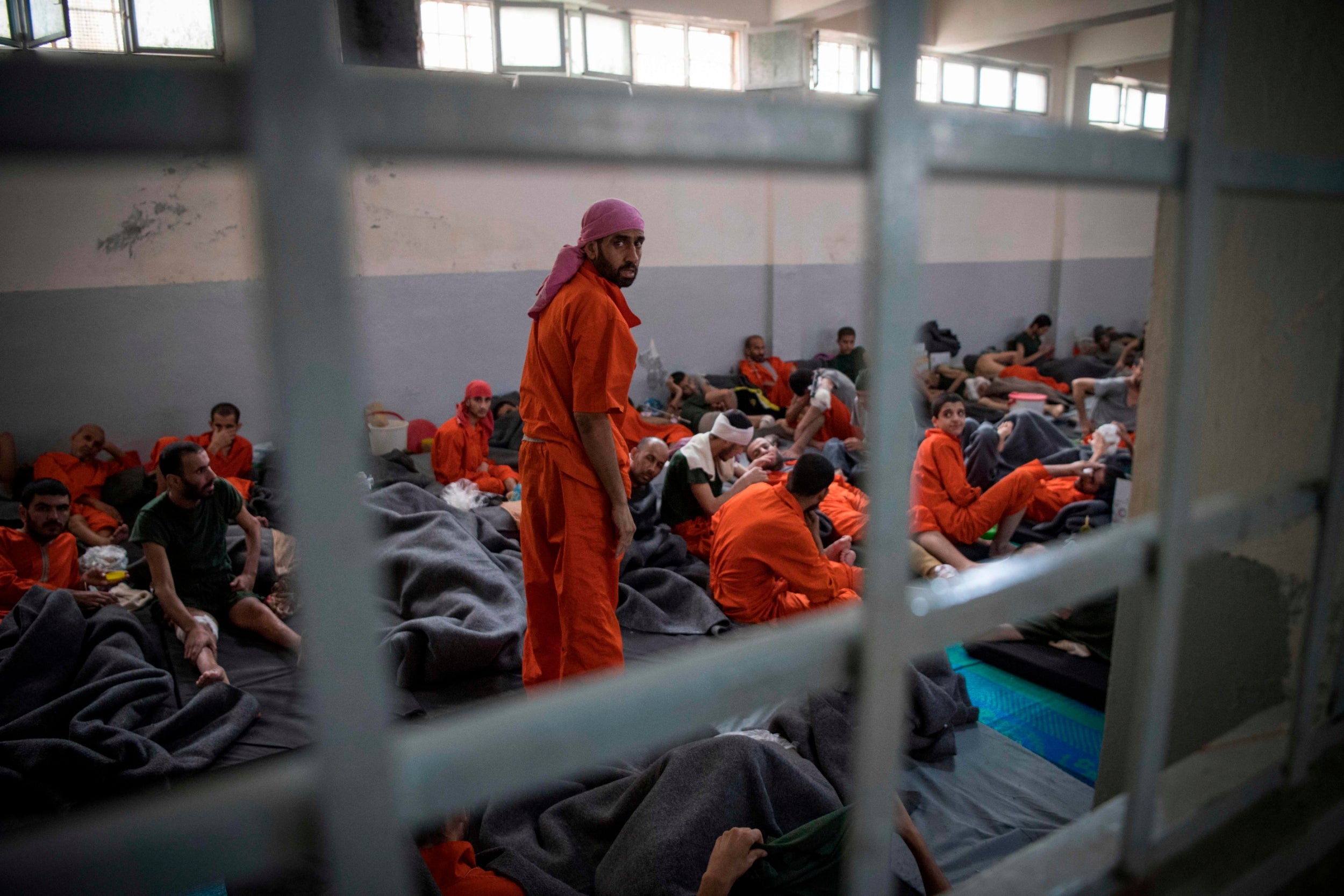 Aseel Muthana always looked up to his older brother. There were only a couple of years between them, but the way he talks about him makes the gap seem much larger.
Growing up in the Welsh capital of Cardiff together, Aseel absorbed his extremist opinions on politics and religion, and followed him everywhere he went.
So when, in 2013, Nasser decided to travel to Syria to join one of the world's deadliest terror groups, Aseel was eager to go too.
"I told him: 'If you're gonna go, I wanna go with you,'" says the younger Muthana, speaking to The Independent in a prison for captured Isis fighters in northeast Syria.
"He told me I was too young. 'Wait until you're older, then you can come join.' So I stayed. After he left I felt empty. So I felt I had to go."
Less than a year later, Aseel travelled to Syria to join his brother, who was already on his way to becoming a key member of the group's propaganda machine. He was 17 years old.
The stories Muthana and all other Isis prisoners tell now that they have been captured are riddled with lies and half-truths. Even today, when the scale of Isis's crimes against humanity is known to everyone, many seem reserved in their criticism of the terror group. But in between the self-serving vagaries​, their testimony provides some insight into the reasons why so many young British men joined the terror group.
Today, at 22, Muthana is one of a handful of British Isis members who survived their time in the caliphate and now find themselves in the custody of the Syrian Democratic Forces (SDF), the Kurdish-led group that brought the terror group's reign to an end.
The British government will not reveal how many of its nationals are in SDF custody, and it refuses to bring them home to the country where they were radicalised to face justice.
Most have had their citizenship stripped to prevent them from ever returning, to the dismay of the Kurdish forces holding them, who say they are overstretched and fearful of breakouts.
The government's policy means that many of their stories – of their path to radicalisation, their motivations, their role in Isis and their own crimes – have largely gone untold. The question of why so many British citizens could take the decision to join a brutal terrorist group has not been fully answered, and the government's secrecy on the issue has clouded the public's understanding.
Muthana is not the only British prisoner currently held in Syria. Researchers know of at least 10 other Britons currently in SDF detention. A recent Whitehall analysis reportedly put the number at 30, though it is unclear how that number was reached.
Little is known about what they did while living in the caliphate. During the few short years it held power over large swathes of Iraq and Syria, Isis imposed a reign of terror on anyone who opposed it. It carried out genocide against the Yazidi people, it executed men, women and children by the thousand and glorified the murder of hostages.
With Muthana in Hassakeh jail is Ishak Mostefaoui, 27, from Leyton, east London.
Mostefaoui followed someone close to him, too. In 2013, he was studying economics at Westminster University when friends said he became more extreme.
'We are ready to do our time' Meet the British Isis fighters held in a Syrian jail
The next year, he and fellow student Zakariyya Elogbani travelled together to Syria. They were among seven students from the same university to join Isis. Among them was Mohammed Emwazi, also known as "Jihadi John", the Isis executioner.
Neither Muthana or Mostefaoui had told their story publicly until journalists came across them in this prison jail in September. Many thought Muthana had been killed.
In separate interviews with The Independent, the pair revealed their motivations for joining the group and spoke of their time in the caliphate. The two only agreed to be interviewed if their faces were not shown.
The prison they now find themselves in is dangerously overcrowded. The facility was opened some five months ago, shortly after the capture of the last Isis territory in the village of Baghouz, in eastern Syria. It is now home to more than 5,000 Isis fighters who surrendered in that final battle.
The toll of that battle can be seen in the medical wing of the prison. In a large hall, hundreds of former fighters shuffle uneasily with varying degrees of injuries. Missing limbs, scars from bullets and shrapnel are common.
One hundred prisoners are crammed into each cell, all clothed in orange jumpsuits. They are watched by guards on CCTV 24 hours a day. The overcrowding is leading to an increase in disease and other ailments. Guards say nearly half of the prisoners here are suffering from some kind of medical condition.
The prisoners hail from 28 countries, including the US, Britain, France, Italy, Germany, Iraq and Syria. Prison authorities say they are holding some of the most dangerous Isis prisoners in the world here, and many fear they are plotting the group's escape within its very walls.
The British prisoners interviewed by The Independent, however, say their time with Isis is over. But even now, their criticism of the genocidal group is muted and measured. Their desire to leave Syria behind and return home appears to stem more from their regret over their own circumstances than for the crimes carried out in the name of Isis.
"To be honest, there are a lot of policies I don't agree with. And I can say I feel sympathy for the victims. I feel sympathy for those people," says Muthana, when questioned about the enslavement of Yazidi women by the terror group.
"I said this from the first day. Isis is just a group. Even Abu Bakr al-Baghdadi is just a man. I didn't come here for Isis. I didn't come here for Baghdadi. I didn't come here to prove myself to anyone. I came here sincerely to help the people," he adds.
Muthana cuts a diminutive figure in an oversized orange jumpsuit. Like most of the prisoners here, he is shockingly thin due to a lack of food. A former ice-cream salesman in Cardiff, Muthana says he and his brother were drawn to Syria by a combination of push and pull factors.
"I was 17, I was religious, and you could say I faced an identity crisis growing up as a Muslim in the UK. I didn't know how to live as a Brit and be Muslim at the same time. I saw the solution was to go to Saudi, to study, maybe, to explore.
"But then, as time went by, Syria kicked off in 2012. I saw the barrel bombs and the Syrians being killed and so it took my brother. It took him away," he says.
"My older brother was basically my role model. He was 19 at the time. When he saw everything happening he was outraged by it and he wanted to make a change. He said we are Muslims and we should help our Muslim brothers and sisters."
Most Isis prisoners tell a similar tale after they are captured. But prior to arriving at the jail, and even before he made his fateful choice, the few insights Muthana gave into his motivations for travelling to Syria seemed altogether less noble.
A video recorded on a mobile phone and shown at the 2016 terror trial of Kristen Brekke, a friend of Muthana's who was convicted of helping him travel to Syria, showed Muthana waving a replica gun on a hill overlooking Cardiff, playing at being an Isis fighter.
"If you're watching this, I'm probably dead, or like a legend or something," he says. At one point, he refers to "the Islamic State in Cardiff and Iraq and Sham".
In 2014, shortly after he had arrived in Syria, he reportedly told the BBC in an interview that he had no regrets about joining Isis.
"I can say I am willing to die but Allah knows the truth behind those words," he said in a webchat with a BBC journalist. "If the state (Isis) uses Sharia methods, I am 100 per cent pro," he said of the group he had just joined.
'I faced an identity crisis as a muslim Brit in the UK' Meet the British Isis fighters held in a Syrian jail
Mostefaoui said he too was motivated by the suffering of the Syrian people.
"One of my dad's friends was a Syrian family. And he was chatting to me about how the Syrian people were being repressed at the time of the revolution and before. And on social media, Twitter, Facebook and all that, we saw people crying for help," he says.
But unlike others who helped Syrians by joining charities and NGOs set up to alleviate their suffering, he joined the most extremist group in the country, which had by this time already carried out atrocities against civilians.
Mostefaoui's family came to the UK from Algeria when he was five years old. In an interview with the BBC, his father Abderrahmane said his son was popular and had no interest in extremism, but his views changed when he attended Westminster University.
A BBC investigation into the seven students from the university who went to Syria found that one of the students, a man named Qasim Abukar, who was known to security services, played a key role in radicalising Mostefaoui and his companion to Syria, Elogbani. After his capture, Elogbani told the BBC that the pair had come to Syria to fight.
He left for Syria in April 2014, after telling his family that he was going to Amsterdam for a short trip.
When he arrived, Mostefaoui says he married a Syrian woman and set out to start a family. Like most captured Isis members, he denies being a fighter for Isis, but admits to doing administrative work for the group. During the fall of Baghouz, The Independent interviewed more than a dozen fighting-age men retreating from the last Isis stronghold, all of whom said they were cooks or handymen.
Mostefaoui left Baghouz unconscious after being severely injured in a US-led coalition airstrike. His wife and young son was killed in the strike. He says his skull was fractured in the blast, and today wears a bandage around his head.
When pressed about whether he was involved in fighting in any way, his answers are vague.
Timeline of the Isis caliphate
Show all 19
"They did take me to the frontlines, you know. Just to see the action. There was no actual contact. The whole area had guns. They just take you, they show you how to use a gun, and then they took me back," he says.
Most of his time, he claims, was spent helping his Isis member brother-in-law with his finances.
"He worked for the database sector in Isis. He would get me that $40 they used to give a month. I used to help him with financial stuff because I had an economics background," he says.
Despite being a member of the group while it was carrying out its most heinous crimes, including the genocide of the Yazidis and enslavement of women from the religious minority, he denies believing in the Isis ideology.
Like Muthana, he is reluctant to take responsibility for the crimes carried out by Isis.
"I never saw any slaves or was taking part in these kinds of acts. I heard the news like any other guy. But you can't blame the mass for something the [leadership] was doing," he says.
"When I was interrogated by an American, I said I condemn all the oppression Isis done. I never approved of them. But you can't blame me as much as I don't blame the American people for Nagasaki and Hiroshima crime ... bombs they threw on Vietnam. Or we just look back in their recent history, they enslaved black people," he says.
Muthana's involvement with Isis was more visible. His brother, Nasser, was already featuring in the group's online propaganda when he arrived in Syria. In 2014, Nasser appeared in a highly publicised online recruitment video urging others to travel to the caliphate and join the fight, and later used his younger Muthana's membership of the group to entice others to follow him.
"When I first came to Syria, [Nasser] came out and said: 'If a 17-year-old can come here, then anybody can come.' So I was like the face. He used me as a face to bring people in. I said yeah, no problem."
Muthana says he first had doubts about whether he had made the right choice in coming to Syria when Isis began executing western hostages. James Foley, an American freelance journalist, was the first to be killed. He was murdered by Emwazi in August 2014.
"I remember saying to my brother, they're not soldiers. They are journalists. I didn't understand. So I was asking him. We got into a debate. At the end of it he's my brother, so I didn't want to ask too much. I just kept quiet," he says.
Nasser was later killed in a US-led coalition airstrike in 2015.
The guards at Hassakeh prison pay little attention to the prisoners' tales of regret.
"All of them will tell you that they were not fighters. It is not true," one tells The Independent. "Ninety-five percent of them are dangerous."
Those same guards would like the UK to take Mostefaoui, Muthana and other British prisoners back and prosecute them in British courts. But the government fears it would be difficult to do so, given the lack of evidence for specific crimes. The danger, officials say, is that they would soon be released and pose a security threat.
A Home Office spokesperson told The Independent: "The government's priority is the safety and security of the UK and the people who live here.
"Those who have fought for or supported Daesh [Isis] should wherever possible face justice for their crimes in the most appropriate jurisdiction, which will often be in the region where their offences have been committed."
Mostefaoui and Muthana have been cut off from the world since they were captured in March. The prisoners are not allowed contact with the outside, and before entering the prison The Independent was asked not to disclose that Isis leader Abu Bakr al-Baghdadi had been killed over fears that it would spark a riot.
The pair have received snippets of information, however, from the few journalists that have visited the prison recently. Unaware of the debate taking place in the UK over the fate of British Isis prisoners, Mostefaoui seems almost indignant that he has not been visited by any British government representatives.
"I can't understand, because we've been here for nine months and we don't even know what is going on. If we go back home, and we get taken to court and we are found guilty of whatever crimes they see as a crime, I'll put my hands up and do my time for that. And I'll go out. This is what democracy is," he says.
"Because of the position I'm in now, I regret everything I've done. I want to start a new page."
Muthana, it seems, is more understanding of how a former Isis member returning to the UK might be considered a threat.
"Honestly, I understand. Looking from their perspective, them not seeing what was happening inside Syria I can understand why anybody wouldn't want us to come back. Me, for example, being in Syria for six years, coming back, you don't know what I'm gonna come back with, what he's been taught, what he's capable of," he says.
"But then, they should be understanding too. When it comes to rapists or murderers or people who commit major crimes that the UK is more than happy to help them rehabilitate or reconcile their lives, fix things, make things better again, give them a second chance."
It is unlikely either of them will get a second chance. The likely scenario for the remaining British prisoners is that they will be transferred to Iraqi or Syrian government custody. In both cases, it is likely that they would face the death penalty.
— Additional reporting by Kamiran Sadoun
Join our commenting forum
Join thought-provoking conversations, follow other Independent readers and see their replies