Isis claims British suicide bomber carried out attack near Iraqi city of Mosul
Terror group names bomber as Abu Zakariya al-Britani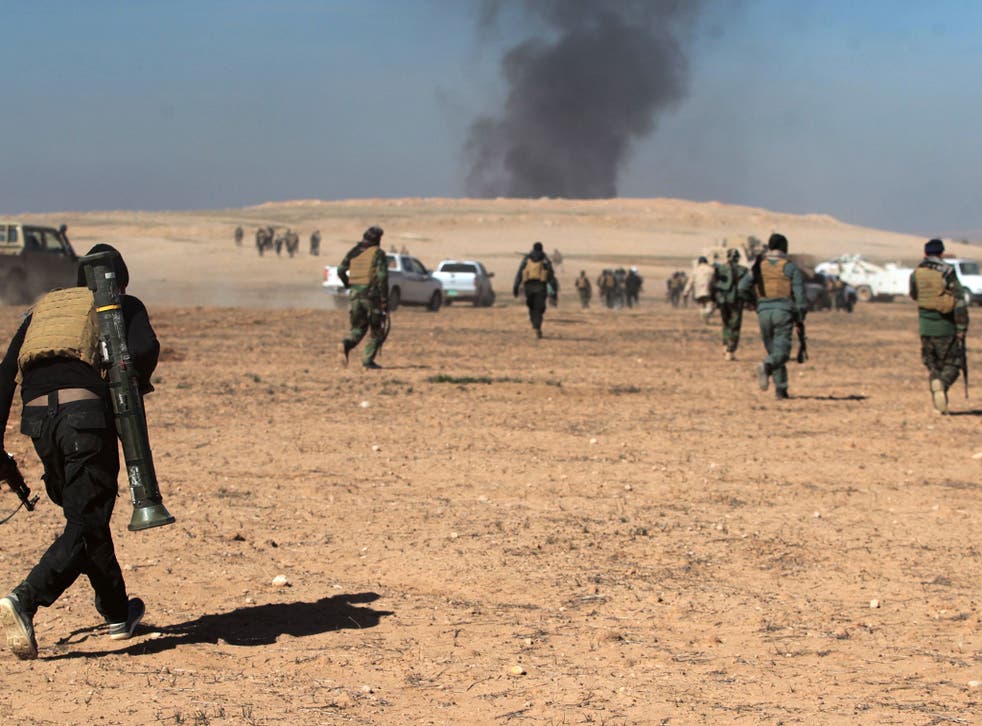 Isis have claimed a British suicide bomber blew up a vehicle full of explosives in an attack near the Iraqi city of Mosul.
The terror group's Amaq news agency named the bomber as Abu Zakariya al-Britani.
The end of his chosen pseudonym, al-Britani, is commonly used by fighters from Britain.
In a statement, it said he detonated an explosives-laden vehicle in the village of Tal Kisum, southwest of Mosul.
Paramilitary forces from the Hashed al-Shaabi (Popular Mobilisation Units) are active in the area. The group claimed there had been many casualties, but there has been no official confirmation and it is unclear when the attack took place.
Iraqi forces launch push to retake western Mosul from IS
A Foreign Office spokeswoman said: "The UK has advised for some time against all travel to Syria, and against all travel to large parts of Iraq.
"As all UK consular services are suspended in Syria and greatly limited in Iraq, it is extremely difficult to confirm the whereabouts and status of British Nationals in these areas."
Around 850 individuals of national security concern have travelled to join the conflict, according to figures published by the Government last year.
Of those, just under half have returned to the UK and approximately 15 per cent are dead.
In pictures: Mosul offensive

Show all 40
The report comes as US-backed Iraqi forces fought Isis fighters to clear the way to Mosul's airport, on the second day of a ground offensive on the jihadists' remaining stronghold in the western side of the city.
Federal police and elite interior ministry units known as Rapid Response are leading the charge toward the airport, located on the southern limit of the Mosul, trying to dislodge the militants from the nearby hilltop village of Albu Saif.
The Iraqi forces plan to turn the airport into a close support base for the onslaught into western Mosul itself.
Isis militants are essentially under siege in western Mosul, along with an estimated 750,000 civilians, after they were forced out of the eastern part of the city in the first phase of an offensive that concluded last month, after 100 days of fighting.
Register for free to continue reading
Registration is a free and easy way to support our truly independent journalism
By registering, you will also enjoy limited access to Premium articles, exclusive newsletters, commenting, and virtual events with our leading journalists
Already have an account? sign in
Register for free to continue reading
Registration is a free and easy way to support our truly independent journalism
By registering, you will also enjoy limited access to Premium articles, exclusive newsletters, commenting, and virtual events with our leading journalists
Already have an account? sign in
Join our new commenting forum
Join thought-provoking conversations, follow other Independent readers and see their replies