Children of foreign Isis fighters in Syria are 'among world's most vulnerable' and should be brought home, says UN
At least 30 British children are stuck in the country's camps
Richard Hall
Beirut
Wednesday 22 May 2019 18:54 Comments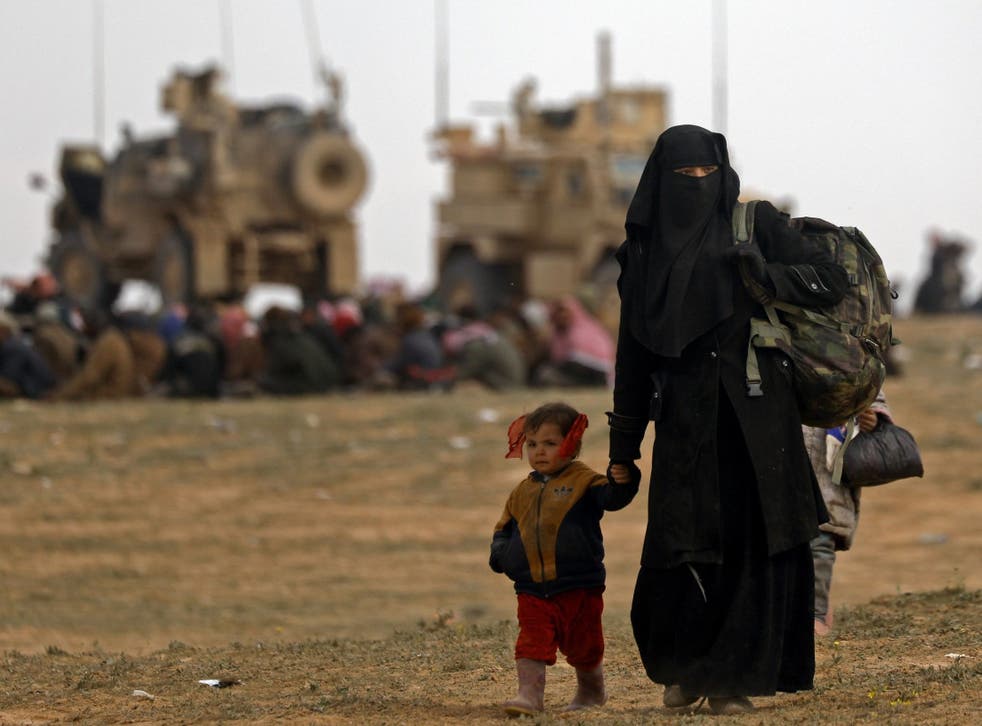 Children of foreign Isis fighters being held in Syrian camps are "among the world's most vulnerable" and should be returned to their countries of origin, according to the United Nations.
Some 29,000 foreign children are languishing in squalid camps in Syria, while the countries their parents came from are refusing to bring them home.
Among that number are more than 30 British children who emerged with their parents from the Isis caliphate in its dying days.
Last month, France repatriated five young children from camps in northern Syria, which are home to tens of thousands of Isis families. But the British government has so far refused to repatriate any of its citizens who went to join Isis, citing security fears. Separating the children from their parents would also raise legal questions.
"The thousands of children of foreign fighters languishing in camps, detention centres or orphanages in Syria, Iraq and elsewhere are among the world's most vulnerable children. They live in appalling conditions amid constant threats to their health, safety and wellbeing," said a statement from Henrietta Fore, Unicef's executive director.
"These children are 'doubly rejected' – stigmatised by their communities and shunned by their governments. They face massive legal, logistical and political challenges in accessing basic services or returning to their countries of origin," she added.
Syria at war: Fleeing the caliphate

Show all 14
Most of the 29,000 foreign children stuck in the camps are under the age of 12, according to Unicef. Some 20,000 are from Iraq while more than 9,000 are from around 60 other countries.
Unicef is now calling on UN member states whose children are stranded in Syria to prevent them from becoming stateless and "support their safe, dignified and voluntary return and reintegration to their countries of origin".
Ms Fore said: "These children must be treated primarily as victims, not perpetrators. Every decision regarding them, including on repatriation, must take into consideration the best interest of each child and be in full compliance with international legal standards."
The plight of British children stuck in Syria made the headlines earlier this year when the infant child of Shamima Begum, named Jarrah, died in one of the camps. The British teenager fled her home in Bethnal Green to join Isis in Syria in 2015.
In the caliphate's final days, thousands of women and children fled the last Isis stronghold in Baghouz, eastern Syria. Ms Begum arrived heavily pregnant at the al-Hol camp in early February, after leaving the last-held areas under the terror group's control. She gave birth to her son there shortly after, having already lost two children.
Labour's shadow home secretary, Diane Abbott, blamed the death on the "callous" decision to strip Ms Begum of her citizenship.
"It is against international law to make someone stateless, and now an innocent child has died as a result of a British woman being stripped of her citizenship," Ms Abbott said.
Hundreds of children have died at the camp or on the way to it since December, according to the UN, most of malnutrition or disease.
Responding to a query from The Independent on the status of British children, a UK government spokesperson said last month: "The government does not have a consular presence within Syria from which to provide consular assistance. The Foreign Office advises against all travel to Syria, and that British nationals should leave by any practical means. We will not put British officials' lives at risk to assist those who have left the UK to join a proscribed terrorist organisation.
"If a British child who has been in Syria is able to seek consular assistance outside of Syria, then we would work with local and UK authorities to facilitate their return if requested."
Register for free to continue reading
Registration is a free and easy way to support our truly independent journalism
By registering, you will also enjoy limited access to Premium articles, exclusive newsletters, commenting, and virtual events with our leading journalists
Already have an account? sign in
Join our new commenting forum
Join thought-provoking conversations, follow other Independent readers and see their replies