Omar the Chechen 'alive': Isis minister of war did not die in US air strike, claims monitoring group
He has been described as 'seriously injured'
Matt Payton
Thursday 10 March 2016 10:41 Comments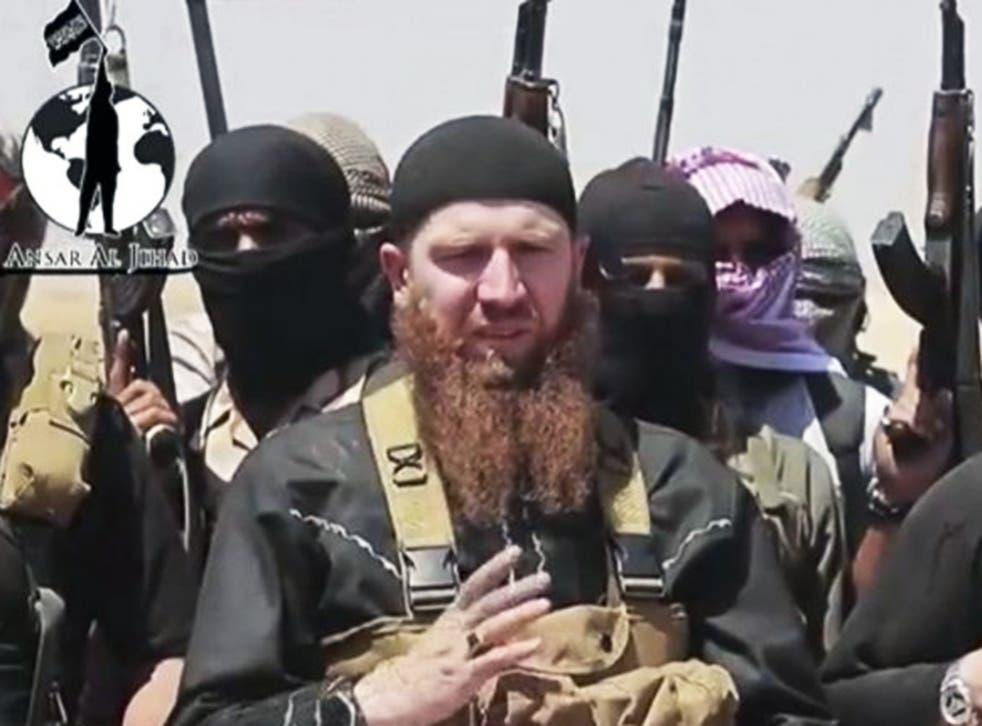 Leading Isis commander, "Omar the Chechen" has not been killed in a recent US air strike in northeastern Syria despite reports of the contrary, a monitoring group says.
The Syrian Observatory for Human Rights said the air strike on March 4 had hit the jihadi leader's convoy killing his bodyguards, leaving Omar al-Shishani "seriously injured" but not dead.
Rami Abdel Rahman, the observatory's director, said: "He's not dead, he was taken from the province of Hasake to a hospital in Raqa province where he was treated by a jihadist doctor of European origin."
While al-Shishani's exact rank in the terrorist group is unclear, he has been described by Richard Barrett from the US-based Soufan Group as Isis' "most seniour military commander", Yahoo News reports.
He fought as Chechen rebel against the Russians in 2006 before joinuig the Georgian military to again fight the Russians in Georgia in 2008.
According to Aymenn Jawad Al-Tamimi, a research fellow at the Middle East Forum, he then resurfaced in northern Syria in 2012 as the head of a battalion of foreign fighters.
The United States has placed a $5 million (£3.5 million) bounty on his head.
Inside Isis secret tunnels

Show all 7
Pentagon spokesman Peter Cook described Shishani as "a battle-tested leader with experience who had led ISIL (Isis) fighters in numerous engagements in Iraq and Syria".
These strikes took place near Al-Shadadi, a town in northeastern Syria that was retaken from Isis last month by local anti-Isis fighters allied with the US-led coalition.
Register for free to continue reading
Registration is a free and easy way to support our truly independent journalism
By registering, you will also enjoy limited access to Premium articles, exclusive newsletters, commenting, and virtual events with our leading journalists
Already have an account? sign in
Register for free to continue reading
Registration is a free and easy way to support our truly independent journalism
By registering, you will also enjoy limited access to Premium articles, exclusive newsletters, commenting, and virtual events with our leading journalists
Already have an account? sign in
Join our new commenting forum
Join thought-provoking conversations, follow other Independent readers and see their replies