Isis documents leak: Experts disagree on whether 'recruitment files' are genuine
Inconsistencies call into question whether they are simply fakes designed to make money
Patrick Cockburn
Thursday 10 March 2016 21:31 Comments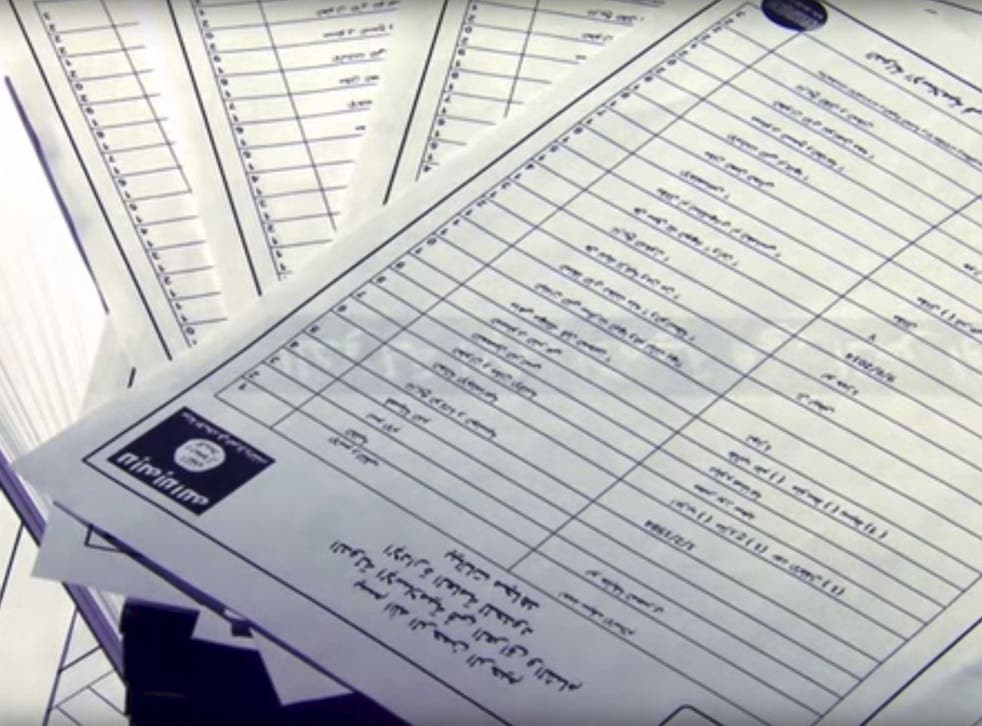 Documents said to have been stolen by a deserter from Isis illustrate the complexity of the means by which the self-declared Islamic State recruits foreign volunteers. But doubts are also being expressed about the authenticity of the files giving details about potential foreign fighters who reached Syria and Iraq.
The files, published by German, British and Syrian opposition media, show the names, addresses and phone numbers of some 1,700 people who are identified in 22,000 documents.
Recruits are asked to answer 23 questions which includes their mother's maiden name, understanding of Sharia law and blood type.
If genuine, the files, which appear to be several years old, would help identify the web of contacts through which Isis came into contact with and moved foreign supporters to the main battlefield in Syria and Iraq.
Specialists on Isis expressed different opinions about the authenticity of the documents which seem to come from the same source.
James Harkin, the author of Hunting Season, an account of the kidnapping of foreigners in Syria by Isis and other extremist groups, reacted with scepticism to the revelations, saying: "I have often been offered memory sticks said to contain documents pertaining to Isis which are on sale on the Turkish-Syrian border."
Pointing to various inconsistencies in the files, he said that some details such as telephone numbers could be true but others might have been modified to make the documents more saleable.
He said that "the tragedy is that people in this area have no other way of making money other than by faking documents, so it is difficult to verify them".
Other analysts expressed similar scepticism about the language and expressions used in the files, though not present in others produced by Isis.
Charlie Winter, a researcher at Georgia State University, said that "there would be big alarm bells for me, because when I've seen inconsistencies like that in the past, they've been on really shoddily made forgeries".
The questionnaires appear to have been collected from foreign volunteers at the end of 2013, which would be six months before Isis captured Mosul and declared the Islamic State.
Some of the inconsistencies might be explained by the fact that at this stage the Isis bureaucracy had not achieved the sophistication it did subsequently. The files are said to have been on a memory stick stolen from a senior Isis security official who had left them in his car when he went to a meeting.
The focus of foreign governments and the international media is traditionally on the foreign component in Isis, but the interior ministry in Baghdad says that 85 per cent of Isis fighters are Iraqis.
In pictures: The rise of Isis

Show all 74
The inflow of foreigners has been largely stopped because it is now much more difficult to cross from Turkey into Syria than it was in 2013 and 2014.
Since then much of the southern side of the 550-mile frontier has been captured by the Syrian Kurdish paramilitary forces backed by US and Russian air strikes. The US has also put pressure on Turkey to close the remaining routes used by Isis on the Turkish side of the frontier.
Isis is today encouraging potential foreign recruits either to carry out acts of terror in their own countries or to go to places that are easier to reach such as Libya.
There are between 20,000 and 30,000 highly trained and experienced Isis assault troops and a further 40,000 to 50,000 fighters capable of engaging in battle, according to Safa Hussein al-Sheikh, the Iraqi deputy national security adviser, speaking in Baghdad.
He believes that Isis is no longer able to replace its casualties in its most effective foreign volunteer units as the self-declared Islamic State becomes increasingly cut off from the outside world.
Isis has been giving ground in recent months and has lost the cities of Ramadi and Sinjar in Iraq as well as a swathe of territory in northern Syria.
It has done so primarily because its opponents can call in US or Russian air strikes on any fixed position held by Isis and attack roads and oil facilities used by the group.
Refugees from Mosul report that there are prohibitively high prices in the markets because of a shortage of goods and foodstuffs.
The German view: 'We think they're authentic'
German counter-terrorism officials have said the cache of Isis documents that could reveal the identities of thousands of foreign fighters who have travelled to Iraq and Syria are probably genuine.
Analysts had been urging caution over the authenticity of the documents. But on 10 March, Germany's Interior Minister, Thomas de Maizière, confirmed that German police were acting on "the assumption that the documents are authentic".
Anthony Glees, director of the Centre for Security and Intelligence Studies at the University of Buckingham, told The Independent: "These documents are not only a massive security breach for Isis but a major coup for Western intelligence agencies. They could be similar in scale to the discovery of the Nazi party membership list in an abandoned paper mill in Germany in 1945. They could help deliver a devastating blow."
Jamie Merrill
Register for free to continue reading
Registration is a free and easy way to support our truly independent journalism
By registering, you will also enjoy limited access to Premium articles, exclusive newsletters, commenting, and virtual events with our leading journalists
Already have an account? sign in
Join our new commenting forum
Join thought-provoking conversations, follow other Independent readers and see their replies