Syria: Isis to be driven out of Raqqa 'within two months', claims top commander
Claim comes as the jihadists continue to lose territory across Iraq and Syria
Rachel Roberts
Tuesday 29 August 2017 00:27 Comments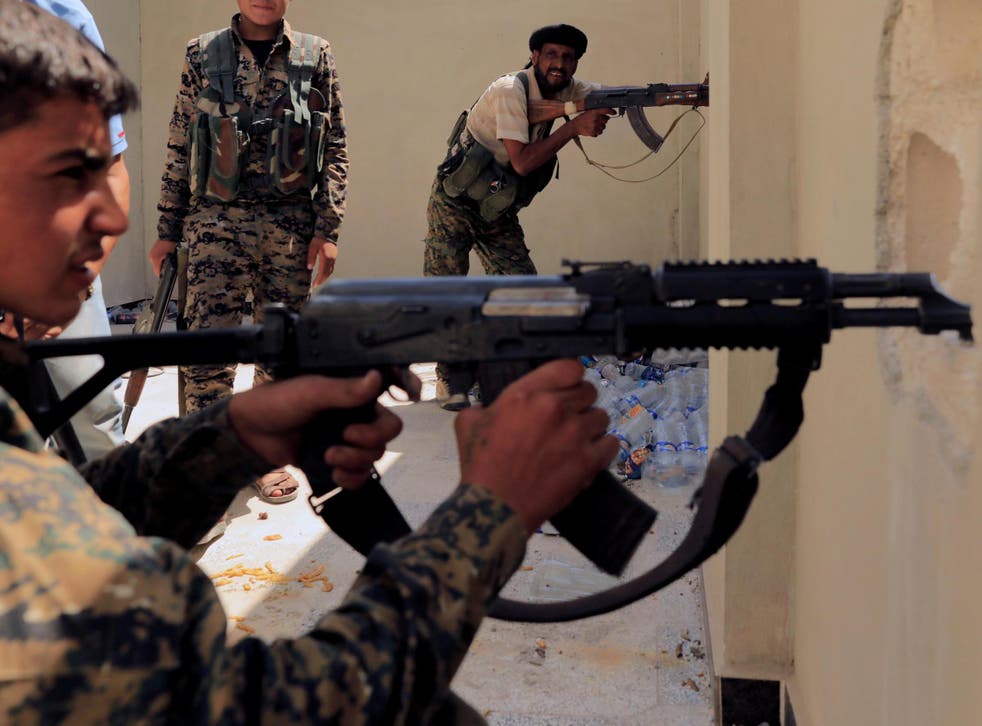 The battle to drive out Isis from its self-proclaimed caliphate and stronghold in the Syrian city of Raqqa looks set to end within two months, a top-ranking Kurdish commander has said – but she expects the fighting to intensify as the endgame approaches.
Nowruz Ahmed sits on the military council of the US-backed Syrian Democratic Forces (SDF) and as one of a small number of members of its Raqqa general command is one of the most senior commanders in the offensive against the jihadists.
Isis has lost swathes of territory since 2015 in both Syria and Iraq, including the Iraqi city of Mosul, which was eventually wrestled from the terrorists in July this year.
Under separate attacks from a US-led coalition and from the Russian-backed Syrian army, Isis rebels are gradually retreating from Raqqa into their other strongholds along the Euphrates valley east of the city, the de facto capital of the caliphate it declared in 2014.
Speaking to Reuters in her first media interview, Ms Ahmed said: "We cannot determine the time period in which the battle of Raqqa will end precisely because war has its conditions.
"But we do not expect it to last long, and according to our plans the battle will not take longer than two months from now."
Having pushed into the city in June after months of encircling it, the SDF alliance of Kurdish and Arab militias is fighting in the heart of Raqqa, assisted by air strikes and special forces from the US-led coalition.
Isis has between 700 and 1,000 fighters remaining in Raqqa, mainly in the centre of the city, according to Ms Ahmed's estimate. She said the SDF has surrounded the militants and captured around 60 per cent of the city, using a core of about 15,000 fighters in the Raqqa offensive.
Aleppo before the Syrian Civil War

Show all 12
Before the fighting began late last year, it had over 50,000 forces and has continuously enrolled new ones, she added.
The presence of an estimated 5,000 to 10,000 civilians besieged in Raqqa, including families of Isis fighters from outside the city, has hampered the advance, she added.
Ms Ahmed said the SDF remains focused on the Raqqa battle for now and has no firm plans to launch an assault in Deir al-Zor province, which is further down the Euphrates towards the Iraqi frontier and remains almost entirely under IS control.
The commander was a women's rights activist before Syria's civil war began in 2011 and heads the female counterpart to the Kurdish YPG militia. The YPG is the most powerful component of the SDF, and the female unit has played a leading frontline role on the battlefield during the bloody Raqqa campaign.
Reuters contributed to this report
Register for free to continue reading
Registration is a free and easy way to support our truly independent journalism
By registering, you will also enjoy limited access to Premium articles, exclusive newsletters, commenting, and virtual events with our leading journalists
Already have an account? sign in
Join our new commenting forum
Join thought-provoking conversations, follow other Independent readers and see their replies