Isis reportedly evacuates headquarters in last Aleppo stronghold as Turkish and Kurdish forces advance
Local activists say terror group has moved forces and heavy artillery to Raqqa before battle for the key town begins
Thursday 08 September 2016 16:26
Comments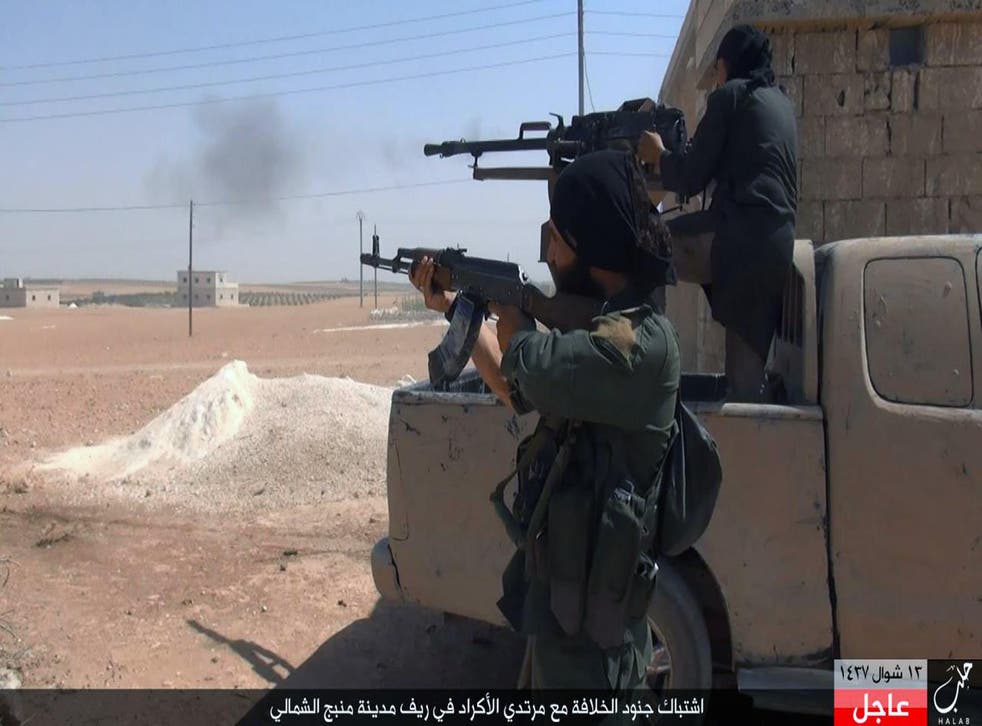 Isis militants have decided to evacuate soldiers and equipment from the northern Syrian town of al-Bab in Aleppo province as Turkish-backed Free Syrian Army (FSA) rebels, Kurdish groups and the Syrian army draw closer to the town, Kurdish media reported.
"Dozens of Isis military vehicles have left al-Bab carrying weapons and militants. They headed to the nearby town of Khafsa east of al-Bab city," local media activist Nasim Babi said.
Major buildings and offices that now reportedly stand empty include the police department, weaponry storage centers, and the court house.
Al-Bab is the last Aleppo stronghold of the militant group after the Turkish allied rebels and Kurdish forces succeeded in retaking Manbij and Jarablus in recent weeks. The city has been under Isis control since October 2014.
The Syrian Democratic Forces (SDF), a mostly Kurdish alliance, has been planning to retake al-Bab since successfully liberating Manbij. The town is now almost encircled on three sides by the Syrian army, the SDF, and the Turkish-allied FSA.
Isis ended up withdrawing from nearby Jarablus in less that 24 hours. Since reports say Isis are already moving equipment and soldiers out of the city, Kurdish forces are hoping that the same will happen in al-Bab.
Syria's war: Manbij residents celebrate freedom from ISIL
"ISIS has been under heavy pressure in al-Bab. The decision of evacuating their headquarters comes after the SDF forces made further advance towards the key city after retaking Manbij from the radical group," SDF officer Habun Osman told Kurdish ARA News.
The Turkish military's Operation Euphrates, launched in August, has so far been very effective in driving Isis back towards Raqqa, its capital. Syrian President Bashar al-Assad however has said he is "very concerned" about Turkish forces pushing deeper into Syria.
The Russian Foreign Ministry has also condemned the new offensive, saying in a statement on Wednesday that actions by Turkey and rebel groups could "further complicate an already challenging military and political situation and negatively affect international efforts… that would ensure a more sustainable ceasefire."
Register for free to continue reading
Registration is a free and easy way to support our truly independent journalism
By registering, you will also enjoy limited access to Premium articles, exclusive newsletters, commenting, and virtual events with our leading journalists
Already have an account? sign in
Register for free to continue reading
Registration is a free and easy way to support our truly independent journalism
By registering, you will also enjoy limited access to Premium articles, exclusive newsletters, commenting, and virtual events with our leading journalists
Already have an account? sign in
Join our new commenting forum
Join thought-provoking conversations, follow other Independent readers and see their replies