Fallujah declared 'fully liberated' from Isis by senior Iraqi army commander
Lt Gen Abdul-Wahad al-Saadi says troops have entered the last neighbourhood controlled by the jihadis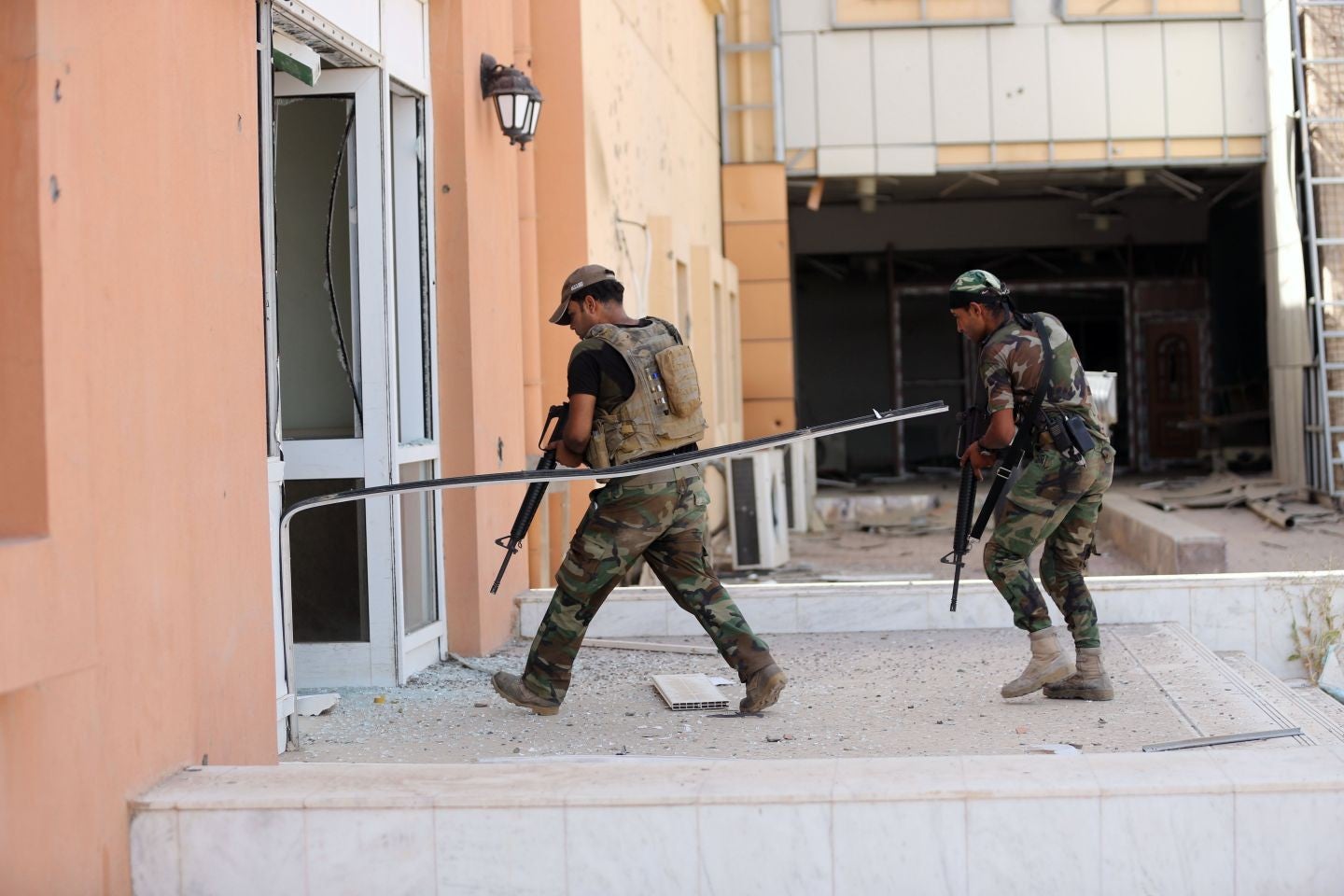 Fallujah has been declared "fully liberated" from Isis by the Iraqi army commander leading the operation against the jihadis.
The head of the counterterrorism forces in the operation, Lt Gen Abdul-Wahad al-Saadi, said on Sunday that his troops had entered the northwestern al-Julan neighbourhood - which was the final area of the city under Isis control.
Lt Gen al-Saadi said the operation, which began in late May, "is done and the city is fully liberated".
He told Iraqi state TV: "From the centre of al-Julan neighbourhood, we congratulate the Iraqi people and the commander in chief...and declare that the Fallujah fight is over".
During his appearance he was flanked by military officers and soldiers. Some soldiers were shooting into the air, chanting and waving the Irai flag in celebration.
Fallujah, just 30 miles west of Baghdad, has been under Isis control since January 2014. It was the first major city to fall to the group.
More than 82,000 people are believed to have fled the fighting in recent weeks as the Norwegian Refugee Council described conditions at the nearby Amriyat al-Fallujah refugee camp as a "humanitarian disaster".
Jan Egeland, secretary general of the organisation, told The Telegraph: "The conditions we are seeing in the camps are miserable, the scenes apocalyptic.
"They fled the nightmare of Fallujah, now they wait for tents, sleep in warehouses or out in the open. Iraq's civilians deserve much better."
In pictures: Iraq battles to drive Isis out of Fallujah
Show all 12
During the insurgency following the Iraqi War, conflict with the al-Qaeda led insurgency meant Fallujah was the centre of one of the most bloody urban combat with American forces.
In 2004 alone, more than 100 US troops died and another 1,000 were wounded fighting insurgents in house-to-house battles.
Isis still control significant areas of northern and western Iraq including its second city Mosul but has been dramatically pushed back from its original positions.
At its height, it is estimated that Isis controlled a third of Iraq and Syria.
Additional reporting by AP
Join our commenting forum
Join thought-provoking conversations, follow other Independent readers and see their replies