Isis fighters killed 150 captured Syrian soldiers, new video footage shows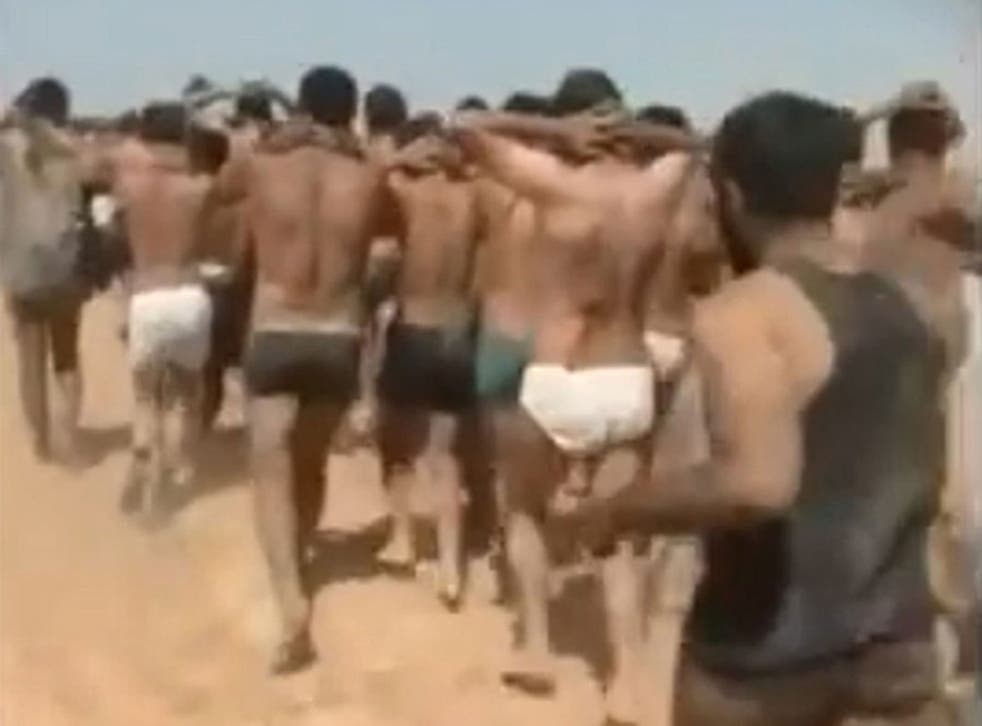 Isis fighters killed more than 150 Syrian troops who were captured in recent fighting in north-eastern Syria, new images have revealed.
A video shows the men in underwear being led off into the desert by gunmen who make them shout "Islamic State", which is what the organisation calls itself. Later, similar men are shown facedown on the ground in a long row, apparently dead.
The killing of government troops, combined with photos of dusty, terrified conscripts under militant guard in the desert, underscored how the extremist group uses violence – and images of violence – to instill fear in its opponents as it seeks to expand the proto-state it has carved out in Syria and neighbouring Iraq.
The Britain-based Syrian Observatory for Human Rights said that many of the soldiers killed were rounded up on Wednesday near the Tabqa airfield, three days after Isis fighters seized the base.
The government troops were among a large group of soldiers from the base who were stuck behind the front lines after the airfield fell to the jihadi fighters.
The Observatory said around 120 captive government troops from Tabqa were killed near the base.
The Isis fighters killed at least another 40 soldiers, most of whom were taken prisoner in recent fighting for other bases in the area, in the Hamrat region near Raqqa city, the group's stronghold.
A statement posted online and circulated on Twitter by supporters of Isis claimed the extremists killed "about 200" government prisoners captured near Tabqa.
It also showed photographs of what it said were the prisoners: young men stripped down to their underwear marching in the desert. The photos could not immediately be verified, but correspond to other reports.
Meanwhile, in southern Syria gunmen detained 43 United Nations peacekeepers during fighting on the Syrian side of the Golan Heights.
The UN added that another 81 peacekeepers were trapped in the area by the heavy clashes between rebels and Syrian troops. Several rebel groups operate in the Golan, while the Islamic State group has no known presence there.
AP
Register for free to continue reading
Registration is a free and easy way to support our truly independent journalism
By registering, you will also enjoy limited access to Premium articles, exclusive newsletters, commenting, and virtual events with our leading journalists
Already have an account? sign in
Register for free to continue reading
Registration is a free and easy way to support our truly independent journalism
By registering, you will also enjoy limited access to Premium articles, exclusive newsletters, commenting, and virtual events with our leading journalists
Already have an account? sign in
Join our new commenting forum
Join thought-provoking conversations, follow other Independent readers and see their replies