Isis 'forced us to pray - then raped us': Yazidi survivor Nadia Murad describes life as a sex slave in northern Iraq
'They commit rape and genocide crimes in the name of Islam'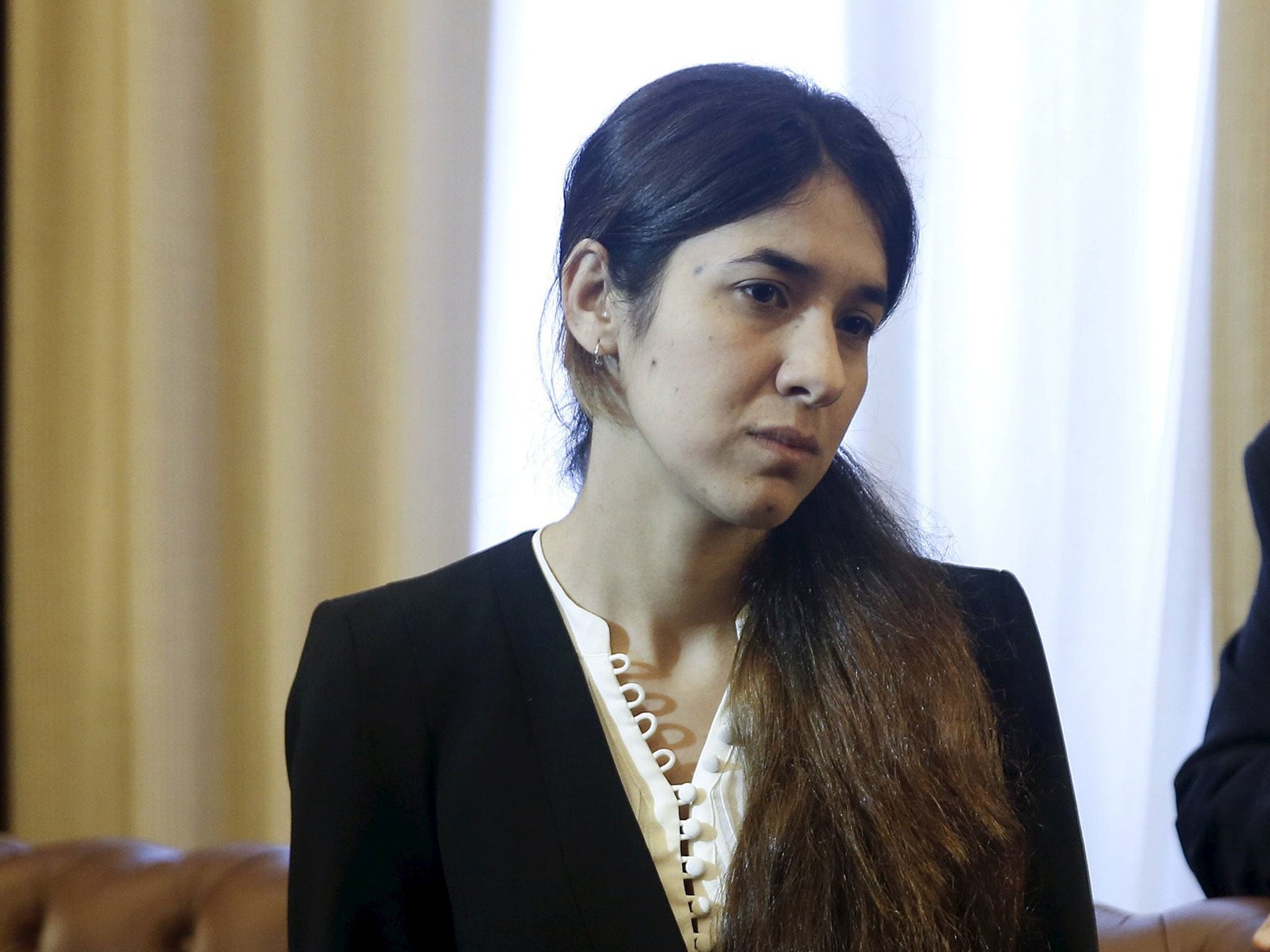 A woman who was taken as a sex slave by the Isis militant group has described how she and other young women were forced to pray before they were raped.
Nadia Murad, 21, was among more than 5,000 Yazidi women taken captive when Isis swept through the group's territories in northern Iraq.
She has been speaking out about her horrific experiences at the hands of Isis fighters, who bought and sold her and women like her as "sabia" – slaves.
Addressing students at Cairo University this week, she reportedly revealed that Isis militants "used to force captives to pray and then rape us".
"We were not worth the value of animals. They raped girls in groups. They did what a mind could not imagine," she said.
During her visit to Egypt, Ms Murad met with President Abdel Fattah el-Sisi. She tweeted that she was "asking the Islamic world to stand firmly and clearly against Isis". "They commit rape and genocide crimes in the name of Islam," she said.
Iraq crisis: Yazidi nightmare on Mount Sinjar
Show all 15
And last week, she testified before the UN in New York, all to raise awareness of the plight of the Iraqi and Syrian peoples and urge more action to protect refugees from the conflict with Isis.
She described how last summer she was a student living in the village of Kocho in northern Iraq when Isis fighters rounded up all Yazidis, killing 312 men in an hour and taking the younger women into slavery.
After being taken to Mosul, Ms Murad and the others were held for three days before being "distributed" among fighters.
Some women killed themselves, but Ms Murad said she never considered doing so. She told Time magazine: "I did not want to kill myself — but I wanted them to kill me."
She was taken as a slave by a man with a wife and daughter, who Ms Murad never met, and kept in a single room.
After one failed escape attempt, she told the UN, she was beaten up and gang raped by six militants as a form of punishment. "They continued to commit crimes to my body until I became unconscious," she said.
Ms Murad escaped successfully in November 2014, after three months of abuse and torture, and made her way via a refugee camp to seek asylum in Stuttgart.
Join our commenting forum
Join thought-provoking conversations, follow other Independent readers and see their replies