Isis forces Yazidi children to behead dolls as part of their 're-education' training
One boy said he had been told Yazidis were 'dirty' and 'deserved to be killed'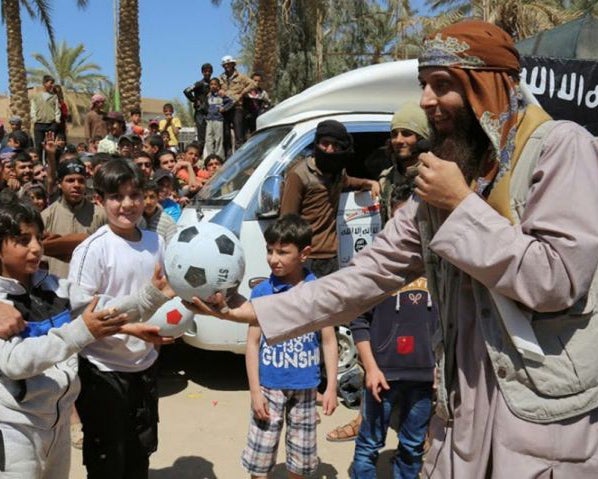 Hundreds of Yazidi boys abducted by Isis are being forced to practice beheading techniques on dolls as part of their "re-education".
The radicalisation programme is part of Isis' plan to create the next generation of extremists in the vast swathes of territory it controls in northern Iraq and Syria.
According to interviews conducted by the Associated Press with Yazidi teenagers who fled Isis training camps, when the group overran Yazidi towns and villages last year, young boys were forced to convert to Islam and were brainwashed into becoming jihadi fighters.
More than 120 boys were believed to have been shown videos of beheadings and told they would perform such tasks one day. In the meantime they were ordered to practice technique and were each given a doll and a sword to behead it with.
"Then they taught me how to hold the sword, and they told me how to hit. They told me it was the head of the infidels," the boy, renamed Yahya by his Isis captors said.
Yahya and his family were abducted when Isis seized the Iraqi town of Sulagh last August and were taken to Raqqa in Syria, to be put in the Farouq training camp for young boys.
Isis fighters in Kobani (2014): Civilians flee as militants enter Syria-Turkey border
Show all 22
He said he was given a new Muslim Arabic name to replace his Kurdish one and was told that Yazidis were "dirty" and should be killed.
Yahya spent five months at the camp, training for eight to 10 hours a day and studying the Koran. He said they showed him how to shoot someone at close range and that boys were forced to hit each other in some exercises.
The group has reportedly "given up" on turning adults into jihadis and have instead focused on turning out a new generation of "Ashbal", or "lion cubs" in Arabic.
Fighters go out into the streets and befriend children with sweets and toys. They hold outdoor events for children where they give them soft drinks and propaganda.
In an Isis video released last week, a boy was shown beheading a Syrian soldier under adult supervision.
Last month another video showed 25 child soldiers shooting 25 captured Syrian soldiers in the head.
According to the Syrian Observatory for Human Rights, at least 1,100 Syrian children under 17 have joined the terrorist group in the past year. Around 52 are believed to have been killed in the fighting.
At least eight were suicide bombers.
Additional reporting by AP
Join our commenting forum
Join thought-provoking conversations, follow other Independent readers and see their replies