Isis in Iraq: Operation to re-take Saddam Hussein's birthplace Tikrit from militants begins
Iraqi government forces are being backed by Sunni and Shia militias
Lizzie Dearden
Monday 02 March 2015 10:27 Comments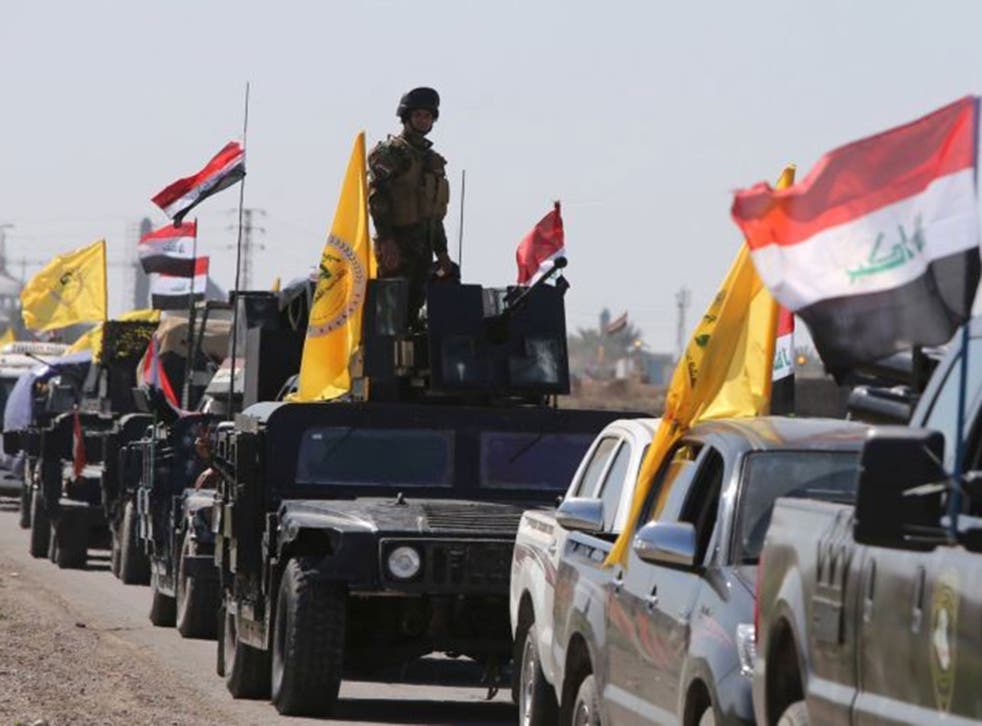 Iraqi forces backed by local militias are launching a co-ordinated military operation today to drive Isis out of Saddam Hussein's home town of Tikrit.
The city is a symbolic target in a continuing campaign to reclaim large swathes of the country controlled by the so-called Islamic State since its offensive last year.
Tikrit, around 80 miles north of Baghdad, was overrun by the militants in June and Iraqi forces retreated weeks later after fierce fighting.
It forms a network of Isis strongholds in Iraq's Sunni heartland, lying on the road to their largest city, Mosul
Security forces have so far been unable to retake Tikrit but claim momentum has begun to shift after soldiers, backed by air strikes from a US-led coalition, recently seized the nearby oil refinery town of Beiji.
Controlling Tikrit would probably be necessary for any attempt to attack Mosul because of its strategic location for the flow of arms and military enforcements.
In pictures: Iraq crisis

Show all 98
Al-Iraqiya state television today reported that Iraqi government soldiers and Sunni and Shia militias allied against Isis were striking the city from different directions, backed by artillery and air strikes by Iraqi fighter jets.
Militants were reportedly dislodged from some areas outside the city but no further details were given.
Hours before the operation began, Shia Prime Minister Haider al-Abadi, called on Sunni tribal fighters to abandon the extremist group, offering what he described as "the last chance" to surrender and promising them a pardon.
"I call upon those who have been misled or committed a mistake to lay down arms and join their people and security forces in order to liberate their cities," he said on Sunday during a news conference in Samarra, 60 miles north of Baghdad.
"The city will soon return to its people."
His comments appeared to target former members of Iraq's outlawed Baath party, loyalists to Saddam who joined Isis during offensive, as well as other Sunnis who were dissatisfied with Baghdad's Shia-led government.
Saddam, who ruled Iraq for more than 23 years until he was ousted in 2003 during the US-led invasion, was executed in 2006.
He drew his support from Iraq's minority Sunni population and since his capture and death, the government has been led by Shias, continuing the bitter divide between the two Muslim traditions.
The alliance of both sides in the Tikrit operation is seen as an important development in the battle against Isis but the presence of Shia forces in Sunni areas could prompt a backlash in the future.
Isis ascribes to a violent Salafist interpretation of Sunni Islam and has been known to execute Shias, reportedly labelling them apostates and using questions about prayer methods to single them out.
Tikrit has been a frequent battleground in a series of invasions over hundreds of years.
It was heavily bombarded by the US-led coalition in the opening weeks of the Iraq invasion in 2003 and Western forces occupied it for the next two years, coming under frequent attack by insurgents.
They controversially made Saddam's palace complex their headquarters but handed it over to the local government in 2005.
Isis has controlled the town since last summer and made its presence felt in September with the destruction of the 7th Century Assyrian Green Church and Forty Shrine, the oldest Islamic shrine in Iraq.
Militants reportedly massacred up to 770 captives, including Iraqi soldiers, in mass executions around the city where they forced the men to lie face-down in shallow graves before shooting them dead.
Additional reporting by agencies
Register for free to continue reading
Registration is a free and easy way to support our truly independent journalism
By registering, you will also enjoy limited access to Premium articles, exclusive newsletters, commenting, and virtual events with our leading journalists
Already have an account? sign in
Join our new commenting forum
Join thought-provoking conversations, follow other Independent readers and see their replies