Isis in Kobani: Air strikes will not save Syrian town from militants, UK and US warn
Philip Hammond warns there is nothing coalition forces can do to make "fundamental difference" in the battle for the town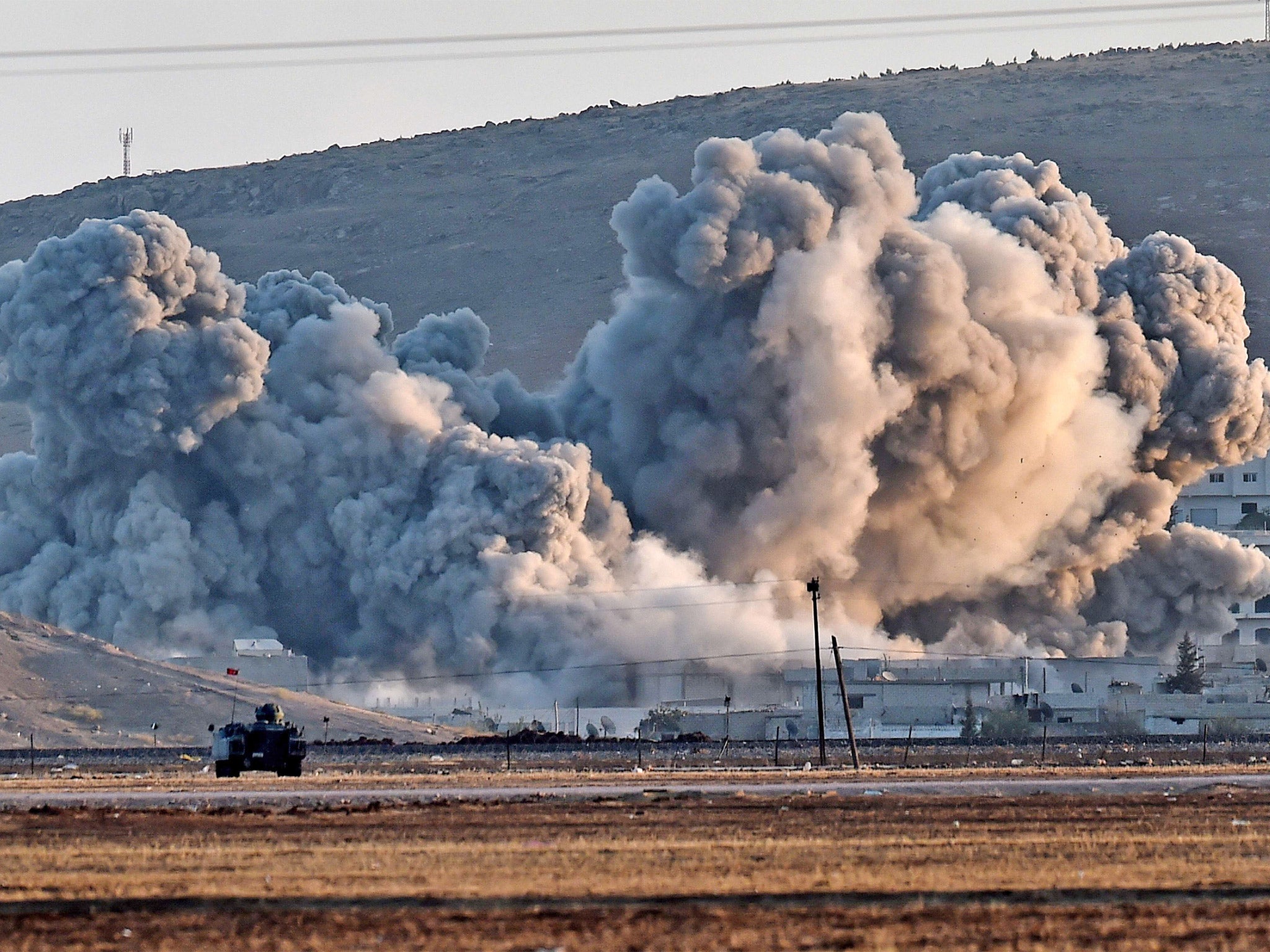 The UK and the US have said the international coalition will not be able to help save the Syrian town of Kobani from Isis militants with air strikes alone.
Foreign Secretary Philip Hammond warned there was nothing coalition forces could do to make "a fundamental difference" in the battle for the town, while he also indicated Britain would be prepared to seek permission to extend its military action into Syria if requested by the US.
Kurdish forces in Kobani are threatened with being overrun in the battle with fighters from Isis (also known as Islamic State and Isil).
Mr Hammond's comments came as a Pentagon spokesman warned Kobani "could be taken", adding: "Air power is not going to be alone enough to save that city."
The battle for the Syrian town has sparked major protests in Turkey against its perceived inaction.
Speaking to BBC Radio 4's The World Tonight, Mr Hammond said it was "never envisaged that the coalition's intervention with air power in this battle was going to turn the tide in the short term."
He said: "We have got to degrade Isil's military capability over time, that isn't going to happen overnight.
"So I don't want to suggest that there is anything readily that the coalition can do that will make a fundamental difference on the ground in this battle, in the tactical situation that's faced around Kobani."
Pentagon press secretary Rear Admiral John Kirby said: "Kobani could be taken. We recognise that. We're doing everything we can from the air to try to halt the momentum of Isil against that town.
"Air power is not going to be alone enough to save that city."
The Foreign Secretary also sought to reassure the US that Britain would be prepared to join air strikes in Syria, if requested by American commanders.
Mr Hammond indicated ministers would be prepared to go back to Parliament to seek permission to extend British military action into Syria if US Central Command (Centcom) considered it "militarily useful".
He said: "We absolutely have not ruled out playing a role in Syria. We will require further parliamentary approval if we decide that that is the right thing for us to do.
"We would see this as a military question - is there a militarily useful role that UK assets could play. If Centcom commanders see a specific role for UK military assets I am sure that they will not be slow in requesting them."
Following talks with Mr Hammond earlier, Secretary of State John Kerry said US special envoy to Syria, former general John Allen, would be holding talks with the Turkish government to establish what contribution Ankara would make to the coalition.
"Clearly, on their border, this is of enormous concern to Turkey and they recognise that," he told a joint news conference.
"These things have to be done in a thoughtful and careful way so everybody understands who is doing what."
Both Mr Kerry and Mr Hammond reacted cautiously to a Turkish proposal to establish a "buffer zone" along the border inside Syria where refugees fleeing the fighting could be protected.
Mr Hammond said: "We would have to explore with other allies and partners what is meant by a buffer zone, how such a concept would work, but I certainly wouldn't want to rule it out at this stage."
Additional reporting by Press Association
Join our commenting forum
Join thought-provoking conversations, follow other Independent readers and see their replies