Isis in Palmyra: After destruction of the temple of Baalshamin, what is left of the ancient city?
Isis appears to have begun destroying the main structures of Palmyra's ancient city - something it suggested it wouldn't do
Adam Withnall
Monday 24 August 2015 14:40 Comments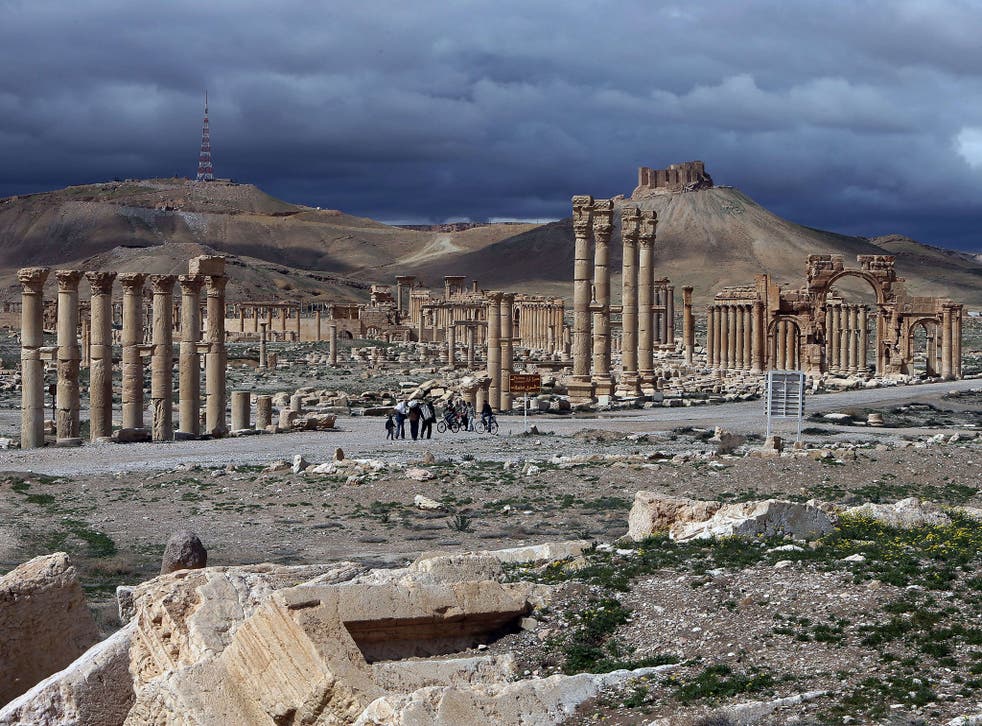 The Isis militant group has destroyed a historic temple in the ancient Syrian city of Palmyra, which had stood almost perfectly intact for nearly 2,000 years.
When exactly the Baalshamin Temple was destroyed remains under contention. But activists agree that Isis militants placed explosives around its base and detonated them, creating a blast so large that it also damaged a number of surrounding Roman columns.
What exactly was destroyed?
The Baalshamin Temple is one of the best-known buildings in the city of Palmyra, the entirety of which was designated a World Heritage site in 1980.
Believed to date back to 17AD, the temple is 500 metres from Palmyra's famous amphitheater where the group killed more than 20 Syrian soldiers after they captured the historic town in May.
The temple was dedicated to Baalshamin, the Phoenician sky god associated with storms and fertilising rains – sometimes equated to the ancient Greek god Zeus.
The British writer and historian Tom Holland said: "I always feared Baalshamin's temple was doomed. He was paired with Allat, the only deity to be mentioned in both Herodotus and the Koran – and condemned by name in the latter."
What other Palmyra relics have been affected?
Palmyra was threatened by the Isis advance for some time before it finally fell to the militants in May, giving archaeologists a window to move any portable relics to the relative safety of Damascus.
But in July, the group published photographs purported to show the destruction of relics looted from the ancient ruins.
Syria's national antiquities chief Maamoun Abdelkarim said militants appeared to have smashed to pieces a 2,000-year-old, 10ft statue known as the Lion of al-Lat, and called it at the time "the most serious crime [Isis has] committed against Palmyra's heritage".
In June, militants claimed to have destroyed two Islamic shrines on the fringes of Palmyra, describing them as "manifestation of polytheism".
What still stands in Palmyra?
The heart of the ancient site of Palmyra is its spectacular 1,100m-long Colonnade, a grand street adorned with an extraordinary number of ancient columns.
At one end stands the Temple of Bel, a large structure combining Near Eastern and Greco-Roman architecture considered one of the city's finest ruins.
At the other end of the Collonade is the vast complex of Diocletian's Camp, built as a military headquarters in the late 3rd century.
Of the other ruins, it is only certain that the ancient Roman Theatre still stands - because it was used as a backdrop for executions by Isis.
Why does Isis destroy ancient ruins?
Isis sees any historical artefacts or temples which suggest the existence of multiple deities as pagan and idolatrous, and has called for their destruction.
According to activists, Isis had said it would destroy any "idols" it found at Palmyra but leave the main Greco-Roman structures alone – making the destruction of the Baalshamin Temple all the more concerning for experts.
In a video posted online showing the destruction of ruins at the Iraqi city of Nimrud earlier this year, an Isis militant explains: "Whenever we take control of a piece of land, we remove the symbols of polytheism and spread monotheism in it."
Experts say Isis applies its theory of "shirk", or idolatry, not just to other religions and pre-Islamic sites but also to Islamic heritage which doesn't follow its strict Sunni interpretation of Islam.
Michael Danti, professor of archaeology at Boston University, told National Geographic the majority of sites it has destroyed have been linked to Shia and Sufi Islam – and that "a lot of what they do is trying to stoke sectarian tensions and proliferate conflict".
Is it just monuments being targeted?
Last week, Isis militants beheaded the 82-year-old antiquities chief of Palmyra and posted a graphic image online showing his decapitated body strung up on a lamppost.
Khaled Asaad, a semi-retired scholar who had overseen Palmyra's ruins and guided international archaeological missions for four decades, had seen no need to flee when the city fell and was reportedly released after a very brief detention when Isis first arrived.
But something – possibly the group's need for money from selling ancient relics on the black market – led militants to recapture Asaad and interrogate him, before he was ultimately killed.
Among Asaad's crimes, Isis said, were his roles in taking care of the city's "idols", as well as attending "infidel" conferences as a representative of Syria.
According to Syria's national antiquities directorate, another scholar was also killed recently by a rocket attack on the museum at the ancient Damascus Citadel, another Unesco World Heritage site.
Qasem Abdullah Yehiya, a senior official of the directorate, was killed and a number of museum employees were injured.
Unesco's director-general, Irina Bokova said both deaths were "a terrible loss to the cultural heritage community in Syria and globally".
Are ruins other than Palmyra threatened?
Palmyra's ruins, known as the Pearl of the Desert, are some of the finest archaeological specimens across the Middle East.
But they are also just the latest to be threatened by Isis's explosives and bulldozers.
In March, militants filmed themselves destroying a range of ancient temples and structures at Nimrud, one of the finest historical treasures in Mosul.
That same month, they destroyed an uncertain number of relics at the Unesco World Heritage site of Hatra, also in Iraq. Unesco called it a "turning point in the appalling strategy of cultural cleansing under way" in the country.
In February, Isis militants were pictured smashing artefacts in the central museum of Mosul, Iraq, and in January activists in the same city said Isis had ransacked the main library, burning thousands of books.
In the past few days, Isis has reported to have destroyed the Mar Elian Monastery in the Syrian town of al-Qaryatayn, which it only recently captured.
At its location not far from Palmyra, an Isis video claimed to show the exhumation of the remains of Saint Elian, who died in the 3rd century AD.
"The intentional targeting and systematic destruction of the cultural heritage of Syria is reaching unprecedented levels," said Unesco's Bokova.
"Such acts are war crimes and their perpetrators must be accountable for their actions," she said. "Unesco stands by all Syrian people in their efforts to safeguard their heritage, a heritage for all humanity."
Register for free to continue reading
Registration is a free and easy way to support our truly independent journalism
By registering, you will also enjoy limited access to Premium articles, exclusive newsletters, commenting, and virtual events with our leading journalists
Already have an account? sign in
Join our new commenting forum
Join thought-provoking conversations, follow other Independent readers and see their replies