Isis in Syria: Children among civilians 'killed by US-coalition air strikes'
The reports came after an aid worker and dozens of civilians were killed in air raids on the rebel-held city of Idlib
Lizzie Dearden
Wednesday 01 June 2016 13:40 Comments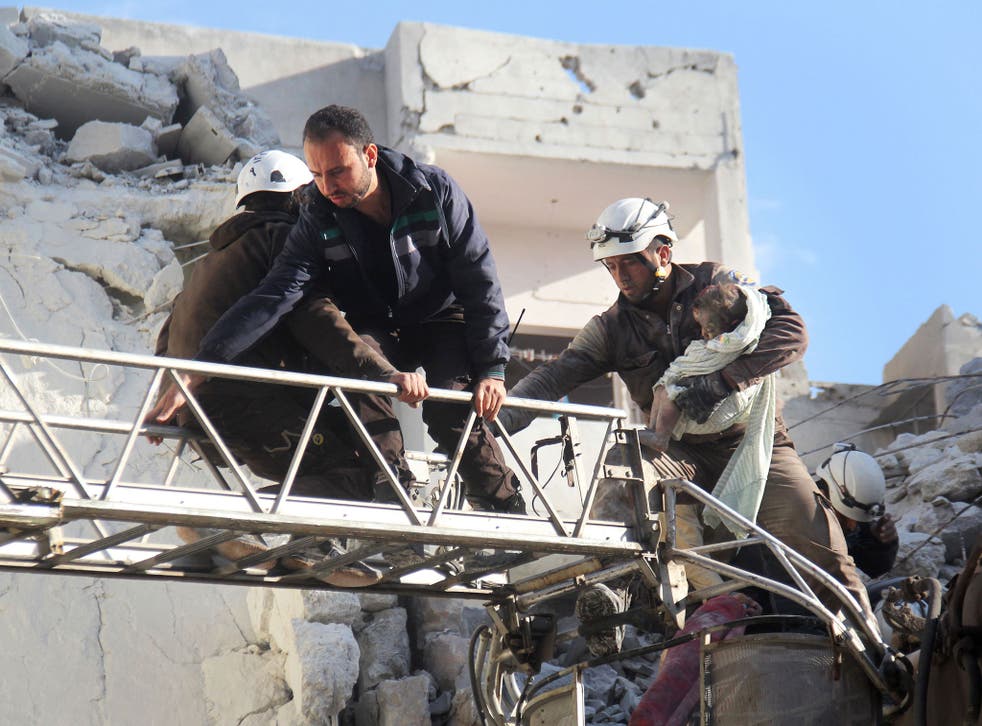 The US-led coalition has been accused of killing at least 15 civilians, including three children, in air strikes on Isis territory in Syria.
It is providing air cover for a ground operation by the Syrian Democratic Forces (SDF) against the so-called Islamic State near the Turkish border.
The rebel alliance is aiming to drive militants out of a crucial area known as the "Manbij pocket", in Aleppo province, in an offensive that started on Tuesday.
Coalition officials have reported numerous air strikes in the area in recent days, including 18 near Manbij yesterday targeting an Isis weapons, headquarters, training bases, bridges, tactical units, fighting positions, vehicles and ammunition stores.
But the UK-based Syrian Observatory for Human Rights said 15 civilians, including three children, had been killed by coalition planes over the past 24 hours in the area.
Monitors said SDF fighters had taken control of 16 villages and had advanced to nine miles from the city of Manbij, which has been under Isis control since early 2014.
The US Central Command told The Independent it had not been aware of the allegations of civilian casualties but would look into them.
"We will review any information we have about the incident, including information provided by third parties, such as the proximity of the location to CJTF (Combined Joint Task Force) air strikes, and any other relevant information presented," a spokesperson for Operation Inherent Resolve said.
"If the information supporting the allegation is determined to be credible, we will then determine the next appropriate step.
"We take all feasible measures during the targeting process to avoid or minimise civilian casualties or collateral damage and to comply with the principles of the law of armed conflict."
The US has so far acknowledged more than 40 civilian deaths during its air strikes against Isis in Syria and Iraq, although the figures do not include incidents involving other coalition members.
The Manbij operation aims to cut Isis' access to Syrian territory along the Turkish border, which is used by militants as a logistics base for moving foreign fighters in and out of Europe.
A small number of American special forces troops are supporting the offensive on the ground, acting as advisors rather than engaging in direct combat, officials told Reuters.
Several hundred US servicemen are believed to be in Iraq and Syria, with two injured in Isis attacks over the weekend, raising further questions about their "advisory" role.
As well as coalition air strikes, the Manbij offensive is being supported by artillery fire from Turkey, which claimed it had killed 14 militants in the region so far, along with weapons, vehicles and a building used as Isis headquarters.
The SDF announced an offensive against Isis territories in nearby Raqqa province last week but has so far pushed west rather than south, where the group's de-facto capital lies.
Fighting has intensified across Syria this week as Bashar al-Assad's regime continues efforts to retake rebel areas in Aleppo and Damascus and Isis goes on the attack towards Azaz.
At least 23 people were reportedly killed in air strikes that damaged two hospitals in the city of Idlib overnight on Monday.
An aid worker with Save the Children partner in the city said: "The intensity of the airstrikes was unbelievable – I counted eight in just five minutes, hitting crowded civilian neighbourhoods.
"Families are trapped under the rubble of their homes. There were strikes near a hospital twice in 30 minutes."
Several children were said to be among the dead and fatality estimates ranged up to 60, although the total could not be independently verified.
Footage posted online by the Syria Civil Defence group showed rescue workers searching for casualties through the night, finding an injured child buried under the rubble among other survivors.
Save the Children said a 23-year-old aid worker from one of its partner organisations was killed.
He was trying to rescue families that were trapped under the rubble following a strike on their building in Idlib, when a subsequent air strike killed him and several others, the charity said.
Sonia Khush, head of Save the Children in Syria, said: "Northern Syria is again being plunged into chaos and bloodshed, with a surge in bombing, displacement and suffering over the past week.
"We rely heavily on local partners to ensure that aid reaches those who need it most – but with each passing day, it is becoming harder and more dangerous for them to deliver food, water and medicine to families and children in desperate need.
"The death of brave Syrian aid workers like our colleague from "Violet" – who was killed while saving the life of others – is a loss not only to his family and his organisation, but to Syria's future."
Save the Children said it was extremely concerned over continued attacks on health facilities and personnel and the "blatant disregard for international humanitarian law".
British jets prepare for air strikes in Syria

Show all 10
Rebel sources blamed Russian planes for the raids but Russia's ministry of defence denied responsibility and dismissed the allegations "a horror story", while others believed the Syrian regime had carried them out.
Territory controlled by the al-Qaeda linked Jabhat al-Nusra group and Islamist Ahrar al-Sham were among the possible targets.
A "cessation of hostilities" agreed on 27 February has completely broken down, with peace talks in Geneva failing and fighting and bombardment continuing.
In Aleppo city, the Syrian army has stepped up its bombing and shelling of the Castello road - the only route in and out of the city for civilians and rebels.
The rebel-held towns of Anadan, Hreitan and Maarat al-Artieq have also seen intense air raids and government forces and allies have made new advances south of Damascus.
The UN has raised concern over thousands of civilians trapped in besieged areas as aid convoys continue attempts to reach people running out of vital food and medical supplies.
Register for free to continue reading
Registration is a free and easy way to support our truly independent journalism
By registering, you will also enjoy limited access to Premium articles, exclusive newsletters, commenting, and virtual events with our leading journalists
Already have an account? sign in
Join our new commenting forum
Join thought-provoking conversations, follow other Independent readers and see their replies