Almost 10,000 Yazidis 'killed or kidnapped in Isis genocide but true scale of horror may never be known'
More than 3,000 people were executed out of a total of 10,000 killed in matter of days in 2014, a new study finds, with scores of people forced into sex slavery and conversions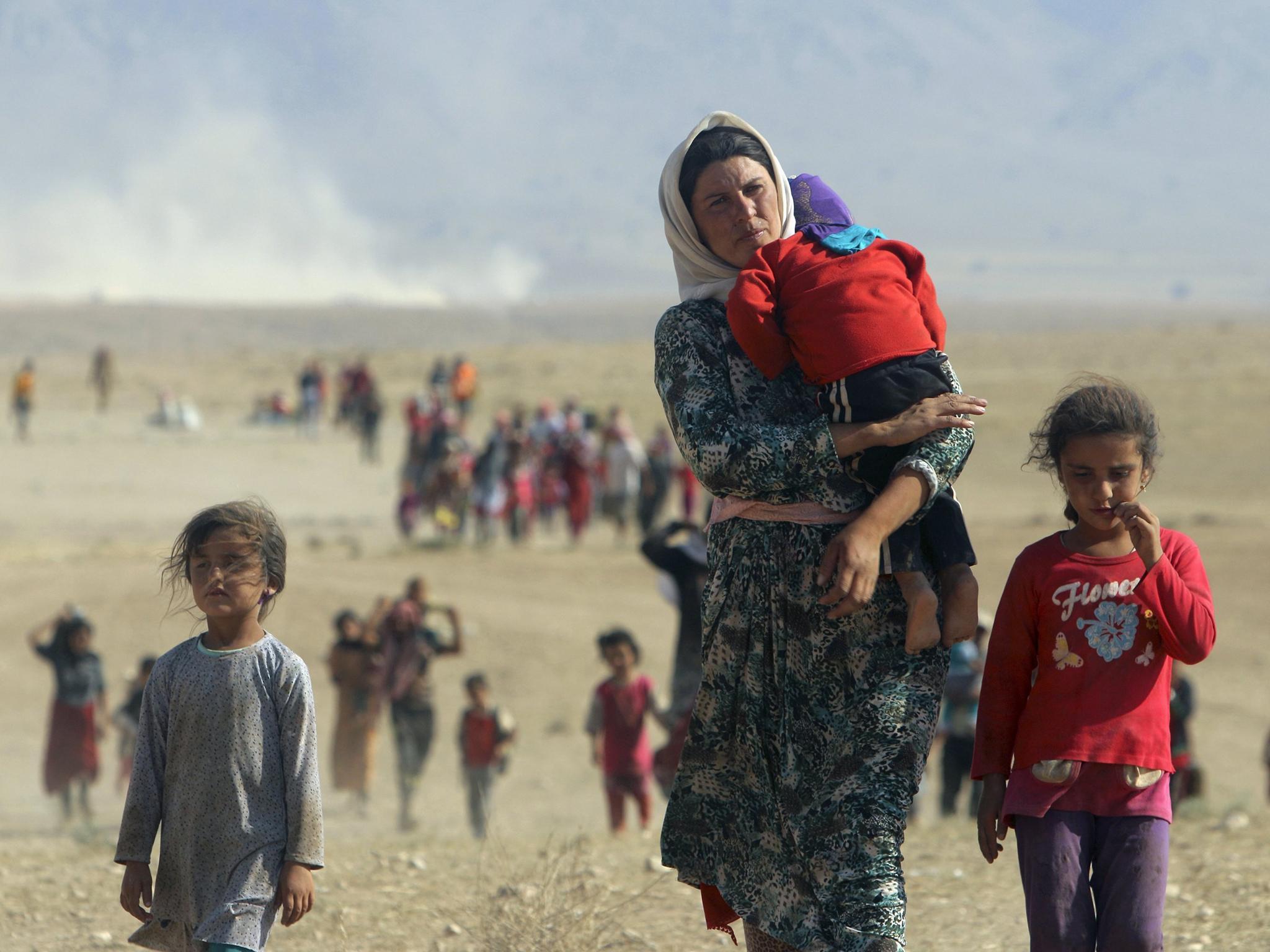 The true scale of the genocide inflicted on Yazidis by Isis during its brutal sweep through Iraq may never be known as thousands remain in captivity, researchers have warned.
A new study published in weekly journal PLOS Medicine concluded that an estimated 9,900 members of the ethnic and religious minority were killed or captured in a matter of days in August 2014.
Of that figure 3,100 were murdered, with almost half executed by gunshot, beheading or being burned alive, while the rest died from starvation, dehydration or injuries during the Isis siege on Mount Sinjar.
Researchers estimated that 6,800 other Yazidis were kidnapped in the brutal campaign, with over a third still missing at the time of the survey.
Lead author Dr Valeria Cetorelli warned that the toll may even be higher because of the reliance of survivors to report deaths and disappearances.
"Because the attack was so indiscriminate, in many cases entire families were captured together if they didn't escape in time," she told The Independent.
"It is possible that no one managed to escape, so there are no survivors and zero possibility of being included in our survey.
Remains of more than 20 Yazidis found in Iraq mass grave
"At least one household member needed to survive to report the killing and kidnappings of others."
While adult men were most likely to have been executed by militants, almost all of the victims who died after fleeing up Mount Sinjar were children under the age of 15, the research found.
Isis's punishing siege, seeing tens of thousands trapped without food, water or shelter in 50C heat, sparked the first US airstrikes against the jihadi group in Iraq, alongside British aid drops.
The operation, and an effort by Kurdish forces on the ground, let Yazidis flee through a safe corridor through Syria to the autonomous Iraqi Kurdistan region, where more than 300,000 remain while others stayed in Sinjar or moved onwards to Syria and Turkey.
The study, conducted by researchers in the US, UK, Israel and Iraqi Kurdistan, found that children have been disproportionately affected by the genocide.
As well as making up the vast majority of deaths on Mount Sinjar – constituting 93 per cent of deaths – they are also the least likely to have escaped Isis captivity.
Dr Cetorelli, who is also a research officer at LSE and a postdoctoral fellow at the Johns Hopkins Bloomberg School of Public Health, said escapees documented torture, sex slavery, forced religious conversion and recruitment as child soldiers.
Iraq crisis: Yazidi nightmare on Mount Sinjar
Show all 15
"We heard several accounts of girls being gifted or sold to Isis fighters as sex slaves and the boys being forced into training camps," she added.
"More than one third of the kidnapped are still missing and it wasn't possible to determine whether they are still alive or not.
"This is really an ongoing genocide because thousands of people are still in captivity."
Several Isis propaganda videos have featured Yazidi child soldiers, while the terrorist group has also used magazines in attempts to justify the taking of thousands of women and girls as sex slaves.
Researchers said families who failed to escape were rounded up en masse and divided up as part of the "systematic" genocide that saw men and boys above the age of 12 separated and massacred if they refused to convert to Islam.
A woman who was 17 when Isis overran her village told how her 16-year-old brother was killed and nine-year-old brother enlisted as a child soldier, before she was kidnapped as a sex slave and raped by nine militants.
Dalal is among those who eventually escaped but thousands of women and children remain in Isis captivity almost three years after they were abducted, with some killing themselves.
Researchers, who questioned 1,300 households of displaced Yazidis living in Iraqi Kurdistan, said suffering continues despite Iraqi government forces driving Isis back out of the region.
"It's almost three years since the attack and the people are still displaced," Dr Cetorelli said.
The Yazidi children of Isis' training camps
"The Sinjar region has been taken back from Isis but it has been almost completely destroyed so it will be not possible for them to go back for a long time.
"The situation gets worse and worse every day for those living in camps."
The UN formally recognised Isis's campaign as genocide in June 2016, saying the situation was "ongoing", but a lack of formal research on the death toll has hampered international action.
The Independent International Commission of Inquiry on Syria found that after classifying Yazidis as "devil worshippers" because of their links to other religions and mysticism, Isis "sought to erase" the population.
It said the group used killings, sexual slavery, enslavement, torture, inhuman treatment and forcible transfer to further its aim, as well as the imposition of measures to prevent Yazidi children from being born, the forced conversion of adults and kidnapping children to be brought up by Isis militants.
The UN said "there can be no impunity" for the crimes, urging the Security Council to refer the case to the International Criminal Court or a tribunal, as well as protecting the long-persecuted Yazidi minority.
Dr Cetorelli urged the international community not merely to focus on the events of 2014, but to help the survivors and attempt to rescue remaining captives.
"Three years ago there was a lot of attention but it's still ongoing and the international community must retain its attention," she added.
"We hope that these estimates will support a formal genocide investigation to hold the perpetrators to account."
Join our commenting forum
Join thought-provoking conversations, follow other Independent readers and see their replies