Isis using kittens and honey bees in bid to soften image in Dabiq propaganda magazine
Analysts say group claims to portray its own success as functioning 'Islamic State'
Lizzie Dearden
Tuesday 02 August 2016 17:31 Comments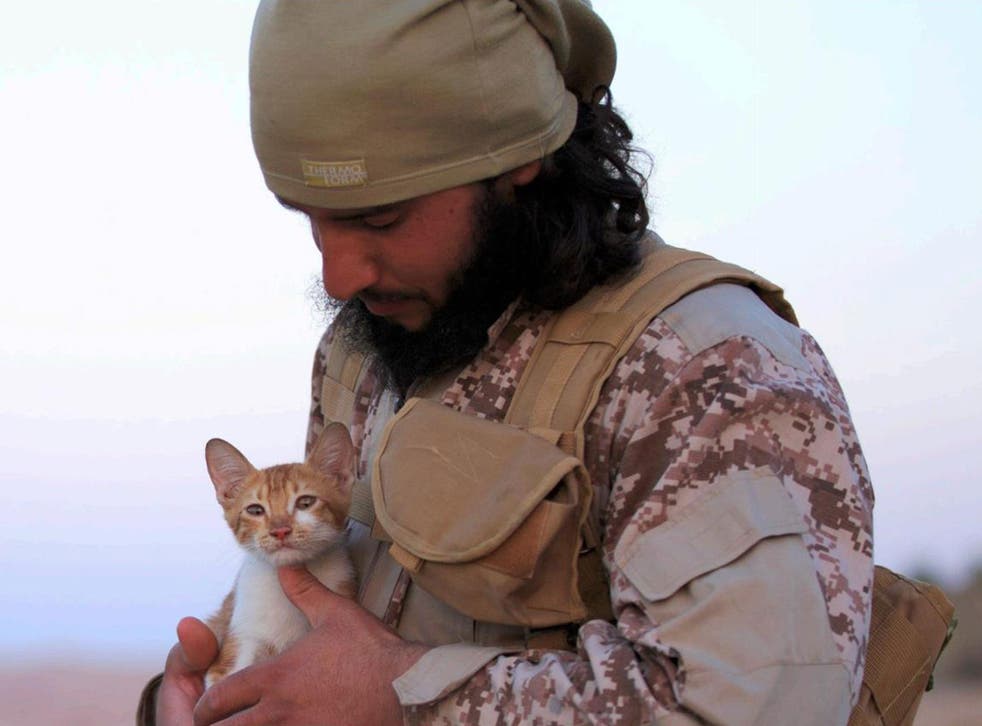 Isis has published a photo showing one of its fighters cradling a kitten and images of honeybees in an apparent attempt to soften its image and attract new recruits.
Alongside the terrorist group's routine threats of new attacks on the West and its enemies in Syria and Iraq, the latest issue of Dabiq magazine seems to take a more nuanced approach in its efforts to entice followers.
A piece entitled "Contemplate the Creation", credited to a fighter named Abul-Harith ath-Thaghri, contained his supposed musings while on guard duty in Syria.
The article claims a cat approached the militant and, after considering "whether or not I was an aggressive or compassionate soul", jumped in his lap.
Illustrated with a photo of an unnamed fighter cuddling a kitten at sunset against the backdrop of a sun-drenched wheat field, the piece went on to offer honey bees as supposed proof of creation.
The online magazine released periodically by the group also known as 'Islamic State' also includes photos of laughing children, hugging militants and rolling countryside amid its usual chronicle of atrocities and bloody executions.
Shiraz Maher, Deputy Director of the International Centre for the Study of Radicalisation at King's College London, told The Independent that the use of "softer imagery" is common in Isis propaganda aimed at Muslims.
"Although we've grown accustomed to the ultra-violence of Islamic State, videos and images of that nature are only well known because their shock value makes them viral," he said.
"Islamic State has actually been messaging to Muslims, and particularly Arabs, for years with softer images; showing children in playgrounds, bustling market places, functioning hospitals and schools. Images like this account for the majority of their propaganda.
"What they want to suggest is that they're an ordinary and typical state where the physics of everyday life ticks over like it would anywhere else in the world. They do this not only to project an image of success for their state building project, but also to show they have a humanitarian side."
Recent video releases by Isis' media arms have also concentrated on less gory aspects of life under the so-called caliphate as the group seeks to paint an impression of comfort and plenty despite severe military losses and relentless air strikes.
Continuing the theme, Dabiq contained "advice" and rose-tinted accounts from a Finnish jihadi bride and Muslim converts from Canada, the US and Trinidad.
Normandy church attack in pictures

Show all 16
In line with Isis characterisation of its terror as a holy war against "crusaders", the latest issue of Dabiq was entitled "Break the Cross" and contained several articles dismissing Christian theology and leaders including Pope Francis.
It praised the Normandy church attack and the murder of a police officer and his wife by a French Isis follower in June, as well as the Wurzburg train attack and Ansbach bombing in Germany, and the Orlando shooting that left 49 dead at a Florida nightclub.
Tellingly, Isis' accounts of the atrocities gave no additional information on the attackers, supporting indications by police that those responsible had no significant backing or organisational input from the group, which only claimed responsibility for the murders after media reported pledges to Isis.
Isis also used Dabiq to celebrate the Bangladesh attack and other "operations" in Syria, Iraq, Algeria, Philippines, Somalia, Egypt, Yemen, Niger and Afghanistan.
Michael Smith, president of the Kronos Advisory group, told The Independent Dabiq was aimed at recruiting fighters and inciting more terror attacks, while competing with al-Qaeda to "achieve dominance in the global jihad movement".
"The group might prefer to orient forces (intended for) mobilising attacks in the West toward defending territorial holdings in Syria and Iraq in the near term," he said.
"However, it is important to consider that recent arrests in Germany demonstrate the Islamic State began building sleeper cells in Europe in 2014.
"So while it may not be deploying as many people to attack in the West during the near term, it is almost certainly the case that there are more Islamic State members already here in the West who are awaiting signals it is time to strike."
Mr Smith added that the inclusion of an Isis member from Trinidad and Tobago would fuel concerns that extremists could travel from the Caribbean to commit attacks in the US and South America.
In an article called "Why we hate you and why we fight you", the group said it would not stop terror attacks until its targets "embrace Islam".
Contrary to previous propaganda that has seen the group seeking to legitimise its atrocities as a response to military action and air strikes, the latest Dabiq says: "Even if you were to stop fighting us, your best-case scenario in a state of war would be that we would suspend our attacks against you…before eventually resuming our campaigns against you.
"So in the end, you cannot bring an indefinite halt to our war against you. At most, you could only delay it temporarily."
Register for free to continue reading
Registration is a free and easy way to support our truly independent journalism
By registering, you will also enjoy limited access to Premium articles, exclusive newsletters, commenting, and virtual events with our leading journalists
Already have an account? sign in
Join our new commenting forum
Join thought-provoking conversations, follow other Independent readers and see their replies