Isis: Kurdish commander hails start of 'era of destruction' for terror group as losses continue in Iraq and Syria
The YPG is attempting to push the group back in Syria while the Kurdish Peshmerga in neighbouring Iraq defeated a major assault by Isis
Lizzie Dearden
Friday 18 December 2015 14:11 Comments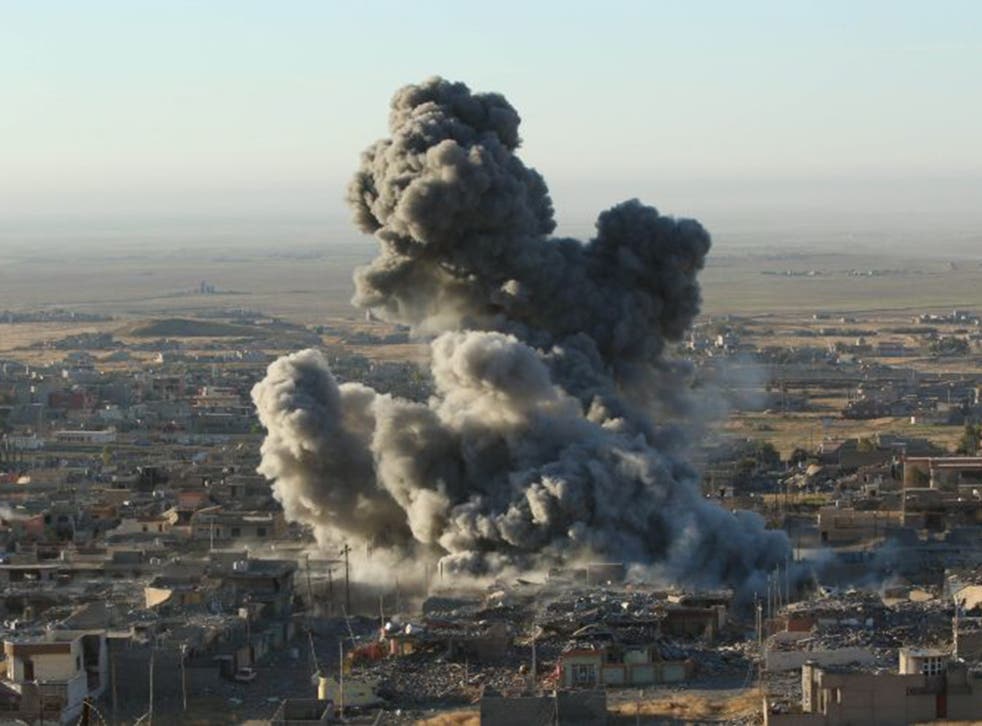 A Kurdish commander has hailed the start of the "era of Isis' destruction" as the terror group reportedly continues to be pushed back in Syria and Iraq.
Lawand Rojava, a commander in the People's Protection Units (YPG) told Sky News his soldiers were successfully re-taking territory in northern Syria and cutting the terrorist group's supply lines.
"Daesh (Isis) is becoming weaker and weaker after our recent offensive in al-Hawl," he said.
"They are retreating in large numbers - the era of their destruction has started."
He was speaking from the frontline near the border with Iraq, where Peshmerga fighters from Iraqi Kurdistan are also having limited success with the support of coalition air strikes.
Isis launched a three-pronged attack near its stronghold of Mosul in what is believed to be its biggest Iraqi operation in months on Wednesday.
American officials told the New York Times the attempt to disrupt the advance of Kurds aiming to surround and eventually drive its militants out of the city was beaten by the Peshmerga and allied air strikes.
ITV video of fight against IS
Brigadier General Mark Odom said co-ordinated attacks at Narwan, Bashiqa and Tal Aswad involved around 100 Isis fighters each, using armoured bulldozers, machine guns and suicide bombers.
US officials estimated that 180 militants were killed in the air strikes through Wednesday night into Thursday morning, and Peshmerga fighters are believed to have killed hundreds more while suffering an unknown number of losses themselves.
Refugees fleeing Raqqa, the self-proclaimed capital of the "caliphate", report that Isis is launching a brutal crackdown on civilians as losses continue.
A man who gave his name as Mazlan told Sky News his uncle had been beheaded after being falsely accused of being a spy, adding: "Every day they make accusations. Atheist or spy of the regime, so they can behead people. Thousands have been killed."
Timeline: The emergence of Isis

Show all 40
Britain is supporting opposition forces in both Iraq and Syria with RAF Tornados, Typhoons and Reaper drones after extending its operations earlier this month.
They are working as part of the US-led coalition codenamed Operation Inherent Resolve.
Its official report listed a total of 22 strikes on Thursday – three in Syria and 19 in Iraq.
Officials said Isis mortar and fighting positions were destroyed in Syria, while a wave of operations supporting the Peshmerga in Iraq targeted Isis units, guns, command centres and a communications tower.
Register for free to continue reading
Registration is a free and easy way to support our truly independent journalism
By registering, you will also enjoy limited access to Premium articles, exclusive newsletters, commenting, and virtual events with our leading journalists
Already have an account? sign in
Join our new commenting forum
Join thought-provoking conversations, follow other Independent readers and see their replies