Isis' labyrinth of underground tunnels that could await the US-led forces attempting to take Raqqa
Isis strongholds reveal secret undergound passages, invisible to the warplanes soaring overhead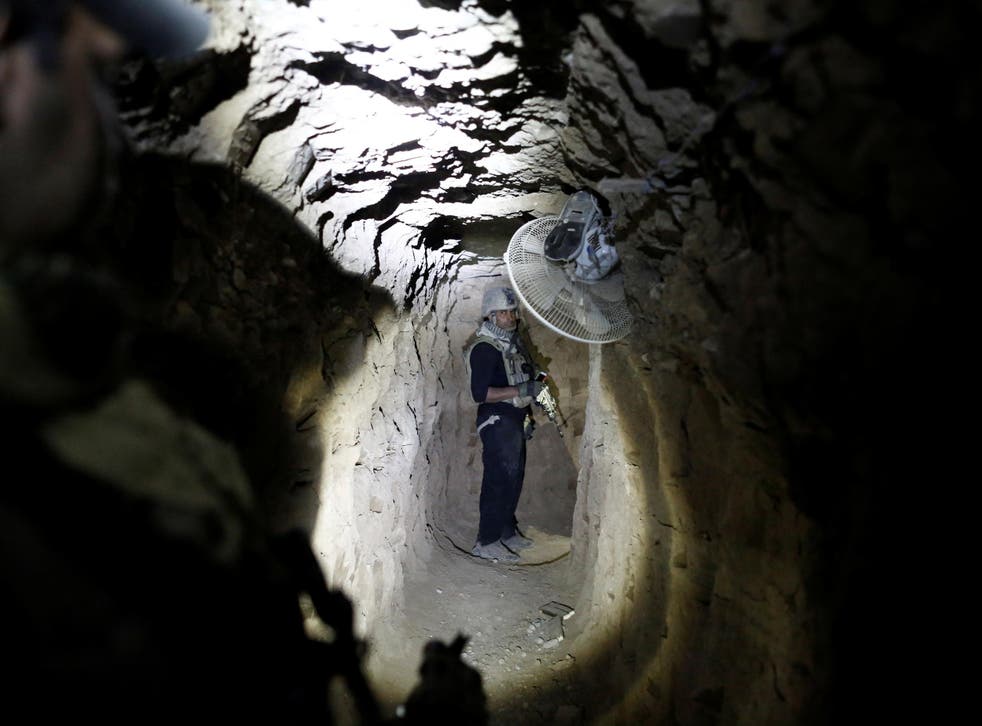 US-backed Kurdish and Arab forces have captured several villages in the outskirts of Raqqa in the first days of their offensive, but they anticipate that the ground ahead of them – and what lies beneath it – will be harder to seize.
The battle to rid Isis fighters from their de facto capital and heartland "will not be easy".
Similar Isis strongholds have revealed secret networks of tunnels – invisible to the American warplanes soaring overhead – that militants use to keep stores, to hide in, and launch to attacks from.
Isis's rule has been marked by repeated atrocities including mass beheadings and other executions that it has documented in photos and videos lauding the violence that its supporters share online.
In Mosul, where the group is also under pressure, Iraqi police forces said they found a mass grave yesterday.
Here are some of the secret underground passages that may lie in wait for the intruding forces.
Mosul, Iraq
Upon gaining access to the previous Isis stronghold, forces found that beneath the city lay a honeycomb of tunnels which had allowed Islamist fighters to position themselves behind the front line.
Underneath the village of Mufti, near Mosul, the tunnels stretched across a quarter of a mile.
Discovered only after a US bomber hit one of the houses masking the maze, some of the tunnels were ten feet below the surface.
Kurdish peshmerga also captured a village called Small Bafana in the outskirts of Mosul in October and discovered a network of tunnels used to hide snipers.
Militants had to prevent the passages from caving in using sticks – yet they had everything in the tunnels to remain almost entirely self-sufficient – including stores of chickpeas, eggs, honey and an electricity supply.
One house above a subterranean passage was filled with mounds of soil, likely so that US planes overhead would not know about the tunnels.
Behind them they left booby tracks, including a Quaran lodged in the tunnel wall connected to and IED.
Inside Isis secret tunnels

Show all 7
Sinjar, Iraq
In November 2015, hundreds of metres of underground tunnels used were discovered below the Iraqi city of Sinjar.
Fortified with sandbags to protect against air-strikes, the tunnels had multiple exits and provided safe passage around the city.
Books, ammunition, painkillers, prescription druigs and basic living essentials were all discovered — alongside apparent tools for making bombs.
They were equipped with mattresses, blankets, fans and curtains to provide privacy.
Join our new commenting forum
Join thought-provoking conversations, follow other Independent readers and see their replies