Isis leader Abu Bakr al-Baghdadi repeatedly raped US hostage Kayla Mueller and turned Yazidi girls into personal sex slaves
Exclusive: Systematic rape has become an increasingly powerful recruiting tool for Isis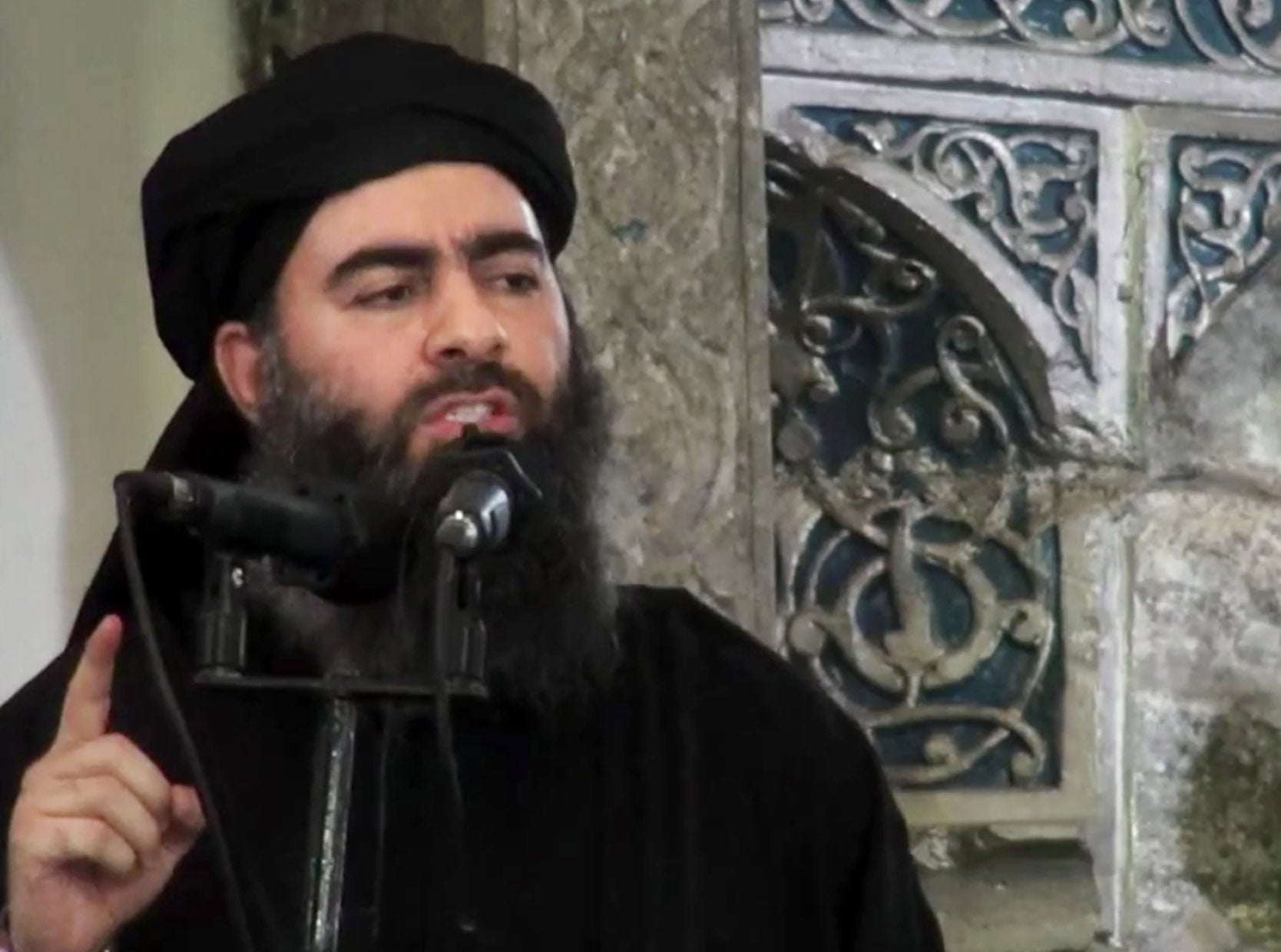 The Isis leader Abu Bakr al-Baghdadi viewed women held captive at a Syrian house as his private property, and forced himself upon a number of them, including the American hostage Kayla Mueller.
As systematic rape becomes an increasingly powerful recruiting tool for Isis, the full story of the ordeal faced by the aid worker killed in captivity is revealed by a 14-year-old Yazidi girl who was captured by Isis in Iraq, last August. Her version has been corroborated by US officials.
The girl says she spent two months in captivity with Ms Mueller before escaping from the Syrian town of al-Shadadiya in October 2014.
After originally being held in the Iraqi city of Mosul for little under a month, the 14-year-old and four other young Yazidi girls had, by late August of 2014, met Ms Mueller, who would have turned 27 this Friday. They were then transferred to al-Shadadiya. According to the Yazidi girl, Ms Mueller had learnt basic Arabic while in captivity and went by the name of "Kayla Carol". The last name derived from her father's name – which in the Arab world serves as a family name – which is Carl.
Ms Mueller had been kidnapped in Syria in August 2013 while leaving a Spanish Médecins Sans Frontières hospital in Aleppo. Isis had demanded a ransom of €5m for her release.
Ms Mueller demonstrated an interest in aid and human rights work during her high school years, as a member of the Save Darfur Coalition. She had travelled to the Turkish-Syrian border in December 2012 to work with the humanitarian organisation Support to Life, assisting refugees. In 2013, she spoke about her experiences to the Prescott Kiwanis Club in Arizona, a volunteer group of which her father is a member. "Syrians are dying by the thousands, and they're fighting just to talk about the rights we have," she said.
As a captive in al-Shadadiya, Ms Mueller was often visited by the Isis leader, say the Yazidi girls, who cooked and cleaned in the house. Rape was a "reward" for Isis victories. And, according to those held captive, many Yazidi women passed through the house on their way to being given as "presents" or sold to Isis fighters. The Yazidi girls say the sex trade was organised by Umm Sayyaf, the Iraqi wife of Abu Sayyaf, a Tunisian Isis financier. She was captured in Syria in May by US Special Forces and has reportedly been co-operating with military interrogators.
Last week the White House announced that Umm Sayyaf would be prosecuted in Kurdish Iraq and would be "held accountable for her crimes".
In pictures: The rise of Isis
Show all 74
In the house in al-Shadadiya the four girls, all teenagers, were kept in one room with Ms Mueller, who tried to protect them from abuse and violence at the hands of Umm Sayyaf and Isis men, sometimes putting herself in greater danger by doing so, they say. The girls still speak fondly of Ms Mueller today.
Ms Mueller, from Prescott, Arizona, was described as a "mother figure" for them. But she left them regularly, when Abu Bakr al-Baghdadi visited. The girls, who understand Arabic, say they recognised Abu Bakr and other Isis leaders who arrived at the house. Ms Mueller was taken to Abu Bakr's room elsewhere in the house by Abu Sayyaf. "I saw him often, he came there often," the Yazidi girl says. "And every time he came, he took Kayla away. She would always come back after." Every time she returned to the room Ms Mueller told the Yazidi girls what had happened, often crying, telling them that Abu Bakr had sexually abused her – or, in the conservative language the girls use, that "he had married her by force".
A source close to the Mueller family confirmed the girls' story was correct, to their knowledge. The family have reportedly been left angry by claims that Ms Mueller had converted to Islam or had been a willing captive. Last night Ms Mueller's parents confirmed to ABC News that government officials have told them their daughter was the victim of repeated sexual assaults by Abu Bakr. "We were told Kayla was tortured, that she was the property of al-Baghdadi. We were told that in June by the government," Carl and Marsha Mueller said.
The men of the "caliphate" do not usually marry Yazidi women, unless they have converted officially to Islam and have been accepted as Muslims. After the Isis capture of the Mount Sinjar area in August 2014 many thousands of Yazidi were forced into captivity and became sex slaves.
In Abu Sayyaf's house, Ms Mueller was not the only one to suffer. One of the Yazidi girls had also been given to Abu Bakr, while another one was "married" to Abu Sayyaf, and yet another to Abu Tamim, who was responsible for bringing new Yazidi girls to the house.
When the 14-year-old escaped with her sister in October 2014, she asked Ms Mueller to join her. But Ms Mueller refused, saying her foreign appearance would only put the girls in danger when they would be forced to ask for help from the local Arab community.
About a month after they arrived in the Kurdistan region, in November 2014, the girl and her sister were questioned in detail about their stay with Abu Sayyaf by "some Americans", the girl says. These people, who the girls believe were intelligence officers, let them go without offering anything in return for their information. US officials last night confirmed that her account had been corroborated with other intelligence.
The precise circumstances of Ms Mueller's death remain disputed. Isis claimed she was killed in a Jordanian air strike near Raqqa, the group's de facto capital in Syria. That has not been confirmed. It has been reported that the bombing raid was targeting Abu Bakr, and Isis is said to have sent Ms Mueller's family an email with three pictures of her body in a hijab.
Announcing her death in February, President Barack Obama said: "No matter how long it takes, the United States will find and bring to justice the terrorists who are responsible for Kayla's captivity and death." Ms Mueller, he said, had "epitomised all that is good in our world".
In May 2015 an American Delta team targeted the house in al-Shadadiya, and during the operation Abu Sayyaf was killed and his wife captured.
The team found a trove of information on computers and USB-sticks, suggesting that the house played an important role in the command structure of Isis.
Several Yazidi girls were freed in the attack. But the 14-year-old says she has not seen any of her former companions arrive in Iraq and she fears they may have been moved from the house, possibly soon after her escape.
Join our commenting forum
Join thought-provoking conversations, follow other Independent readers and see their replies