Lebanese army recaptures land from Isis and raises Spanish flag in honour of Barcelona attack victims
Militant group claimed responsibility for rampage in Spain that left 14 people dead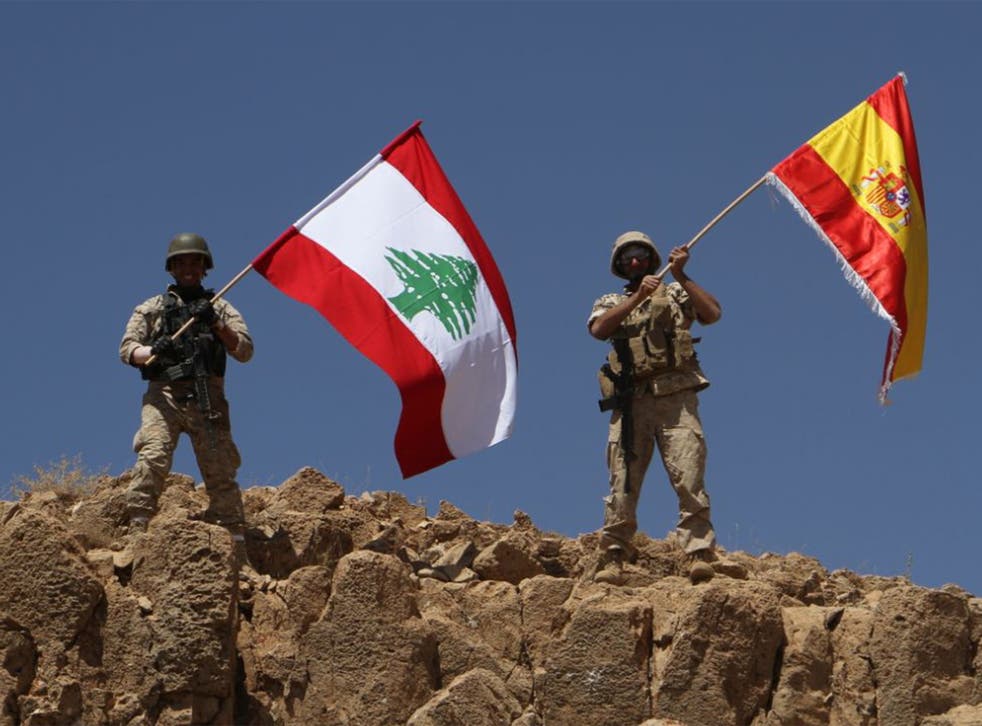 The Lebanese army says it has recaptured an area of land from Isis and raised a Spanish flag in honour of the victims of last week's terrorist attack in Barcelona.
Fourteen people were killed in the Catalan city and one in the nearby town of Cambrils when attackers used vehicles to ram into pedestrians. Isis claimed responsibility for the attack, although it remains unclear how much interaction the perpetrators had with the militant group.
Two days after the attack, the Lebanese army launched an offensive near the town of Ras Baalbeck in north-east Lebanon and captured a third of an area that has been held by Isis since 2014.
Six hundred Isis militants are believed to be in the mountainous area, of which around 20 were killed and 10 injured in the latest battle.
An image posted on the Lebanese army website showed troops waving both a Lebanese flag and a Spanish flag. The image was captioned: "A salute from our troops fighting Isis in the mountains of Ras Baalbek to the victims of Spain and the whole world".
Isis claimed responsibility for the attacks in Catalonia within hours of a van being driven into crowds of people on the busy Las Ramblas street in central Barcelona.
Barcelona Attack

Show all 30
A statement released through the group's Amaq news agency said: "The perpetrators of the Barcelona attack are [Isis] soldiers and carried out the operation in response to appeals targeting coalition countries."
Isis-affiliated social media accounts posted messages celebrating the attack. One wrote: "To all the Spaniards, now is the time to pay for everything that your governments have done to our countries."
Isis has lost ground across the Middle East in recent months, having been all but forced out of Iraq and at risk of losing its strongholds in Syria.
Join our new commenting forum
Join thought-provoking conversations, follow other Independent readers and see their replies