Isis militants embrace 'gay' men before 'stoning them to death in public' in Syria
Report claims jihadists have posed as gay men to honeytrap victims
Heather Saul
Friday 24 April 2015 15:40 Comments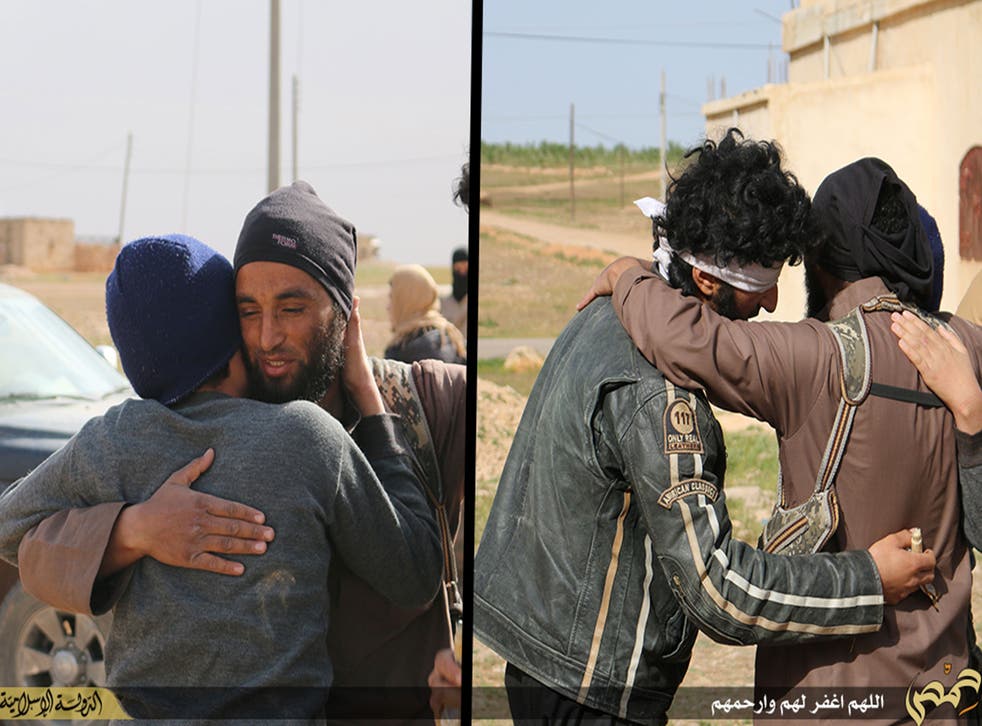 Jihadists have been posing as gay men in a bid to trap victims, a report has claimed, as Isis released pictures purporting to show two allegedly homosexual men being embraced by militants before they were brutally stoned to death in public.
The distressing images have been circulating across social media and accounts affiliated with the jihadist group and are the latest in a long line of shocking pictures showing men accused of homosexuality being persecuted by Isis militants.
Previous propaganda claiming to show 'gay' men being punished has depicted men thrown from buildings in the group's defacto Syrian capital of Raqqa and victims publicly beheaded. Others are stoned to death, while all killings are committed in front of crowds. However, photos of militants seemingly hugging their victims are more unusual.
Abu Mohammed Hussam, an activist with the Syrian group Raqqa is Being Slaughtered Silently (RBSS), said the apparent embrace was used by militants to demonstrate that by killing the men, they are paving the way for God to forgive them for their 'sins'.
"Isis has never forgiven one person," he said. "They kill people and then say when God will forgive. They hug the men to show the people who are watching that Isis is not at fault."
He said the men were aged just 24 and 29-years-old. Their purported execution took place in the countryside outside of Homs and they appeared so calm because they had been drugged before their deaths, according to Mr Hussam.
The persecution of men the group accuses of being gay has become a hallmark of Isis' unwavering brutality.
Jihadists are also pretending to be gay as a way of entrapping their victims, according to a recent report by The Daily Beast. Their report claims this practice of luring victims into honey traps to expose them as homosexuals is not uncommon in Syria.
One man, who is referred to under the pseudonym 'Karim' by The Beast, described going on two dates with another man, 'Tareq' in Raqqa in 2013. He said his second date was interrupted when he was ambushed by five men and driven to a cell in an unknown location.
Western fighters join Kurds in battle against Isis

Show all 9
Tareq had been posing as a gay man and was working with a group linked to Jabhat al Nusra, a rival of Isis. Karim was only released two weeks later when his family paid a ransom and his since fled to Lebanon.
Karim said men would be targeted for being gay in order to extort money from them, with Isis demanding up to $11,000 (£7,200) in ransom payments, but now even more extreme action is taken. "Before [the war], if the [Assad] regime caught you as a gay, you would give them money and they'd leave you alone. Today, if jihadis catch you, they kill you," he said.
Register for free to continue reading
Registration is a free and easy way to support our truly independent journalism
By registering, you will also enjoy limited access to Premium articles, exclusive newsletters, commenting, and virtual events with our leading journalists
Already have an account? sign in
Join our new commenting forum
Join thought-provoking conversations, follow other Independent readers and see their replies