Isis militants should be crucified for the burning of Jordanian hostage, says Sunni academic
Even al-Qaeda condemned the brutal murder as 'deviant' and 'not allowed'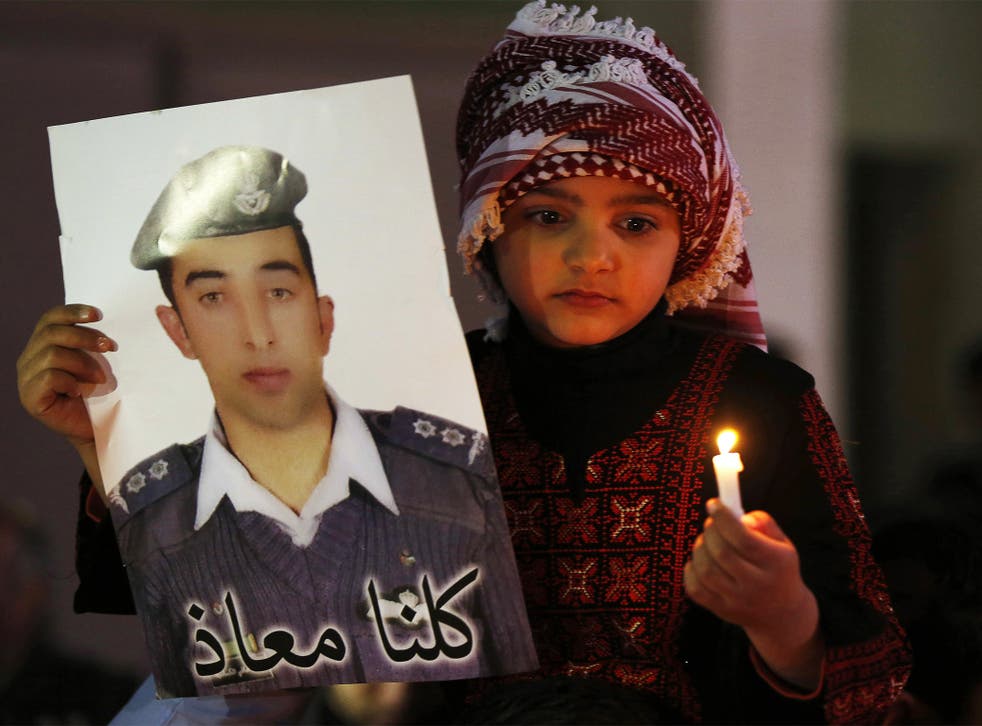 The head of Sunni Islam's top university has branded the Isis militants who burned a Jordanian pilot to death the "enemies of Mohamed" – and said they should be crucified or have their arms chopped off.
The killing of Muath al-Kasaesbeh was an act of such brutality that a Twitter account linked to al-Qaeda in the Arabian Peninsula condemned it as 'deviant', exactly one year since al-Qaeda split from Isis, deeming the group too radical.
Isis released a video of the execution yesterday, which shows al-Kasaesbeh, 26, walking in slow-motion past a long line of jihadists, towards a cage.
Once inside the cage, flammable liquid is splashed on his clothing and trailed along the ground.
After a trail of fire to his cage is ignited, he is seen standing as the flames consume him.
The head of Sunni Islam's most respected seat of learning, Egypt's Al-Azhar university, described the militants — who also claim to be Sunni — as enemies of God and the Prophet Mohamed.
Timeline: The emergence of Isis

Show all 40
Ahmed al-Tayeb, grand imam of Al-Azhar, said they deserved the Koran-prescribed punishment of death: crucifixion, or the chopping off of their arms.
"Islam prohibits the taking of an innocent life," he said in a statement, adding that the militants has violated Islam's prohibition on the mutilation of bodies by burning the pilot to death, even during wartime.
Al-Kasasbeh's F-16 was shot down over Syria on Christmas Eve during a bombing raid on Isis strongholds near the city of Raqqa, part of a US-led coalition targeting the militants.
The video sparked outrage across the Middle East and led to anti-Isis protests in Jordan.
Jordan promised swift retribution for the act, and executed two al-Qaeda prisoners before dawn yesterday; hours after the video emerged online.
Isis had previously sought to swap the captured pilot for two prisoners held by Jordan: Sajida al-Rishawi, an Iraqi militant sentenced to death for her role in a 2005 suicide bombing in Amman that killed 60 people, and Ziad Karbouli , former aide to the deceased leader of al-Qaeda in Iraq.
Jordan had offered to trade with Isis, but halted negotiations when the group failed to provide proof that al-Kasasbeh was still alive. This prompted his brutal murder.
The pilot's father, Safi Yousef al-Kaseasbeh, urged his government to "take revenge for Muath and to take revenge for the country, even before Muath".
Last night, dozens of people chanting against Isis marched in Jordon's capital city, Amman. Waving the national flag, they chanted: "Damn you, Daesh!" — using the Arabic acronym of Isis — and: "We will avenge, we will avenge our son's blood."
"There is no religion accepts such act," Amman resident Hassan Abu Ali said. "Islam is a religion of tolerance. (The Islamic State group) have nothing to do with Islam. This is criminal act."
Additional reporting by AP
Register for free to continue reading
Registration is a free and easy way to support our truly independent journalism
By registering, you will also enjoy limited access to Premium articles, exclusive newsletters, commenting, and virtual events with our leading journalists
Already have an account? sign in
Register for free to continue reading
Registration is a free and easy way to support our truly independent journalism
By registering, you will also enjoy limited access to Premium articles, exclusive newsletters, commenting, and virtual events with our leading journalists
Already have an account? sign in
Join our new commenting forum
Join thought-provoking conversations, follow other Independent readers and see their replies